A Note From The Principal
Principal for a Day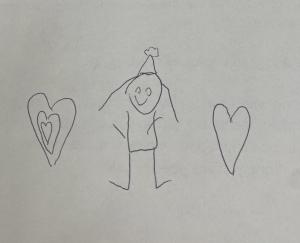 We had a special helper in the office this morning. Below is a note from Halo Giblett, our principal for the morning:
Hi my name is Principal Giblett. I won the prize to be principal for the morning. Being the principal is so much fun. I got to do devotions with teachers, got to visit with my buddy, visit with my former teachers and interview Mr. Kiser. We have a great school!
This Week
"Faith. Strong." Friday - Dec 1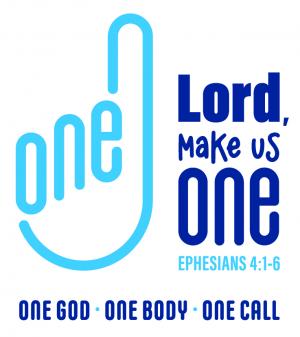 Get your ACS gear ready for Friday! On Friday, Dec 1 we encourage all students, parents and staff to show their ACS spirit. If you don't own any ACS gear yet you can wear your favorite blue t-shirt!
Moms In Prayer
Join us for Moms in Prayer on Thursday, Nov 30 from 8:00-9:00am in the back ACS conference room. Contact Kristen Yeh at momsinprayer@adachristian.org with any questions. Younger siblings are always welcome.
Now You Know
Chess Club
Chess is the greatest board game on earth. Who knows – someone from ACS may someday be a Grandmaster (the most elite players on the planet). This club will help members learn some basic openings and other strategies.
The kids will play at least two games every session and work towards a Gold, Silver or Bronze chess club medal. Popcorn and a beverage will be part of the fun. Each session will go from 3:00-4:30pm. Choose from Tuesday or Wednesday sessions during Jan & Feb. Sign up today!
Preschool Registration
Preschool Enrollment opens on Jan 9, 2024 for current ACS Families. All preschool-8th grade families will receive a link to enroll for preschool on Jan 9. Open preschool enrollment will begin on Jan 15. Take some time to familiarize yourself with our 24-25 preschool options and prepare for enrollment in January. If you have any questions regarding preschool school please contact Preschool Director, Jen Gormley (gro.naitsirhcada@yelmroGJ).
Christmas on Campus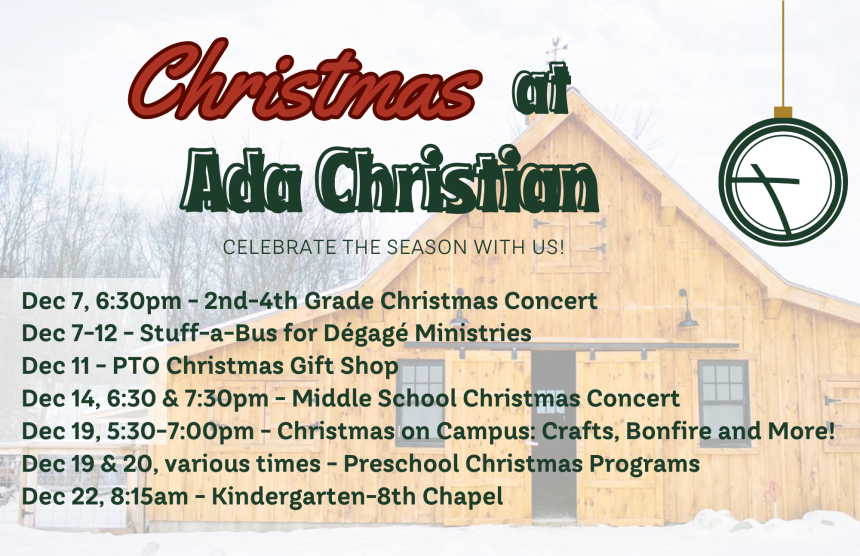 Celebrate the Christmas season with us at Ada Christian School.
Dec 7 - 2nd-4th Grade Christmas Program
Join us at 6:30pm as we celebrate the Christmas season.
Please have your child wear their best Christmas apparel to the concert.
Dec 7-9 - Stuff-A-Bus for Degage Ministries
It has been a tradition at Ada Christian each year to work with a local non profit and live out our mission of equipping students for service in God's world.
From Dec 7-9 we will be having our annual Stuff A Bus campaign for Degage Ministries as they host the Heartside Community Christmas Store! PK-8th Grade students are asked to bring new unwrapped items anytime before school, during school hours or during pick up. The Heartside Community Christmas Store provides the men and women they serve with the opportunity to purchase low-cost gifts in a dignified manner. We look forward to this partnership with Degage Ministries again. Please consult this list of needs .
Dec 11 - PTO Christmas Gift Shop
On Monday, Dec 11 the ACS North Gym will be transformed into a Christmas Gift Shop for your children to select Christmas gifts for their parents and siblings. Students will shop with their classes during a designated shopping and we will have lots of parents here helping your children select and wrap gifts. Forms for this were sent home this week.
Dec 14 - MS Christmas Concert
Please join our middle school on Dec 14 to celebrate Christmas with our ACS family The Bands, Choirs and Orchestras will play and sing and we will worship Jesus and celebrate Christmas together.
Dec 19 - Christmas on Campus
From 5:00-7:00pm on Dec 19 families are invited to enjoy the outdoor grounds at ACS. We will have a bonfire, hot chocolate, an illuminated pathway to the manger, and several SEED market booths hosted by our 5th and 6th graders. Come enjoy the beautiful outdoor space here at ACS.
Dec 19 & 20 - Preschool Christmas Programs
Dec 22 - Christmas Chapel
We invite you to join us on Friday, Dec 22 at 8:15am in the South Gym for our All School Christmas Chapel, led this year by our 7th and 8th grade students.
Ski Punch Pass
Ski season is right around the corner and now is the perfect time to purchase your punch cards for the season!
Cannonsburg Punch Passes are now available for purchase online!
When you purchase the punch cards from Cannonsburg you will get discounted pricing on lift tickets, ski and snowboard rentals plus discounted pricing on private lessons.
You can purchase online now and have them sent to your home. Six and ten punch passes are available for all students AND parents (six and under ski/board for free). Just follow the easy instructions below to purchase online.
1. Go to Cannonsburg.com
2. Click on teal button on top of page
3. Right hand side under "products" click on "passes"
4. Choose the pass (or passes) you need for your family
5. Be sure to enter in our school (Ada Christian School) and sponsor (Katie Kuiper)
Be sure to get a pass for each of your family members that need one!
Please email or text me with questions at jk_kuiper@yahoo.com or (616) 485.1888
School Lunch Program - Dec Menu
Check out the menu and plan for the month of December!
Visit adachristian.org/hotlunch for details or to apply for lunch assistance. For questions on your hot lunch account please contact Jill Zondag, gro.scrg@gadnozj
Action Needed
Enrollment Intentions
Dear Parents,
Snow is falling, the Christmas season is upon us and we are already busy planning for the 2024-2025 school year. As we prepare for enrollment in February we are asking each of our families to share with us your intentions for next school year. This information is helpful as the Board of Trustees begins its work on preparing for staffing needs and the budget for the Annual Society meeting in March. We ask that you please respond by December 22, 2023.
Thank you for your attention to this questionnaire and please know that your intentions are not binding to your final commitment about coming to ACS this upcoming year, but it is necessary for us to prepare the most accurate budget we can so we are assured that we are being fiscally responsible with the resources God has blessed us with. All responses will remain confidential.
Please note that the official 2024-2025 enrollment will open to families on February 12, 2024.
Thank you for your partnership,
ACS Administration
Board Nominations
It is time to begin the nomination process for our 2024-2025 School Board Members.
Please submit your nominations by Dec 18, 2023. Thank you!
PTO Happenings
Christmas Shop
Our annual Christmas Shop will be happening Mon, Dec 11 put on by the ACS PTO. Following Thanksgiving break homeroom teachers will send each child home with a shopping form. Forms need to be returned to homeroom teachers by Fri, Dec 1.
We could use parent help setting up, helping students shop, and wrapping gifts. Please view our list of volunteer needs and sign up if you are able to help.
Athletics
Wildcats (5th-8th)
PurePlay (Y5's-4th grade)
Basketball
1st-4th Basketball clinics begin this week. Questions: contact gro.scrg@grebdnusK
Y5/K basketball begins Jan 13. Questions: contact Coach DK.
Joy in the Gym
Read our Young 5's-3rd grade PE newsletter.
Mark Your Calendar
Dec 07 - 2nd-4th Christmas Program
Dec 14 - Middle School Christmas Concert
Dec 19 - Christmas on Campus
Dec 22 - Half Day - Dismissal at 11:30am
Jan 8 - School Resumes