A Note From The Principal
An End and A Beginning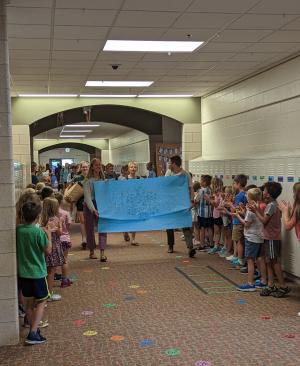 Our 8th graders did it!
They enjoyed a "clap out" around 11:30 a.m. on Tuesday, May 30, 2023. Tonight they celebrate their graduation from ACS. Some have been here for more than a decade as they began in 3s preschool. Others joined us this year. No matter when they join the ACS family, they depart together.
Graduations are a momentous occasion for ACS, one that is worshipful and celebratory all at the same time. It is difficult for us to say goodbye, but it is our duty and our privilege to prepare them for the next steps in their lives. Our number one priority is to grow their faith. While we can't force this on them, we can provide them with opportunities to see where God has led them.
It is our joy to graduate them to the next level, to give them the tools they need to be confident in their ability to grow their mind, body and soul in Christian community.
Praise God for His provisions and plans. He knows their name. He holds them close. He knows their future!
Wildcats of the Month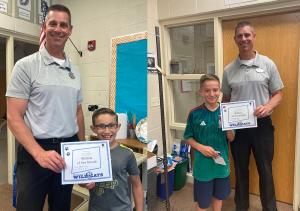 Congratulations to our Wildcats for the month of May: Noah H.(5th grade) & Sebastian M. (6th grade)
Perfect Attendance
Congratulations to 7th grader, Joyce Yang, for having perfect attendance all year!
This Week
Market Cart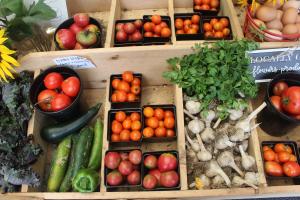 The market cart will be out after school on Thursday. Plenty of farm goods to go around!
We invite you to stop by each Wednesday throughout the summer at noon for our summer farm market.
All School Chapel
Join us on Friday morning at 8:10 for an all school chapel to celebrate God's faithfulness this school year.
Action Needed
Got Shoes? Give Shoes!
Students will soon be cleaning out their lockers. If your child has outgrown their gym shoes this year, please instruct them to place them in a collection box in their hallway when they clean out their locker. Boxes will be placed in each hallway and the front lobby to collect the gym shoes which will then be donated to Baxter Community Center. Thank you.
Now You Know
Report Cards
Report Cards will be sent home with Kindergarten - 7th grade students. Report Cards for 8th grade students will be mailed home this week.
MAP Reports
Included with your student's report card, you will find his/her MAP Growth scores, a parent letter, and an explanation for interpreting the data.
Summer Office Hours
Our summer school office hours will be Tue - Thurs 9:00am-2:00pm for the months of June, July, and August. The office will be closed July 3rd - July 7th.
Whatcha Doin' Out There!?
We have had a busy spring in OE full of growing gardens, baby goats and chickens and so much fun! See what we've been up to: May OE News
Supply Lists
It's never too early to start shopping for Back to School supplies. Check out the lists below and plan for fall:
Middle School Summer Math Review
To keep your student fresh on their math skills over the summer Mr. Stepanek would recommend you take a look at these resources:
5th Grade Summer Math Review (for students who have completed 5th grade)
6th Grade Summer Math Review (for students who have completed 6th grade)
Summer Worship Playlist
Want to keep worship going into the summer months? You can listen to the Ada Christian Summer Christian Mix on Spotify. Happy listening!
Job Postings
Come join our team! We have severalemployment opportunities available:
3rd Grade Long Term Sub
Substitute Bus Driver
Y5-1st Grade Music
Middle School Band/Music Assistant
5th/6th Grade Science Teacher
Summer Camps & Tutoring
Every year it seems like our list of summer opportunities grows even bigger! Led by ACS teachers camp activities will ordinarily take place at ACS unless special approval has been granted. This summer we will offer the following camps:
Animal Adventure Camp (Preschool-1st)

FULL

Art Camp (

3rd-5th

& 6th-8th)

FULL

Bible Journaling (5th-9th)
Farm Club (2nd-8th)
Forest Adventure Camp (2nd-8th)
Little Tikes Art Camp (1st&2nd)

Preschool Camp (Preschool)

FULL

NEW!

Robotics
Spiritual Retreat (Middle School Girls)
Several Ada Christian teachers will be offering tutoring this summer. These tutoring sessions will be hosted at Ada Christian School.
Elementary - Reading and Writing

Elementary - Language Arts and Math


Language Arts

Middle School - All Subjects

PreAlgebra, Algebra & Geometry

Private Lessons - Voice, Ukulele, Songwriting & String Lessons
ACS Athletics
PurePlay
PP soccer is done for the spring. Thanks for a wonderful year of PurePlay!!
Thanks to all the parent volunteers who helped make our Field day a success.
Sign up for Fall soccer.
Calendar Reminders
May 31 – 8th grade Graduation
June 02 – Last 1/2 Day of School (Dismissal at 11:30am)
Looking Ahead
2023-2024 Calendar
Below is the calendar for next school year.
Aug 22 - 1st Day of School (Dismissal at 11:30am)
Sept 01-04 - No School (Labor Day)
Sept 25 - No School (In-Service)
Oct 18-20 - No School (Teachers Convention)
Nov 22-26 - No School (Thanksgiving Break)
Dec 23-Jan 07 - No School (Christmas Break)
Jan 08 - School Resumes
Jan 22 - No School (In-Service)
Feb 15-19 - No School (Winter Break)
Mar 28-Apr 07 - No School (Spring Break)
Apr 08 - School Resumes
May 03 - Grand Friends Day
May 06 - No School (In-Service)
May 27 - No School (Memorial Day)
June 04 - 8th Grade Graduation
June 05 - Last Day of School (Dismissal at 11:30am)