A Note From The Principal
Summer Happenings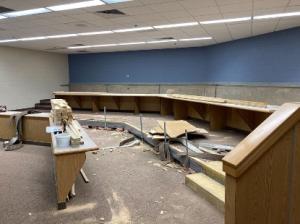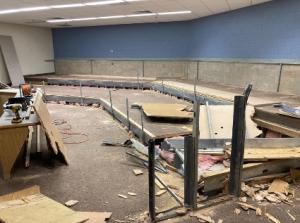 As soon as school let out, we had some people go to work on the old computer lab in order to transform it into a classroom for our Student Support Services and GROW program.
June 30, 2022, will mark one year that I ("Mr. Tall Sall") have been blessed to be one of the leaders at ACS. I count it a privilege to work with all the office personnel as an Administrative Team!
I am blessed to be surrounded by a Board, Faculty, and Staff that loves Jesus and embodies the values and mission of Ada Christian School.
I am encouraged by community members to lead as an image-bearer of Christ, to show our students that Jesus is our Savior and Lord.
I look forward to swinging some more sledge hammers, planning for faculty/staff professional development, holding more tours for prospective families, and investing some time with my family yet this summer.
May you be blessed as you share the love of Christ with whatever adventures you may get to experience before a new school year begins.
Now You Know
New Staff
Betsy Rybarczyk, 56 Social Studies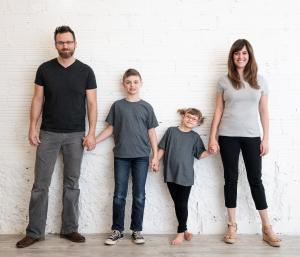 I love studying and learning about history. My love for the subject began when I was just a little girl and has snowballed into more than just a passion but a career. I attended Cornerstone University and received a Bachelor's in history, philosophy, and English. With a focus on Christian apologetics, I participated in additional studies at Oak Hill Theological Seminary in London, England and completed a Master's of Education and History at Grand Valley State University.
For as long as I can remember, I have been curious about all of the people and places that I have studied. In addition, I have had a heart for spreading God's Truth and Love through international missions. These passions have catapulted me into a life long excitement for exploring and ministering to God's amazing world. I have been blessed to live, minister, and work in both Prague, Czech Republic and Penang, Malaysia.
For the past 22 years, it has been my joy to be able to teach my students about history and then travel with them to experience these amazing places. I have brought my students to awe inspiring destinations such as Rome, Sydney, and the Galapagos Islands to the incredibly humbling and historic monuments such as the gas chambers of Auschwitz and the beaches of Normandy. In all, I have been given the incredible opportunity to have traveled to 48 countries spanning 6 continents.
Fortunately, I have an amazing family who also loves to travel. My husband, Craig, and I have had 22 adventure filled years of marriage. We have two beautiful children, Graham (7th grade) and Maddie (2nd grade), who attend ACS. Together, as a family, we have been able to explore many countries and create lifelong memories.
It is through my real life experiences that I am able to make my history classes come to life. It is my hope that each one of my students will become inspired to not only learn, love, and explore history and God's world, but to apply God's Truth to what they learn and to deepen their faith and walk with their Savior. I am so excited to be a part of the ACS family, and I cannot wait for this next great adventure to begin!
Hannah Merrill, Farm Manager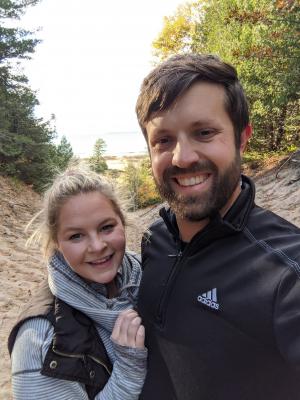 My name is Hannah Merrill and I am excited to be the Farm Manager here as of the 2022-2023 school year. My husband Jeff and I have been married for 5 years this October, we have a one year old daughter named Lilly Ann and a 6 year old cat named Golgi. I was an Environmental Educator for the majority of my teaching career but the last 5 have been spent teaching people with severe Autism and Cognitive Impairments at Pine Grove Learning Center (sister school to Lincoln and LDC). Jeff and I met 6 years ago at Keystone Community Church in Ada. Pre baby, Jeff was a small group leader and part of the Keystone Tech team, I participated on the worship team. Post baby, we do our best to make it through the majority of a service before the nap time break down. In our family time we hike, cook, kayak, have game nights, spend time with our families and friends, and of course enjoy a good nap in a hammock.
I cannot express how excited I am to be a part of the Outdoor education team here at ACS and I am looking forward to spending many hours investing in the staff, students, families, animals, and property that make up ACS.
I look forward to working with you all soon,
Hannah Merrill
Then you will call on me and come and pray to me, and I will listen to you. You will seek me and find me when you seek me with all your heart. Jeremiah 29:12-13
SCRIP Gift Cards
Please note that any physical cards ordered will not be fulfilled throughout the summer. You may however still order SCRIP now or reload existing cards.
Summer Office Hours
Our summer school office hours will be Tue-Thurs, 9:00am-2:00pm for the months of June, July, and August. The office will be closed for the week of July 4th.
Supply List & School Calendar
Are you already eager to come back to school this fall? Get a head start on planning:
Hot Lunch Changes
Starting next school year we will once again be charging for school lunches. Instructions on how to set up accounts as well as the price of lunches will come in your Back-to-School letter in August. For those needing help with the cost you may apply for Free and Reduced Lunch starting August 1.
We are happy to welcome back the salad bar! In addition to this we will begin to offer two lunch options each day starting in October.
We look forward to continuing to serve your students!
Any questions regarding hot lunch can be directed to Nancy Michaels, nmichaels@grcs.org 
Action Needed
Become a Host Family
Isn't it nice to see a friendly, familiar face when you start something new? We have host families to welcome new families to ACS. Would you consider being a host family for the upcoming school year? As a host family you introduce yourself to an assigned family that has a child entering the same grade as yours. We encourage you to welcome them and serve as a resource to them as they get acclimated with life at ACS. If you are interested, please email Mark Stuit (gro.naitsirhcada@tiutsm).
ACS Athletics
PurePlay
Requested Announcements
Sports Physicals
Current 8th graders planning to play sports in high school in the 2022-23 school year need to have a MHSAA physical form on file with the high school athletic office before they are allowed to participate. A valid physical for 2022-23 must be completed any time after April 15, 2022. You may print out a physical form here. This form must be completed with all signatures in order to participate in sports in high school. You may attach your doctor's office physical form for the doctor portion of this form but the parent portion and all signatures need to be completed on this form.