A Note From The Principal
Make 2023 Great!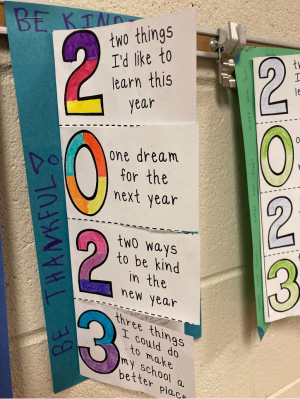 The month of January has come and gone for another year. New Year's Resolutions might have also come and gone for some of us.
However, hanging in the halls of Ada Christian School are thoughtful ways our 3rd graders brainstormed to make 2023 and our school a great place to be!
Two things I would like to learn, one dream, two ways to be kind and three things I can do to make my school a better place are all things that our students reflected on.
If any of you are in the education world, you know that giving our students time to reflect on various topics allows them to learn on a different level. It isn't just about what a textbook provides or what a website shares. It is about our kids using the minds God has blessed them with beyond the curriculum. This can shape them to better understand how they are created in God's image and are able to share the love of Christ with their classmates, their grade level, the elementary kids, the middle school kids, their teachers, parents, grandparents and their neighbors that might not know Jesus!
We can plant the seeds. God will make them grow.
This Week
"Faith. Strong." Friday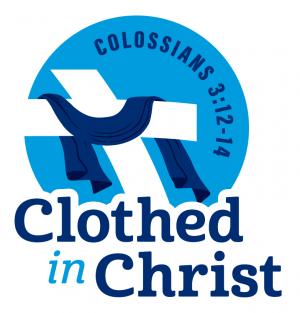 It's that time again! Wear your Ada Christian apparel in honor of "Faith. Strong." Friday.
Moms In Prayer
Join us for Moms in Prayer Thursday, February 2 from 8:00-9:00am in the back ACS conference room. Our attribute this week is "God is the Finisher." We will be praying specifically for our school support staff. Contact Kristen Yeh (616-307-2488) with any questions. Younger siblings are always welcome.
Now You Know
Marcia McEvoy Parent Workshop - Mar 14
Save the date for the evening of March 14 for a workshop with Marcia McEvoy concerning student relations. In this often humorous and interactive workshop, parents and members of the community will be presented with information about how to work collaboratively with the school to reduce mean behavior and create a culture of kindness.
Therapy Dog
Huntleigh is a new addition to our ACS team. She is a licensed, trained therapy dog.
She joined us a couple weeks ago in our sensory room for students that use that space. It was a pilot to see how she would do with our kids and how our kids would do with her.
The purpose for Huntleigh to be on our team is to allow students the opportunity to decompress, read to her, pet her and relax.
We are excited to share her with more students as we continue our relationship with her.
Thank you to the Welch family for giving their time and Huntleigh's time to help our students.
Summer Covenant Care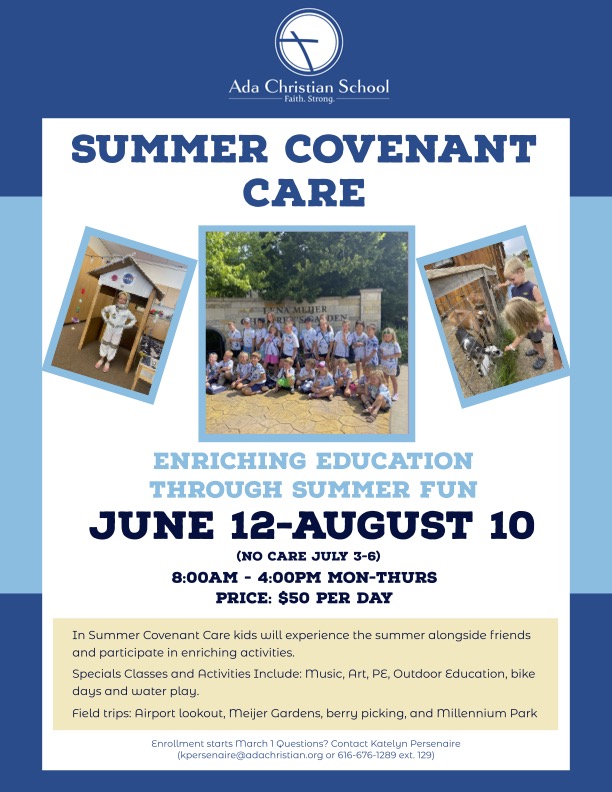 In Summer Covenant Care students will experience the summer alongside friends and participate in enriching activities. Care will be available Mon-Thurs, June 12-August 10. Sign up beings March 1.
Gathering Time Playlist
Want to listen to what your kids are singing in worship at Gathering Time? Tune in to our Spotify playlist!
Fiddle Concert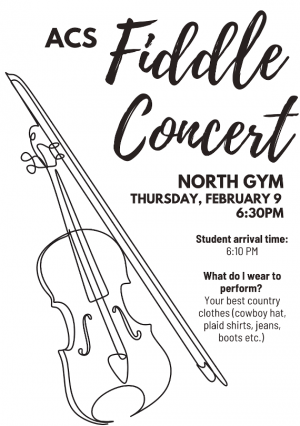 The Middle School Orchestra Fiddle Concert is Thursday, February 9 @ 6:30 pm. Come to hear some great fiddle tunes!
Looking Ahead - 2023-2024 Calendar
Below are some important dates for the 2023-2024 calendar.
Aug 22 - 1st Day of School (Dismissal at 11:30am)
Sept 01-04 - No School (Labor Day)
Sept 05 - Preschool Open Houses
Sept 06&07 - Preschool Begins
Sept 25 - No School (In-Service)
Oct 18-20 - No School (Teachers Convention)
Nov 22-26 - No School (Thanksgiving Break)
Dec 22 - Half-Day (Dismissal at 11:30am)
Dec 23-Jan 07 - No School (Christmas Break)
Jan 08 - School Resumes
Jan 22 - No School (In-Service)
Feb 15-19 - No School (Winter Break)
Mar 28-Apr 07 - No School (Spring Break)
Apr 08 - School Resumes
May 03 - Grand Friends Day
May 06 - No School (In-Service)
May 27 - No School (Memorial Day)
June 04 - 8th Grade Graduation
June 05 - Last Day of School (Dismissal at 11:30am)
February Hot Lunch Menu
The February Hot Lunch Menu is here! Take some time to review the menu as a family and plan for each day.
Not getting emails about negative hot lunch balances? Please send jzondag@grcs.org your child's name with your email address. Thank you!
SEED Market
Thank you to all who came and supported our SEED market on Friday.
Our proceeds totaled $5,061.50 and will benefit Mission India and World Vision.
Action Needed
K-8 Enrollment Opens Feb 14
It is almost time to re-enroll your students for the 23-24 school year! On Tuesday, Feb 14 you will receive an email with detailed instructions on how to re-enroll.
PTO Happenings
Daddy Daughter Dance
Daddy Daughter Dance is this week Friday from 7:00-9:00pm.
Direct Your Dollars
As of last week we have earned $7,000 through Direct Your Dollars. Thank you to all who bring in receipts week after week, every dollar helps us reach our next goal.
ACS Athletics
PurePlay
Basketball:
1st-4th mid-week practices and Saturday game. Last week!
Spring soccer signups are now open:
Saturdays: April 15-May 20.
9:00-10:00am or 10:30-11:30 am (rotates weekly)
Cost: $50-$70 per student
1st-4th grade will have one practice during the week. Day/Time TBD by coaches. Please consider coaching.
Deadline Mar 17.
Calendar Reminders
2022-2023 Calendar

Jan 27 - SEED Market
Feb 03 - Daddy Daughter Dance
Feb 14 - 23-24 K-8 Enrollment Opens
Feb 14-15 - Parent Teacher Conferences
Feb 16-20 - No School - Winter Break