Outdoor Education – Immersing our students in every square inch of God's creation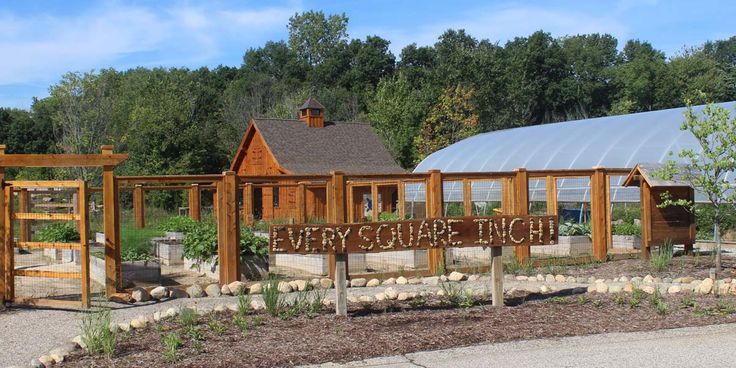 ACS is blessed with a beautiful campus that offers miles of hiking trails, wetland areas, an abundance of trees that provide an opportunity for tapping and syrup production in the spring and a wide variety of plant and bird life for students to identify. There are regular sightings of deer, wild turkeys and the occasional fox.
Our outdoor education program has brought many amazing discoveries and excitement to our 37-acre campus. Outdoor education is integrated in all subjects preschool-8th grade.
Growing In Wonder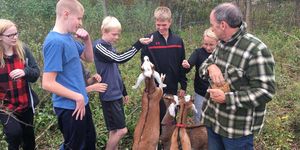 We are happy to house three friendly goats on our property. The goats, Joy, Beau and Moonbeam, helped our campus by eating many of the invasive plants.
Our Kindergarteners enjoy an autumn afternoon learning how to make cornbread over a fire.
Mr. Hoo, one of our outdoor education teachers, shares with students how the Bible is our field guide in life.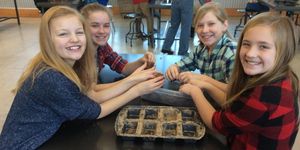 4th grade students make bricks with the clay they collected outside.
And that's not all. We are also seeing the wonders of Creation's King through:
Studying and observing the root structure of plants
Exploring the forest floor to collect critters
Adopting trees to study how they change through the seasons
Recording water loss in plants
Studying solar angle through the seasons with shadow positions
Creating homemade hot air balloons to discover density
Collecting seeds and discussing dispersion
Observing and feeding birds
Discovering how animals camouflage themselves
Collecting pond water to observe organisms
There is not a square inch in the whole domain of our human existence over which Christ, who is Sovereign over all, does not cry, "Mine!" – Abraham Kuyper
Come watch us grow!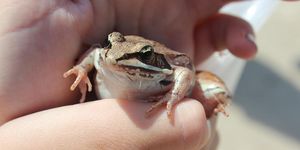 Our Outdoor Education program still has plenty of excitement to come. Here are some ways we expect to grow our program:
Permanent and Vernal ponds – promote and accommodate diverse aquatic environments (from amphibians to waterfowl!)
Michigan Native American dwellings and cultural education area
Numerous pathways, trees, sculptures and habitat tunnels
Hand-hewn Michigan homestead/pioneer cabin with root cellar