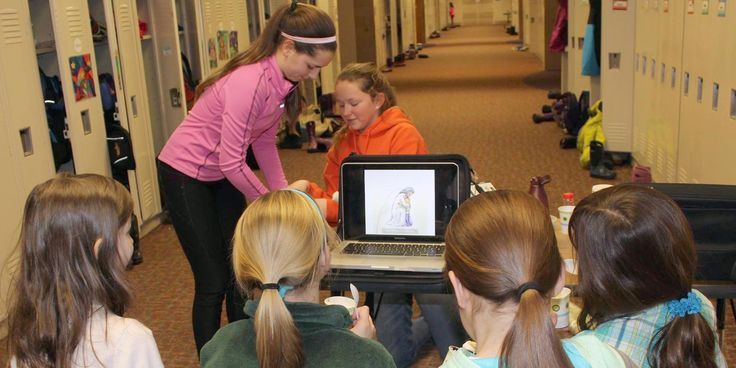 One Facility; Multiple Ages – That's Family.
Home to Preschool through 8th grade students, ACS provides a warm family feel for students and parents, alike. Your child will be known! Having students enter our doors for consecutive years allows faculty, staff, parents and peers to get to know one another in ways that can be interrupted when students have to attend different buildings for their elementary and middle school years of learning.
Upper elementary classrooms are intentionally assigned to "buddy" with lower elementary students for opportunities of bonding and learning on a monthly basis. Whether it is cleaning up the playground together, sharing projects they have done, decorating bags for Kids' Food Basket, or 5th graders pulling 2nd graders in our own Iditarod Race, ACS students spend time learning, serving and growing together.
Our middle school students can be found working with their younger schoolmates throughout the year at a variety of times. A wide range of opportunities provide a strong sense of community that is nurtured within our school family; examples include:
8th graders recording our preschoolers saying verses to be sent home in a digital Christmas card to parents
6th graders inviting kindergarten students into one of our science labs to explain safety procedures
Middle school students sitting with early elementary students at our All School Chapels
ACS Art, Music, Physical Education and Spanish teachers have the benefit of working with the same students for several years in a row, nurturing and encouraging the uniques gifts and talents of each child. Our librarians know our students' names and have time to understand and build their interests, fostering a love of reading.
Whether the interactions occur in a structured setting like a classroom or an informal space like the hallways and playgrounds, students at ACS will find familiar smiles at every turn.
In a world filled with change, it is a comfort for students to know and be known.