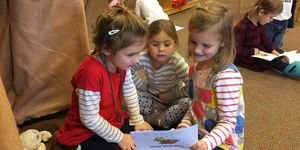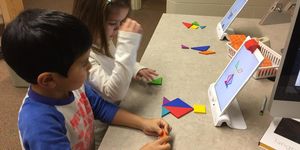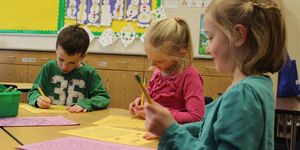 Kindergarten
Kindergarten is an exciting year for both you and your child! It is filled with incredible change and wonderful growth! At ACS we believe each child is a unique gift from God and we are eager to discover the God-given special qualities of your child! We encourage growth as a whole person — academically, spiritually, physically, socially, and emotionally. We value partnering with parents in this exciting year!
During the kindergarten year children will work as individuals and in groups, develop letter, sound, and word skills, work with basic concepts of mathematics, discover and explore through science and social studies topics, and grow in their knowledge and understanding of God's love for them through devotions, Bible stories, and community building activities.
At Ada Christian we offer the following options:
| # days | Mon | Tue | Wed | Thu | Fri |
| --- | --- | --- | --- | --- | --- |
| 5-days (full day) | x | x | x | x | x |
| Progressive* (full day) | + | x | + | x | x |
*Progressive – The ACS Progressive Kindergarten class is a full-day class that begins 3 days a week for the 1st trimester (T, Th, F), 4 days a week for the 2nd trimester (M, T, Th, F), and 5 days a week for the 3rd trimester (M-F).
Curriculum Overview
Bible
We learn about Old Testament stories and the New Testament stories in the life of Jesus. Students learn to see the relationships between God's world and His Word, to respect and care for His creation, and to view the world and its people through what the Bible tells us. While our Christian perspective permeates through every aspect of our day, our Bible time includes devotions, singing, Bible stories, memory work and service projects.
Math
Children use hands-on materials to explore mathematical concepts such as: sorting, classifying, graphing, exploring geometric shapes, patterning, number writing, counting, skip counting, solving simple addition and subtraction, weighing, measuring and estimating
Language Arts
This curriculum integrates the skills of pre-reading, writing, speaking and listening. The kindergartners are provided with a print-rich environment to help them realize the importance of reading and develop a love for literature.
Science
Experiments and hands-on activities help students explore different science topics that reinforce their natural curiosity and draw from their own experiences. This is done not only in the classroom but outside in God's world. The curriculum is designed to help children develop an appreciation and respect for living and non-living things, improve their observation skills, and discover properties of the world using their senses.
Physical Education
In Kindergarten, basic locomotor and non-locomotor skills are introduced and practiced. The foundation for basic manipulative skills is also begun. Stop by the gym sometime, and you'll probably hear "T-L-Step and Throw" as the students learn the basic form for throwing. Since being active is a major goal in PE class, the majority of our class time is spent moving. This is also the foundation for an active lifestyle for taking care of the bodies God has given us! Visit Gym Times to learn more.
Specials
The kindergartners enjoy a variety of additional classes throughout the week.
Physical Education (2x/week)
Music (2x/week)
Art (1 x/week)
Library (1x/week)
Computer/iPads (throughout the year)
Outdoor Education
The Kindergarten curriculum integrates many outdoor educational experiences from hearing a Bible story out on the top of the mountain, to experiencing what life was like long ago. The Kindergarteners even learn about apples using the trees growing right on our own property. Children interact with Creation as part of their learning.
Kindergarten Events
There are no events at this time.