Young 5's
Each preschool class at ACS begins and ends their day with worship/prayer. We look forward to praying for our friends and family, giving thanks to Him for good things in our lives, and discovering all the WOW in His amazing world through our learning. The teachers strive to connect His creation, goodness, and love through each unit of study, friendship formation, and more. We consider it a huge privelege to share these things with your child and your family, and to partner with you in his/her learning, development, and spiritual journey.
What sets apart our Young 5's program from our 4's program?
We work closely with our 4's teachers and Kindergarten teachers to make this program the best it can be, and that it is a completely different experience from each of these classes making each and every year at ACS new and exciting. Young 5's is definitely a step up from 4's preschool, while also being kindergarten-prep driven. Independence and self-confidence are embraced, encouraged and developed alongside special parts of our day and year, while giving your child the extra year of time to grow at his/her own pace as needed. Opportunities for talking in front of the class (praying for our day, and sharing good things), small group time for math and literacy activities, additional name games and activities, additional field trips, visits to older grades at ACS and more are just some of the ways young 5's continues to build onto your child's school experience here at ACS.
This class provides children with the opportunity to fine-tune his/her skills for kindergarten readiness. Often, these children are in need of the "gift of time" before entering kindergarten. Social/emotional skills and fine-motor activities are a big focus of this particular class. This class gives children the opportunity to play and explore as he/she prepares to meet the challenges and requirements of elementary school, as well as gives them the chance to have another year of half-day school. Huge growth takes place throughout this year in self-confidence, academics, and more.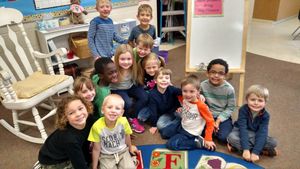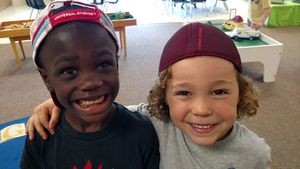 In the classroom
Each week, a new memory verse appears for our letter of the week. We work on it together, and then review as we continue through the year. A monthly worship song at the beginning and end of the day are also introduced. Throughout each week, we have a prayer day that ties in with our verse, we have a story about our verse, and we have a day to reflect on a question about the verse. Daily, students are given opportunities to pray for each other, pray at snack, and/or share prayer requests and good things in their lives. Through His lens, we look at His amazing world, focusing on a different state or country each month we are in school.
A variety of puzzles, manipulatives, pattern activities, games, science experiments, building activities and more are introduced on a weekly basis that tie in with our theme, country and/or alphabet of the week/month. Example: V is for Valentine's week (making homemade volcanoes erupt, patterning valentine hearts, counting valentines, valentine Bingo, creating vases of flowers, cutting valentine hearts, sticking valentine toothpicks in playdough hearts, creating art with volcanic lava (shaving cream), mailing valentines to our friends ("reading" their mailboxes), and more.
Pre-reading activities (mini-books to make together), phonics books to read as a class, weekly phonics song, a weekly phonics book, weekly animal movement activity for the letter theme, question/answer time in relation to stories, fingerplays/poems together, beginning to "read" each others' names, weekly Bingo song with children's' names, alphabet and phonetic correlations through circle time activities, looking for letters in word searches and color by letter activities, prereading the calendar and more, daily library time for pretend reading and more.
Specific activities to encourage zipping skills, winter dress skills, cleaning up messes and more; ex. Trying 3 times to zip before asking for help, order chart for helping remember what comes first in getting ready for outdoor play, and more. Weekly gym time with age-appropriate play that ties in with the letter of the week; example, C week (clock game: Mr. Fox what time is it, counting and running game), H week (hopping and horse fun in the gym). Time for outdoor play. Encouragement to begin pumping on swings by self, creating own games outside, building things in the snow and more. A variety of physical games are also incorporated into the classroom circle times; i.e. circle games, hide and seek activities, special dances that tie in with a country and more.
Weekly attention to letter of week tracing, letter manipulatives, tracing letters in different ways (playdough, shaving cream, and more), tracing one another's names, working towards writing name by self and then making it smaller and more refined, increased scissors and pencil-grip activities, activities with wood pieces and other manipulatives in the Handwriting without Tears programs, special songs that relate to our pre-writing skills.
Students are outside most everyday in the spring and fall, and have specific outdoor play days in the winter. Weekly, students have a hike day and a specific outdoor education activity. Highlights include playing in the creek, digging for bones, I Spy animals, and more.
Highlighted themes for this class:
Making an ornament for a friend at Christmas time
Traveling to special classes each week: PE, library, music, and art
Special field trips as a class
Making mail for our family
Goat hikes
Fishing in the creek at ACS