Hot Lunch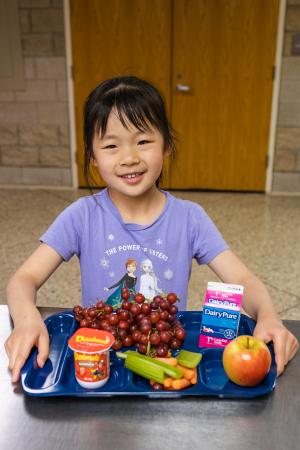 ACS is happy to provide hot lunch again this year. Here are a few of the highlights.
General Information:
Ada Christian School partners with Grand Rapids Christian School for our lunch program.

Lunch is available Monday through Friday.

Students order each day. If they don't order, the account is not charged.
There are 2 choices each day – parents of young children will want to talk about this together (maybe at the breakfast table) to help make appropriate choices.

The cost of each lunch is $3.25 and it includes a milk.

Your child can order just milk for $.50 each day.
Payments are be processed through Meal Magic.
Account Creation:
You must set up an account before you may eat.

Visit grchristian.familyportal.cloud

to set up your account.

Follow the step-by-step instructions below.

You need your students Student ID number to add them to your account. You can find those numbers in your PowerSchool parent portal.
Adding Money:
You can add money at any time.

Money left on your account will roll over to the next school year.
Viewing Menu:
August/September menu will be here available soon.
Order History:
Free and Reduced Lunch:
Applications are available.

Log into your Meal Magic account and select "Apply For Benefits".
Need Help Setting Up Your Account:
Meal Magic Account Creation
If you have used Send Money To School in the past, you will need to re-enroll your students. If you currently have money in your child's account, it will carry over into the new portal. You need to know your student's account number when you set up your account. There is no service fee for online deposits before October 1, 2022. You may always drop off deposits at your student's school office.
Go to the Grand Rapids Christian Meal Magic family portal.

Select "My Account".

Select "I need to register as a Family Portal user".

Enter your email address.

Read the terms and conditions. If you agree, click "Accept".

NOTE: Watch to see if a red banner appears notifying you that you already have an account.

Enter your Name & Passphrase.

To add your student, click "Add Person".

Enter your student's ID, number, name, and birthdate. (To find your student's ID number, log into PowerSchool and select their name in the top banner.

Click "submit".

Repeat steps 8 & 9 until all your students are entered.
Once your student's ID numbers are validated, you will receive an email with your account password. Keep your passphrase safe and available. Your passphrase is case sensitive and must be entered as shown in the email. No one at Meal Magic Corporation or Ada Christian has access to your passphrase. If you forget it, you will need to click on "I forgot my passphrase".
Need Help Setting Up Your Account?
Contact Jill Zondag (616.574.5815, gro.scrg@gadnozj )