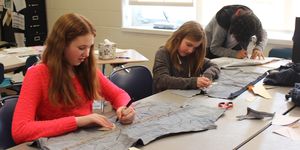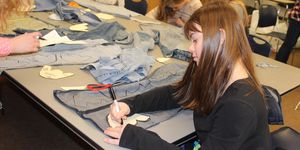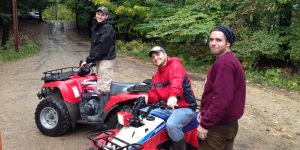 Middle School Service Projects
The Two-day Service Project – An Important Part of our Curriculum
We believe that training our middle school students to be servants for Jesus' sake in a world that often seems to emphasize "getting what one can" is an important part of the middle school experience. In the 6th grade we continue to spend 2 days assisting in more than a dozen Grand Rapids Heartside ministries. In seventh and eighth grades we devote 2 days to practicing "working as to the Lord" in small groups with parents and teachers and students participating side by side.
6th Grade
The 6th grade students spend time working downtown in the Heartside District and at other Grand Rapids area agencies. We believe that through this experience the 6th grade students learn to serve others, respect the poor and homeless, and appreciate the many blessings they have.
Some of the organizations we work with are: God's Kitchen, Guiding Light, In the Image, Heartland Health Care, Heartside Ministries, Degage Ministries, Feeding America, The Other Way, Salvation Army, North End Community, SECOM, UCOM, John Knox Food Panty, Roanoke Ranch, Hope Network, Indian Trials Camp, Comprenew, KC Parks, etc..
7th & 8th Grade
The 7th and 8th grade service project continues to this day serving the newly formed outdoor education program at ACS and serving at Camp Tall Turf under the leadership of Mr. Wanner and Mr. Musch with guidance from Mr. Hoo. Several specific projects our 7th and 8th grade students are helping with are included below.
Camp Tall Turf
Camp improvement projects
Splitting and hauling wood
Rebuilding the road
Painting
General camp cleaning up
Camp Scottie and Camp Henry
Camp improvement projects
Summer camp clean up
Trail work
Splitting, stacking, and stacking firewood
History of the Service Project at Ada Christian Middle School
When Ada Christian Junior High became Ada Christian Middle School in 1988, one of the aspects of emphasis for a middle school was Christian service – serving the Lord by serving others.
For several years we asked middle school students to perform 30 hours of service a year in their community.
In 1996 we transitioned to having our 6th grade students serve in Grand Rapids Heartside District at more than a dozen organizations. Our 7th and 8th grade students began helping the National Relief Network.
In 2000 our 7th and 8th grade students transitioned to serving at Camp Tall Turf near Hesperia, Michigan, under the direction of our own Mr. Hoogstrate.