3's Preschool Program
Each preschool class at ACS begins and ends their day with worship/prayer. We look forward to praying for our friends and family, giving thanks to Him for good things in our lives, and discovering all the WOW in His amazing world through our learning. The teachers strive to connect His creation, goodness, and love through each unit of study, friendship formation, and more. We consider it a huge privilege to share these things with your child and your family, and to partner with you in his/her learning, development, and spiritual journey.
This class provides children with their very first school experience. Children are introduced to engaging activities while at the same time they are introduced to school routine, friends, and manners in the classroom with the umbrella of God's love.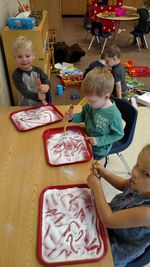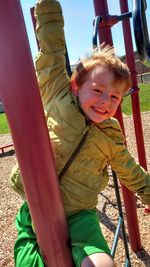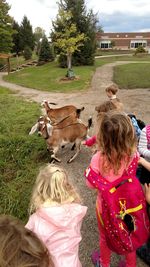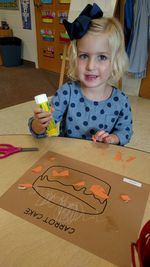 In the classroom
A special puppet shares with them daily as they learn about God's love and His world. Each day, the children are wowed by what is in the puppets' bag to help them in their learning. In addition, we focus on a child a week and how special God made him/her, daily snack prayer together, discussing God's work in all we learn, singing songs to Jesus daily.
Puzzles, sorting items, creative play areas, looking for shapes and colors in God's world, playing games with one another and/or teachers, musical instruments.
Numerous age appropriate stories (hearing different voices in reading), finger plays, nursery rhymes, or songs with motions to encourage concepts as well as listening skills, quiet reading time (looking at books), question and answer time for developing memory skills, monthly activities with name recognition.
Working on independence with self-care dressing skills (special activities/poems to help them zip coats, button, and more), activities and fun games to help acquire scissors skills, exposure to the playground and gym as well as gross motor activities that go along with classroom themes (running, jumping, ball throw/catch, gross motor games with numbers, colors and shapes, etc.), and experiences outside (farm, forts, hikes and more).
Activity area to explore with markers, crayons, paper, etc., Handwriting without Tears activities for shapes and self-portraits, exposure to tracing the child's own name and/or beginning to write a letter or two of his/her own name, exploring alphabet puzzles, magnetic letters, play dough letters, making letters in a wide variety of art medium(sand, paint, etc.)
Students often have story time outside in the fall and spring along with playground time. Visiting the animals is also a big part of our year. Goats and chickens quickly become our good friends. Hide and seek with shapes, numbers or letters is another activity we do mostly outside. Special dates are given for winter play as well.
Highlighted themes for this age:
Friends here and around the world (focusing on a different country each year)
Spring animals and new life
Keeping warm in winter (animals and us)
Thank you God for food
Shapes and colors of the month
The first Christmas present