PurePlay: Introducing young children to physical activity and sports
PurePlay is a program designed for our elementary students, Y5-4th grade, to introduce them to physical activity and sport. For some sports we collaborate with Grand Rapids Christian, and others, we do on our own. We offer programs in soccer, basketball, running, volleyball, and other ideas that come up to fit our families' needs.
The first programs that we run in the school year are soccer and the running club. The next program is Basketball, and for this we combine with GRCES. Other programs will be promoted as the year progresses.
PurePlay offerings are completely optional, but they are a great way to get to know other ACS families, and they also provide a safe place for kids to be introduced to sports. The cost is usually from $50-$75, and you register and pay online. Teams are coached by volunteer parents, so if you have a little background in our activities, let me know and I'll plug you in.
Let me know if you have further questions.
"Coach DK" (gro.naitsirhcada@enielkeds)
Our mission is to help elementary aged kids develop their God-given physical gifts and learn health habits for life.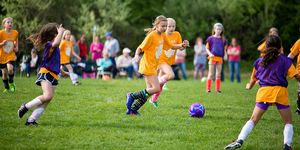 The PurePlay Difference
PurePlay exposes potential athletes to a variety of sports at a young age allowing them to determine their strengths in a comfortable, secure environment.
Beyond the advantages of learning a particular sport and growing athletic talents, PurePlay promotes the development of goal-setting skills, sportsmanship and respect for authority – all traits that will serve the boys and girls involved in these special programs well into adulthood. PurePlay makes good health and fitness fun. It is "Pure" play!
The Vision of PurePlay
PurePlay desires to engage kids in a variety of fitness and athletic activities at an early age, thereby counteracting the increasingly sedentary lifestyles of children. PurePlay provides a distinctively Christian environment in which students can develop and refine athletic skills, and also learn healthy habits that will last a lifetime.
Common Questions
What is PurePlay?
PurePlay is a fitness and athletic program designed specifically for elementary students at ACS. We also collaborate with Grand Rapids Christian Schools in some of our larger programs like basketball and soccer. Our program provides participants with Christian coaches who promote the values of teamwork, commitment, and respect. They work to prepare future athletes with the skills they need to grow in their respective sports. We currently offer programs in soccer, basketball, volleyball, track & field and running. Teams will practice one time per week, with games held on Saturdays. Most practices and games will be held at ACS.
PurePlay also hopes to provide expanded opportunities for students and their families through additional activities such as mountain biking, family bike rides, and walking groups.
How can my child get involved?
Registration and payment takes place online using the links that are listed on this site.
Can I help?
PurePlay relies heavily on parent volunteers to help with coaching team coordination and other activities. If you have abilities in a particular sport, there is a place on the registration form for you to sign up.
PurePlay is overseen by a part-time coordinator and input from many parents whose children participate.