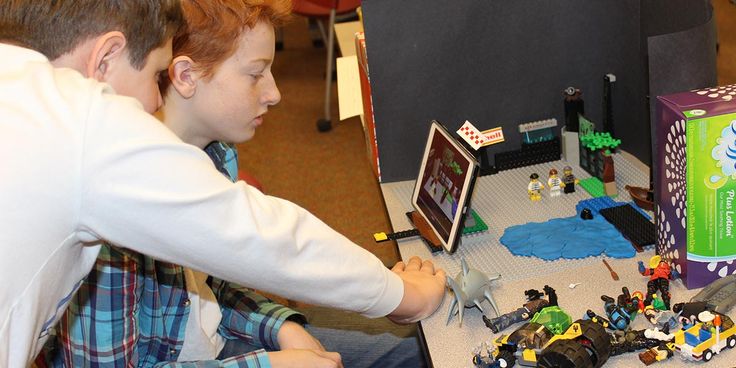 The ACS "Faith. Strong." Club activities are designed to offer enrichment activities for students in the areas of mind, body and soul within community. Each club activity will be approached from a Christian perspective and begin with brief devotions and/or prayer.
Primarily led by teachers, the Club Coaches will determine the range of grade levels invited to participate, along with the minimum and maximum number for participants. Club activities will ordinarily take place at ACS unless special approval (and parent approval) has been granted.
Typically the Club sports will be held right after school for about 6 weeks – either once a week for two hours or twice a week for one hour.
FIRST LEGO League
You'll love FIRST® LEGO® League! The League is made of up to 10 kids that research a real-world problem (like food safety, recycling, energy, etc.). The team will be challenged to develop a solution using new knowledge and creative imagination. The team will also design, build, and program a working robot using a LEGO MINDSTORMS® kit, then complete "missions" on a table-top playing field. Teams compete against each other at exciting events where members will make new friends, show off what they have learned and invented, express team spirit, and celebrate! Sound like fun? What are you waiting for?
Coaches: Ms. Frens and Mr. Jorgensen (veteran First LEGO League coach and former ACS parent)
Chess Club
Chess is the greatest board game on earth. Who knows, someone from ACS may someday be a Grandmaster (the most elite players on the planet). Club members will learn some basic openings and other strategies. Players will learn how to play tournament chess (with a clock) and have some tournaments.
For those that are able, we will try as a club to go to a tournament in February (held at Calvin College). And those who beat Mr. Hoo will win a special prize.
Whether you are a beginner or intermediate player you'll have a good time and be sipping hot chocolate as the cold winter winds howl outside.
Offered on Tuesdays or Wednesdays each January.
Maker Space
Do you like to make things? Do you like to be with your friends? In this club, you and your friends will be challenged to build things with stuff and with code. You will have the opportunity to make things and then make things happen.
Hosted by Mrs. Boerman, Mrs. Prins and Ms. Frens.
Tech Play: Lego WeDo
Do you like to build things with your imagination? In this club, you and your friends will learn how to build and program characters and models using the Lego WeDo program. We will be using software that teaches us how to program commands that allow you to make things move, produce sounds and stop.
Join coaches Ms. Frens, Mr. Kiser and Mr. Musch.
Lego Robotics
Enjoy playing with LEGOs, computer coding, and problem-solving? In this after school club students will use Lego Mindstorms kits and software to learn some intermediate programing and complete numerous missions. Students will be challenged as they tweak their code through, trial and error, math computation, and problem-solving skills. Discussion topics may include motor control, gear ratios, torque, friction, sensors, timing, program loops, logic gates, decision-making, and timing sequences. This club is for students in grades 5-8.
Hosted by Mr. Kiser, Mr. Musch and Ms. Frens
Join coaches Ms. Frens, Mr. Kiser and Mr. Musch this January and February.
Unicycle Club
The ACS Unicycle Club is for 1st-8th grade students who would like to learn how to ride a unicycle or progress in other unicycle skills.
We provide the unicycles, and you provide the rider. The club will be capped at 20 members. Although unicycles are provided, you may bring your own if you prefer.
Members will be admitted on a first come, first served basis. Students who have not participated in a previous Unicycle Club will be given priority. If the club reaches capacity, a waiting list will be started.
Join coaches Mrs. Boerman and Coach DK.