Student Support Services
ACS provides a wide variety of support services to our students.
All elementary classrooms are assigned aide time to be used at the classroom teachers discretion.
Occupational Therapy, Speech Therapy, Physical Therapy and Social Work takes place in our building and are facilitated by Forest Hills Public School.
An Inclusion Specialist is a part of our ACS team and services students with identified cognitive and emotional impairments.
A Resource Specialist is a part of our ACS team and services students with identified learning disabilities.
We use the RTI (Response to Intervention) framework to help identify and service student needs.
We offer a S.T.E.P. (Student Talent Enrichment Program) for our students that qualify for academic enrichment beyond what is offered in the classroom.
The Response to Intervention (RTI) framework
Students are assessed and placed at an appropriate tier level.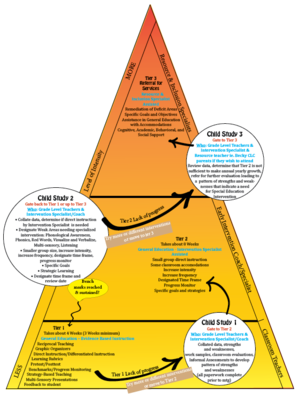 Tier One – student is learning in a traditional classroom environment with an expected level of student/teacher interaction. DEA, Fry Words and the Ekwall assessments serve as evidence of this understanding.
When a student exhibits some difficulties in the traditional classroom environment
Teacher requests a Child Study Team meeting
Documentation and teacher anecdotal record of observations along with some work samples are sent to team members
Additional work samples may be brought to the meeting
Child Study Team members determine if a child needs services at the Tier Two level
Tier Two – an identified student receives support services outside of the classroom to develop the necessary phonetic, visual and verbal skills. After successful completion of Tier Two intervention, a student is returned to Tier One.
If a student has not made successful progress at the Tier Two level, the Child Study Team will be brought together to:
Review recent testing and anecdotal information of teacher observations
Review examples of student work
Classroom observations will be made
Further assessments may be recommended to determine the need to begin a Tier Three intervention.
Tier Three – the student has an identified learning disability and will receive support services and interventions to accommodate their needs.