Equipping students: mind, body & soul in community – yesterday, today and tomorrow!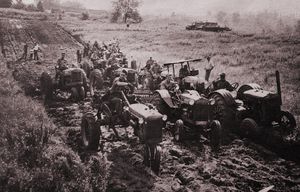 A group of people met in the basement of the Ada Christian Reformed Church in May of 1942 to form the Ada Christian Society. Their desire for a Christian education for their children was strong.
The first purchase was a bus to carry their children to Baldwin Christian School in Grand Rapids. By 1949 there were 60 students riding that bus each and every day.
In 1950 at a meeting of the school society it was decided that it was time to build a two-room school. The treasurer reported a balance of $4.35. They planned a fund drive – and it did not go well. Clarence Andre came forward and wrote a check for $500 which was more than he could spare. He was determined that there would be an Ada Christian School. This was the spark they needed to push forward. The Ada Christian School Society worked diligently to build that two-room school and it was ready for use in September of 1951 on a site adjacent to Ada Christian Reformed Church. The school opened with sixty two students in grades kindergarten through ninth and two teachers. At the dedication service on Aug 31, 1951, Dr. John Van Bruggen challenged parents and teachers with their greatest task at Ada Christian School: to maintain a school in which all of the teaching is in accordance with God's Word, and in which God is given all the glory due His name.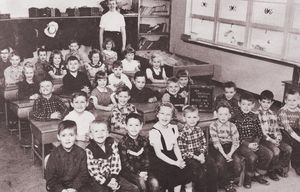 The school building was renovated 13 times and the number of students grew from sixty-two to 400 over the next fifty years. The school also added a preschool program and began to serve over 100 children at Ada Christian Preschool.
As space was needed in the coming years, portable classrooms were placed on the property. In 1986 a fund raising effort yielded the money needed to add eight new classrooms along with a media center, computer lab, art and music rooms, new athletic fields and a new playground.
It was not long and that beautiful new space was overflowing with students and portable classrooms began to appear again!
In the year 2000, the school began a momentous venture with a $12.5 million "Keeping Faith" Capital Campaign toward the construction of a new school. After purchasing thirty-seven acres at the corner of Ada Drive and Fox Hollow and spending two years in preparation, the School Society began the supervision of the construction of the new school. The building process was completed in the summer of 2002, and that September students began school in their new facility at 6206 Ada Drive. God moved the hearts of people and the campaign goal was reached.
From a $500 check in 1950 to $12,500,000 in 2001...
Our God was faithful!
A few short years later there was a need for additional gym and office space. Another $3,000,000 campaign was launched, the goal was met and a building project was completed. Several smaller projects have changed the shape and function of a few spaces, but the footprint has remained the same. We love our home!
It seems that we have measured God's faithfulness with numbers and dollar signs. The real testimony to his faithfulness can be found in the pages of a pair of 25th and 50th anniversary books and yearbooks that have been a tradition since 1978 when Mr. Hollander produced the first one. Mr. Hollander retired, but his legacy lives on.
The words of our graduates, teachers and parents tell the true story of God's faithfulness to us and our faithful response as his loving children! As we begin each new year of equipping students for service in God's world may we give all honor and glory to our creator and provider. God has continued to bless Ada Christian School. We have dedicated faculty and staff that share the time honored desire and commitment to teach students the wonders of God's creation, to acknowledge his dominion over all things, share his love and to nurture a desire to give back with thankful and joyful hearts. Ada Christian School serves more students than in our early years, and the methods of education have changed much over time. However, the goal has remained close to that expressed at the original dedication service in 1951: to maintain a school in which all of the teaching is in accordance with God's Word, and in which God is given all the glory due His name.
GREAT is his faithfulness!!