A Note From The Principal
Professional Development Reflection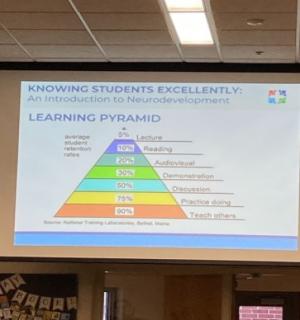 At our professional development day on Monday, January 17, 2022, this graphic was shared by our presenter, Jenna Zemaitis. I am hoping you are able to zoom in on it and benefit from the purpose of it.

Over the years, studies have been done to show what the highest rate of student retention is based on how they are given information. I noticed that in the top 4 sections of the pyramid, a teacher is "the magic" if you will.

As soon as the teacher involves the student, the retention rate increases dramatically. This shouldn't be surprising to any of us, but how to do that effectively in a classroom of 20+ students can present a challenge. How does one engage a student? How is their interest piqued? What type of lesson allows for the bottom of this pyramid to happen more often than not?

We were stretched by this. I am confident that for those that are on staff at ACS, they can approach a faculty member and ask, "How do you do this in your classroom?" Faculty will be able to answer that question by what they are doing in their classrooms.
This Week
MENistry
When: Friday's at 8:00am
Where: Brody's BE Café
What: Man in the Mirror book review
Who: ACS dads
Why: To be in community with other fathers of ACS students and grow deeper in Christ.
Questions? Contact Andy Anderson via text/call, 616-325-6116
Moms In Prayer
This week we're praying for our "specials" teachers. God is our Rock — Firm foundation, immovable, stable, dependable, refuge, and unbreakable
Scripture: "LORD, may You keep us in perfect peace because our mind is steadfast and we trust in You. May we trust in You forever; You, are the Rock eternal." Isaiah 26:3-4
We're a group of Moms passionate about lifting up our kids and ACS faculty and staff in prayer — we pray every Thursday, 8:00-9:00am, in the front office. If you have any questions, give me a call (Kelly, 616.304.2963)
Now You Know
The Winter Olympics are coming to ACS!
Every four years ACS joins with our nation and countries around the world in celebrating the Winter Olympics. This year the 2022 Winter Olympics will be held in Beijing, China. The ACS Winter Olympics will take place on school grounds from Monday, Feb 7 to Thursday, Feb 10. Closing ceremonies will be held on Friday, Feb 11 in the South Gym. Students in grades 1 through 8 will be on a team which will participate in 2 events each day. Floor Hockey, speed skating, curling, biathlon, bobsled and luge, are just some of the events that will take place.
Parents, we need your help for the ACS Olympics!
We will need 32 parent volunteers to help each day of the ACS Winter Olympics Monday, Feb 7 through Thursday, Feb 10. We need 16 parent volunteers to help with 5th through 8th grade events from 11:45 to 1:15 and ANOTHER 16 parent volunteers to help with 1st through 4th grade events from 1:00 - 2:30. Please sign-up and we will be in touch with you with more details.
GRASP
Grand Rapids Academic Summer Programs are available for ACS students. GRASP is an optional summer correspondence education program for grades K-8, which helps students maintain reading and math skills while they are on summer vacation. Please complete the attached form and return to the ACS office.
You're Invited: ACS S.E.E.D. Market - Fri, Jan 28
What? The Ada Christian S.E.E.D. Market
When? Friday, Jan 28 from 2:00-4:00pm
Where? Ada Christian North Gym
Who? Parents, students, and anyone in the community
Bring? Money to purchase bracelets, slime, stress balls, home decor, baked goods, jolly pops, and much more!
S.E.E.D. stands for: Service, Entrepreneurship, Education and Design.
The 5th and 6th graders have spent time learning about the needs of others in our local and global community. The SEED market offers 5th & 6th graders at Ada Christian an opportunity to create, make, and market a product while understanding the importance and power of micro-financing - something that is an essential aspect to non-profits all around the world. All proceeds from the market will benefit Mission India and World Vision.
Faith Strong LEGO® League Programming Club 2022
Let's design, build and program LEGO® MINDSTORMS® robots! In this club, members will complete "missions" on a table-top playing field. This club provides an opportunity to learn and practice skills needed for FIRST Lego® League competitions. Applications for the 2022 ACS Lego League team will be available next fall. The Programming Club will offer the chance to experience what Lego League is all about before the competitive season begins!
Coaches: Ms. Frens and Mr. Jorgensen (veteran FLL coach and former ACS parent) and Mrs. Lineberry (current ACS parent)
Applicants: Students in grades 4-6
When: One Friday each month Feb 11, March 18, April 15, May 13
Cost: $40 (Scholarships available upon request)
Payment can be made via cash app or via check delivered to the office made out to Jackie Frens. Depending on interest, the number of participants may be limited. Please submit applications by Friday, Jan 21, 2022. Apply today!
Action Needed
Parent Teacher Conferences - Jan 15 & 24
Parent Teacher Conference forms came home last week. Please complete and return the form by Wednesday, Jan 26.
Please note that 5-8th grade will be round robin style contrary to what the original form said. If your student is in middle school you do not need to specify a time.
Employment Opportunities
We have the following employment opportunities available:
Long-term Social Studies Substitute
Early Intervention Specialist
Looking Ahead
2022-2023 Calendar
Below is the calendar for NEXT school year.
Aug 23 - First Day of School (Half Day, dismissal at 11:30am)
Sept 2-5 - No School (Labor Day)
Sept 26 - No School (Teacher In-Service)
Oct 19-23 - No School (CEA Convention)
Nov 23-27 - No School (Thanksgiving Break)
Dec 21 - Half Day, Dismissal at 11:30am
Dec 22-Jan 2 - No School (Christmas Break)
Jan 3 - School Resumes
Jan 16 - No School (Teacher In-Service)
Feb 16-20 - No School (Winter Break)
Mar 30-Apr 9 - No School (Spring Break)
Apr 10 - School Resumes
May 5 - Grand Friends Day (Half day, dismissal at 11:30am)
May 29 - No School (Memorial Day)
June 2 - Last Day (Half day, dismissal at 11:30am)
ACS Athletics
PurePlay
Spring Soccer sign ups are open. The season will run from April 16-May 21.
Co-Ed Child-Parent Volleyball Clinic
Boys and girls, Grades 1-4
Limited to first 20 students
March 05 9:00 -11:45 am
ACS North Gym
Cost: $30.00 per adult/child pair. Two T-shirts included.
This Clinic is for both boys and girls, accompanied by an adult, and is designed to help students learn skills and parents understand how to help their child practice the skills of volleyball.
To Register, email Coach DK (gro.naitsirhcada@enielkeds)
Deadline: February 15
Calendar Reminders
Feb 15&24 – Parent Teacher Conferences
Feb 17-21 – No School - Winter Break