A Note From The Principal
Fall Fun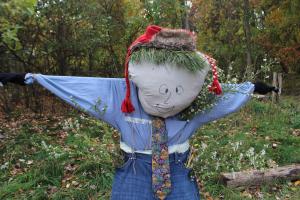 Yesterday several of our students enjoyed an afternoon of fall fun, making scarecrows and pressing their own apple cider!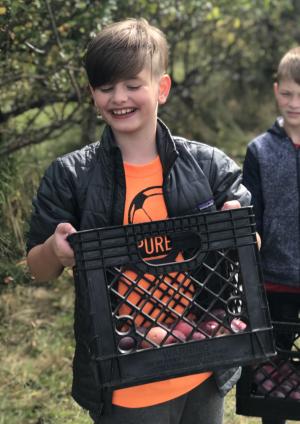 COVID-19 Update
As COVID-19 cases in West Michigan are currently on the rise, we continue to follow our Preparedness Plan. Research has shown the spread of COVID-19 is often linked to social gatherings outside of schools. Please help us keep our kids in school by taking diligent precautions when making plans to spend time with friends and extended family. Thank you for your continued efforts, it's making a difference.
A Family In Need
Jeff Visser, father to 5th grade student Maylee, was diagnosed with Mantel cell lymphoma this past Memorial Day. At this time Jeff is undergoing challenging treatments and has been unable to work since April. One of the ways we can help at this time is by signing up to bring a meal. Please also join us as we lift up Jeff and his family in prayer.
A Prayer Matter
The Schrotenboer family has made a Caring Bridge page for updates. Thank you for all of your prayers on their behalf.
Now You Know
ACS Book Fair
The ACS Book Fairs are only two weeks away. Please watch this video for more information.
Ski Punch Passes
Cannonsburg will be opening and you all can dust off your skis and boards!! Once again Cannonsburg is offering discounted punch pass cards for the season. New this year will be the option to purchase online and have them shipped to you! You are welcome to use your punch cards any day that works for you. Grab your family and head there on a Saturday morning to avoid the crowds, meet up with a friend after school any day and stay until it closes! How do you do this?
1. Go to www.cannonsburg.com
2. Click on "Store" tab
3. Choose the "Passes" option
4. Shop the punch cards that work for your family.
5. When checking out be sure to state Ada Christian School and Katie Kuiper as sponsor school and name.
6. When passes are ready you can pick up at Cannonsburg once they open or you may choose to have them mailed to your house!
You may still pay by cash or check by printing and filling out the form attached and sending it into the office with your child(ren). Label the envelope Ski Punch Card/Katie Kuiper.
Please call Katie Kuiper at 616.485.1888 or email her at jk_kuiper@yahoo.com if you have any questions. Hit the Hill with us (because honestly, it's not a slope but we can have just as much fun!)
Deadline is Tuesday, Nov 24.
ACS Gear is Here
From now until Oct 28 you can order ACS spirit wear. Check out the online store and order some gear!
PTO Happenings
Charleston Wrap
One of our most important fundraisers of the year, Charleston Wrap, has begujn. Many great gifts, including home goods, sweet treats and the popular "reversible" gift wrap are available. It's shopping made easy that also supports our school.
Each student brought home a Charleston Wrap packet last Friday. Online shopping is also available for friends and family who are near and far. Check out the online store.
It is our goal to raise $25/student for our fall fundraiser. We understand that some families are happy to donate money in lieu of selling products. Please feel free to return the order sheet with your donation if this applies to you.
ACS Athletics
PurePlay
Soccer season is now complete. Thanks to all for a wonderful season!
Basketball signups are underway!
Calendar Reminders
Oct 21-23 - No School (Teacher Convention)
Nov 25-27 – No School – Thanksgiving Break
Dec 21 – Christmas Break begins, Resumes Jan 04
Requested Announcements
Brody's Be Cafe
Do you know about Brody's Be Cafe? It is a nonprofit full service coffee cafe in downtown Ada that employs individuals with intellectual or developmental disabilities. "We BElieve everyone BElongs and we can work BEsides one another.". ACS alumni Alex VanderPloeg is employed as a BErista and there are ACS parents serving on the board. Brody's Be Cafe encourages ACS families to stop by and support this great local 501(c)3 nonprofit. Also, the cafe is now serving Chick-fil-A for breakfast and lunch on certain days. See hours and events on Facebook or instagram @brodysbe. Located between Blimpie and The Community Church on Thornapple River Dr.