Ada Connection – September 28, 2016
A Note From Principal Brower
What Happens On Professional Development Days?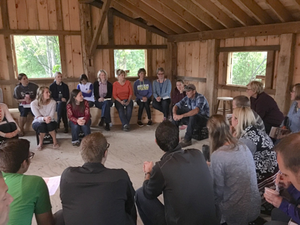 We learn! I thought you might enjoy seeing some of the ways we worked together on Monday. Here are a few things we did:
Devotions - Our day began in the WoodshED and outdoor areas where we spent time in God's word reading, re-reading, reflecting and praying on I Corinthians 2:9-10.
One book, Two book, Old Book, New Book – This was a book talk session where Mrs. Boerman introduced books to elementary teachers.
ConnectEd Workshop - Some of our teachers learned more about our Math program and how to best use online resources.
Bloodborne Pathogen Training and Emergency Procedures - Training and review.
DEA and More – Teachers reviewed DEA scores and other universal screeners we use in math and language arts to help us identify strengths and areas of concern for students.
iPads in the Classroom - Training and practice.
Write Steps – Teachers met to learn more about some of our language arts resources.
Outdoor Education – Mr. Hoo and Mr. Boerkoel met with several grade levels to plan outdoor learning experiences that enhance our curriculum.
We Have Goats!
Joy, Beau, and Moonlight just arrived!
Mr. Hoo helps explain why...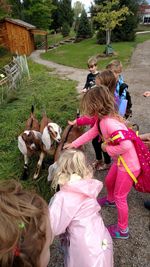 We have a major invasive species problem on the the property that we are dealing with: Autumn Olive, Bittersweet, Buckthorn, etc... These plants overwhelm an area and then spread. The goats are effective at eradicating them – they like Poison Ivy too!
The goats will be a great talking point lesson for every grade level. Why are we having the goats? What are the needs of the goats? What is a ruminant animal? Why are there goats throughout the third world? (Most common meat in the world.) How can you have a dairy goat? And more!
These goats will add LIFE and EXCITEMENT to our program. Kids smile when they see the changes to our property but, their eyes light up when we mention the possibility of goats.
Goats are easy to care for and friendly. They browse for food and need little care. They are hardy animals. The students' interactions with them will be safe....and bring delight.

We plan on keeping the goats for a three-week trial period to see how it goes. A goal is for each grade to have at least one 30-minute goat lesson during the next three weeks. Students will only be by the goats with a teacher present. The goats will be contained by a well-marked, solar powered fence (in a non-recess area).
OE Classroom "OPEN"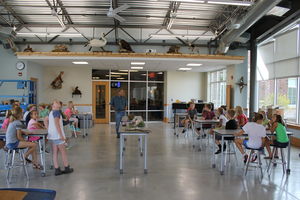 A very special paper arrived in my office last week that allows us to hold class in our beautiful new outdoor education classroom! The permit arrived and within a short amount of time, we had students in the class. Mr. Boerkoel partnered with Mrs. Schaafsma and Mrs. Alphenaar to add a special outdoor element to their current seed studies.
After taking a great walk through our outdoor space to collect seeds, students gathered at the WoodshED to share and identify their special findings. Next, they were able to go inside the OE Classroom where Mr. Boerkoel had all kinds of interesting seeds (including a coconut) for students to see, touch and smell as he explained many wonders.
Limiting Classroom Interruptions
To help us keep classrooms as free from distractions and interruptions as possible, we are asking students to come to the office at an appropriate time to pick up lunches, practice clothes, computers, instruments, assignments, and other forgotten items without an announcement being made in the classroom.
Parents – if you are making a delivery, please tell your students you will be leaving the items in the office rather than delivering them personally or having them called to the office.
This Week
Bus Changes On Sept 29 & 30
Our Middle School students will be out and about serving others in our broader community next week Thursday and Friday. Please hold them in your prayers! Our ACS buses will be needed to facilitate the work they will be doing. We will be able to do the morning run on both of these days, but the PM run is cancelled. We are sorry for any inconvenience this may cause. Thank you for understanding!
Action Needed
ACS Foundation Dinner—Nov 21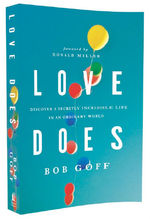 We're looking forward to hearing from best-selling
author Bob Goff speaking
about his book, Love Does. Bob is an entertaining, engaging speaker who passionately tells stories of the impact of love in our world. He's an attorney, founder of an international organization "Restore International" and professor at Pepperdine Law School.
We offer table sponsorships (tables of eight) and individual tickets. Parents, grandparents and friends of ACS are encouraged to join us for this very enjoyable event at the Amway Grand Plaza Hotel on Nov 21.
Questions? Contact Dan Day (616.676.1289 ext. 104, gro.naitsirhcada@yadd).
Meals For The Rauch Family
The Rauch family has several kids at ACS and Teresa, the mom, has been diagnosed with ALS. Outside of coveting your prayers, the family could really use meals. We would love to provide them with two meals a week. The meal would need to feed 5-6 people. No allergies.
Sign up to make a meal and see what others are bringing. Meals may be delivered to the office and Brian Rauch will pick them up after school. If you have any questions, please contact Jill Anderson (ten.labolgcbs@5791nosrednaj).
PTO Happenings
Volunteers Needed
As you all know it takes volunteers to keep the PTO productive. We are still seeking 2 co-chairs for Grand Friends Day. Interested? Contact Dawn Raymond (616.238.6606, moc.nsm@19dnomyard).
A special thanks to Katie McNinch, Jenny Brower, and Ashley Eilers for joining the ACS carnival committee!
Moms In Prayer
Please join us Thursday at 8:00-9:00am in the office conference room as we pray for our children, their teachers and the ACS community. Questions? Contact Laura Cawley (616.425.9728, moc.oohay@57_csarual).
This week we will be praying specifically for Administration, School Board, Front Office Staff and Volunteers. Psalm 116:4-5. Then I called on the name of the LORD: "O LORD, save me!" The LORD is gracious and righteous; our God is full of compassion.
MENistry
A group of ACS dads who meet and dwell with the Word of God every Friday 8:00-9:00am in the back office conference room. This fall we will be going through the book of Ephesians. Coffee and donuts provided.
Calendar Reminders
Stay in the loop with the 2016-2017 ACS All School Calendar (3 MB PDF)
Oct 07 – "Faith. Strong." Friday
Oct 13 – Parent teacher conferences
Oct 13 – Picture day
Oct 14 – Picture day
Oct 18 – Parent teacher conference
Oct 19 - 21 – No School (teacher's convention)
Oct 31 – No Forest Hills transportation (PM)
ACS Athletics
PurePlay
Soccer – 9:00am Girls; 10:15am Boys
Running Club – Wednesdays 3:00-4:15pm