2016 Education Foundation Annual Dinner
Details coming soon.
Contact our Director of Development, Dan Day (676.1289, gro.naitsirhcada@yadd), if you want to be notified when this page is updated.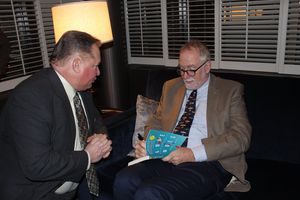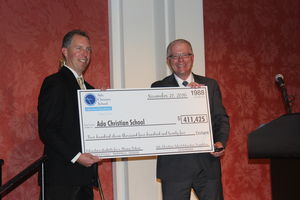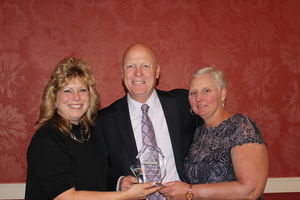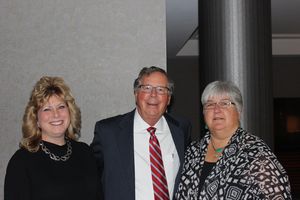 Once again, the annual Ada Christian School Foundation dinner was an inspiring and thought-provoking evening. Held November 21, more than 430 members of Ada Christian School alumni, parents, supporters and friends gathered at the Amway Grand Plaza Hotel.
The featured speaker was Bob Goff, the New York Times best-selling author of Love Does, as well as an attorney who founded Love Does, a nonprofit human rights organization. David and Carol Van Andel, ACS supporters whose three four children attended the school, opened the dinner festivities with a four-letter word, "Love." David said, "It's the reason why we can make a difference in this world. We love this school, the teachers, students and the mission."
David also added, "We're not here just to talk about the school we love, but the hearts we can shape with the school that we love." Carol thanked all of the supporters in attendance acknowledging, "You wouldn't be here if you didn't believe in this school."
The opening prayer was led by the ACS eighth-grade class president, Dafna Heule. David Leonard, ACS Education Foundation board member, then gave a financial update and thanked supporters for keeping ACS accessible for 30 families receiving assistance this school year.
The 2016 foundation check presentation was made to Ken Berg, a former ACS student and the current school board president. "I can't tell you how grateful and thankful the families assisted by the Foundation are,' added Ken.
Ada Christian School principal Melissa Brower gave thanks for the servant hearts who have supported ACS since 1950, "I'm so grateful as God has been faithful." Principal Brower then introduced a special family being recognized during the event, the Suwyns.
The four Suwyn children, Marissa, Adam, Kiera and Lexie,, described their upbringing at ACS as "excellence rooted in faith, yet not just excellence for excellence sake, but for the glory of God." Duke and Sue Suwyn were recognized for their decades of support and dedication to ACS. Sue celebrated that "tonight is about something different, a heritage of Christian education." Duke described their commitment to Christian education as, "The best investment ever."
Principal Brower had a surprise to announce, that the newly created hiking and biking trail connected to ACS property would be named the 'Wildcat Way,' reminiscent of Sue Suwyn's way of making things happen at, and for, ACS over the years.
Next Bob Goff, the best-selling Christian author and inspirational speaker, made his way to the stage. Bob began with a simple piece of advice, "Do your work."
How can we find out what this work is- start by examining our lives, "whatever you fill your bucket with is what you turn into," Bob explained. Bob encouraged Christians to step out of our comfort zone. "Comfortable people don't need Jesus." Bob shared how he has stepped out of his comfort zone in many of his travels around the globe, experiencing other cultures and people, learning much about himself along the way. "It's fulfilling to bring Jesus to hurting people."
Quoting James 1:22, "Do not merely listen to the word, and so deceive yourselves. Do what it says." Bob added that "people will know what you believe by what you do. Following Jesus is not easy, but simple – do your work."