Ada Connection – Sept 04, 2019
A Note From The Principal
Theme Shirts For Sale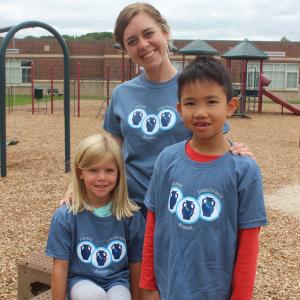 Our theme t-shirts have arrived. You may purchase a shirt for $5 at the Back to School Picnic and Carnival tonight. Show off your "Faith. Strong." spirit!
Student Relations Snippet
Like you, our desire is to nurture a school culture in which everyone feels safe, valued, and loved.
Ten years ago a leading expert on helping students get along, Dr. Marcia McEvoy, joined us for an extensive faculty, staff, parent, and student training program. Since then, we have remained committed to continued teacher and student training as we work to "sweat the small stuff".
During the first month of school, teachers will cover important topics and facilitate discussions on things like: What is a hurtful behavior? What is the difference between an annoying and hurtful behavior? What should we do if someone is annoying us? What should we do if someone is being hurtful?
Q. How does ACS describe a hurtful behavior?
A. A hurtful behavior is a look, word, gesture, or action that hurts a person's body, feelings, friendships, property, or reputation.
Q. What should my student do if someone is annoying (bothering) them?
A. First - Look person in the eye and put on a calm face. Use a calm voice and say, "That's bothering me. Please stop. If the person stops, say thank you.
Second - If the person does not stop, count to 10 slowly and then say, "That's bothering me. Please stop or I will report it. If the person stops, say thank you.
Third - If the person does not stop, report it to an adult and say, "I asked nicely two times for (name) to stop (behavior). S/he keeps doing it. Will you help me?
Q. Is there anything I can do to partner with ACS in helping guide my student in kind behavior?
A. Sure! Of course, modeling and expecting students to be kind is key. Also, helping students practice the things we are teaching in school related to Student Relations can make a big difference. Following are a couple ideas:
While watching shows, reading books, or interacting with siblings, parents can ask things like, "Was that an annoying behavior -- why or why not?" or Was that a hurtful behavior -- why or why not?" And then, talk about it as you help your child understand and articulate differences between annoying and hurtful behaviors.
Help your child understand and practice what it means to have a "calm" face and to use a "calm" voice. Practice when a student is not upset.
Guide students in using the approach we ask them to use if someone is annoying them.
Equipping Students for Service in God's World
Dear Parents,
With a couple weeks under our belts, we are happy to report that the ebb and flow of our new school year is off to a great start. What a blessing to embark on another year of partnering with you to equip our students for service in God's world.
At Ada Christian School, each and every teacher and staff member works to provide the best possible education for your child. Ada Christian teachers use daily work samples, quizzes, informal screening, and teacher-student conferencing to monitor student growth. They utilize this information to guide instructional delivery that is geared toward your child's individual needs.
ACS also uses a school-wide formal assessment called MAP Growth. These tests not only determine your child's instructional level, but also measure academic growth throughout the school year (and from year to year) in Math, Reading, and Language Usage.
MAP Growth tests are unique in that they are adaptive tests. As your child works through the assessment, the questions become more challenging with each correctly answered question. And, when your child answers a question incorrectly, the assessment becomes easier. Ultimately, targeting your child's specific learning level.
Students will be participating on different days and at different times throughout the next several weeks. Your child's teacher will share the specific dates with you in their class newsletter.
If it is your desire to have your child NOT participate in this assessment process, please complete the opt out form by Friday, Sept 06. Printed forms are also available in the ACS office.
Your Partners in Christian Education,
Melissa Brower & Julie DeKoster
Action Needed
Recess Volunteers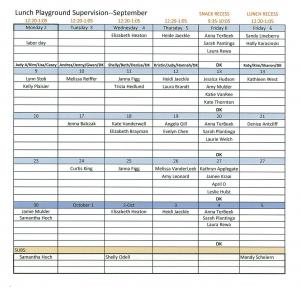 Thank you to all who have signed up for recess duty. It is a great way to connect with students during the school week. Please check the availability below and consider helping.
Have time to volunteer? Email Sharon DeKleine (gro.naitsirhcada@enielkeds)
Hot Lunch
ACS is happy to provide hot lunch again this year. Here's a few of the highlights.
All families K-8 need to have an active Send Money to School account for the 19-20 school year. You must set up an account before your child may eat. If you already have an account you will still need to log in and connect your students.
You will need Student ID number(s) for your child(ren) which you can find next to your child's name when logging into PowerSchool.
1. Create an account
Visit https://www.sendmoneytoschool.com/ to set up your account.
Select "Grand Rapids Christian" as your school district.
Select "Ada Christian" as your school.
Add your students to your account using student ID number.
2. Add money to your account
You can add any amount of money at any time.
3. Review the menu (711 KB PDF)
Updated monthly.
Free and Reduced Lunch applications are available at www.lunchapp.com Select Grand Rapids Christian as your school district.
Please note: if you received free or reduced lunch benefits last year, you need to reapply each year. Please go to Lunchapp.com and fill out the application online. If we do not receive your application prior to September 9th, your benefits will end and your child(ren) will need to have money in their account to take hot lunch or breakfast at the high school. If you have specific questions, please email Jill at gro.scrg@gadnozj .
This Week
Picture Ordering
K-8 order forms were sent home last week. Preschool photos will be available to view tomorrow. If you would like retakes, contact Sharon DeJong (gro.naitsirhcada@gnojeds) by Sept 09.
Accessing the online gallery:
Visit huttengaphoto.shootproof.com
Select Ada Christian School Session using password: ACS2019
Locate your family's last name and enter your family password (this can be found on the picture form/and or email you received last week).
Select the poses you would like to purchase (the photos you see are without edits and will be edited after selection).
Fill out the order form sent home and send back to school with your child by Sept 13.
Car Safety First
Please, for everyone's safety:
Back into parking spaces

in the afternoon
Don't drive through the cross walk

when leaving the parking lot
Cell phones ARE NOT allowed

while driving in the parking lot
School Guidelines
There are a number of details of which you need to be aware. Please review the list below to become familiar with some basic requirements.
Latex Balloons And Pets: These are dangerous to our students with allergies and therefore are not allowed at school.
Vacation Absences: Parents, if you are taking students out of school for a family vacation, please write or email (email addresses are in the front of your directories) a note of explanation to the school office and your student's teacher at least one week prior to the absence.
Leaving Early From School: When you pick up your child(ren) before the end of the day, you must first come to the office to sign them out, and then the office will call them from their room. (Please do not tell your child(ren) to come wait in the office for you and do not go to their classroom to get them).
Cell Phone Numbers: ACS will not give out cell phone numbers that are given to us on the emergency form. We use those numbers as contact for emergencies only. Please be sure to exchange cell phone numbers with your friends that you want to have those cell numbers.
Tardies or Early Dismissals, and Appointments: All students who arrive late or leave before the end of the school day must go to the office to sign in or out. School begins at 8:00am. The first minutes of the day are important for devotions and announcements, and your child should not miss them. Please send a note or email to the teacher the day before, if you plan on being late the next morning due to an appointment.
Messages: Please call before 2:30pm in order for the office to have time to give the message to your child.
Leaving Phone Messages: Please instruct/train your children to leave a message on your home phone and/or cell phone if they call home during the school day. If it is an emergency, we will continue to call until we reach you.
School Closings Or Delays: If fog or weather conditions result in a two hour delay or closing being necessary, local TV and radio stations will list Ada Christian School. Since many of our students are bused by Forest Hills Public Schools, we close when they do during weather emergencies. If Lowell Public Schools closes and Forest Hills Schools remain open, Ada Christian School will remain open, but the Ada Christian buses to Lowell will not run and those parents will need to bring their students into school that day and pick up at the end of the day.
Attention New Students
Birth Certificates: Any student new to Ada Christian School, Kindergarten - 8th (2019-2020 school year) must bring to the office a copy of his/her birth certificate. This is required by law in the state of Michigan. The office will make a copy for you.
Immunization Forms: Immunization forms are due now. By state law the school must have this form on file for your child by the start of school. If this form is not in, please turn it in yet this week or call Sharon DeJong in the office at 616.676.1289 to let her know when it will be arriving.
Pesticide Application
Advisory To Parents (as required by Michigan Department of Agriculture)
As part of Ada Christian School's pest management program, pesticides are occasionally applied. You have the right to be informed of any pesticide application made to the school grounds or building. In certain emergencies, pesticides may be applied without prior notice, but you will be provided notice following any such application. If you need prior notification, please email Mr. Jeff Droge, school custodian (gro.naitsirhcada@egordj).
Now You Know
Parent Orientation – Sept 10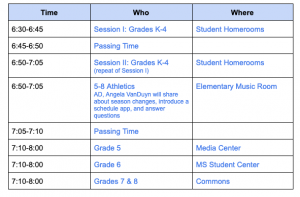 Dear ACS Parents,
On Tuesday, Sept 10, we are eager to have you join us for our parent information night. During this evening, teachers will share important information with parents about the upcoming school year. Please do your best to be in attendance.
Please arrive a few minutes early so you can fill out a name tag and get to your destinations on time for prompt starts since our time is limited.
Questions? Please contact your student's homeroom teacher.
Gathering Time
We are very excited to begin a new school year and to get back to singing God's praises in Gathering Time Wednesday mornings from 9:15-9:45am.

Parents are welcome to come and worship with us however:
Please arrive by 9:15 as students often get distracted by the clicking/buzzing of doors when parents arrive late.
We also ask that the students stay seated with their class during the worship time, even if their parent is present.
We want to worship our Lord wholeheartedly and hope that these simple changes will encourage a more meaningful worship time for all.

-Mrs. Vruwink and the Elementary Staff
Rauch Family Fundraiser
Consider supporting the Rauch Family through their golf outing fundraiser. Sign up now!
Riding for Ryan
In memory of Ryan Marsman Riding for Ryan bike flags will be available at the Back to School Picnic and Carnival for Kindergarten-4th grade students, due to a limited supply at this time.
Additional flags will be available later on in September.
Education Foundation Dinner - Thursday, Oct 17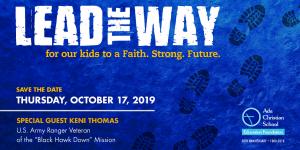 Dear Parents,
Join us for an exciting night of inspiration and motivation as we celebrate the 30th Anniversary of the Ada Christian School Education Foundation and welcome Keni Thomas, U.S. Army Veteran of the "Black Hawk Down" Mission. Drawing from his experiences on the battlefield, Keni shares an inspired Christian view of our greater purpose and calls on people to "use their gifts" and "lead by example". Keni left the Army to pursue his music career and now works full-time as an award winning country music artist in Nashville.
Another highlight of this year's dinner is the presentation of the Distinguished Service Award to Neil and Gwen Kraay, long-time ACS and ACS Education Foundation supporters.
Parents, grandparents and friends of ACS are encouraged to join us at the Amway Grand Plaza Hotel on Oct 17. We offer table sponsorships (tables of eight) and individual tickets.
Don't wait to let us know you can join us, sponsorship and tickets are available now!
Questions, Contact Mark Stuit, Director of Advancement (gro.naitsirhcada@tiutsm)
PTO Happenings
Back To School Picnic And Carnival
The fun begins . . . . tonight! Come on over for the Back To School Carnival and Picnic tonight from 6-8pm behind the school on the ACS track.
Picnic from 6:00-7:00pm (thank you so much, Promotions Committee) and the Carnival rides and games run the full time from 6:00-8:00pm.
All kiddos Preschool through 8th grade need a wristband to play games and spin around on the rides - save yourself a few bucks and nab them at the sales table after school today for $12, they become $15 at the door. We'll see you there!
Excitedly,
Your PTO Ringmasters
PS - We have an opening for a Co-Chair for the Carnival for next year! This is the perfect opportunity to be a part of such a classic childhood memory for your children and others. What could be more darling than a little school carnival on a summer evening? We would truly appreciate your help for next year, we have a great team in place but we need just one more. So take it all in tonight, and pray about it, and consider whether or not this might be a role at school with your name all over it. Its an easy one.
Questions? Contact Holly Karasinski hollyk2234@gmail.com or 616.901.8882
Class Coffees
Looking for a way to connect with parents who have children in the same grade as you do? Please join us right after school drop off for a time of food and fellowship in the ShEd! This year we are excited to be serving Starbucks coffee!
Sept 10 – Kindergarten class coffee
Sept 11 – 1st grade class coffee
Sept 12 – 2nd grade class coffee
Sept 17 – 3rd grade class coffee
Sept 18 – 4th grade class coffee
Sept 19 – 5-8th grade class coffee
Box Tops
Every little bit helps - keep those Box Tops coming, we sure appreciate it! It's now easier and faster than ever. Download the app, make a quick habit of scanning your grocery receipts and . . . . DONE!! No clipping through tough cardboard boxes, checking the expiration dates, saving them all in a baggie and sending them in with your child - all of that is in the past. Make way for the new and light-years improved system, and keep those credits coming our way. We average about $900/year from this program for the PTO and we're expectantly hoping that with the new, more efficient system we'll actually see an increase. Thank you so much in advance!
Direct Your Dollars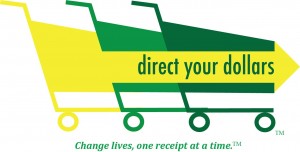 Do you shop at D&W, Forest Hills Foods, Ada Market or Family Fare? If so, please save your receipts! SpartanNash gives Ada Christian School a $1,000 check for each $150,000 in receipts collected.
BBQ, watermelons, popsicles . . . make use of all those fun summer purchases by submitting your receipts. Last year we practically hit a goal from the summer collections alone!
The money earned through this program goes directly back to our students through the PTO. Ask your family and friends to save receipts too! Every little bit helps. Deposit your receipts in the marked container on the office counter.
Questions? Please contact Kristen Yeh (moc.oohay@hey_netsirk, 616.307.2488).
ACS Athletics
PurePlay
Fall soccer: Begins this Saturday, Sept 07. Boys at 9:00am, Girls at 10:15am. Weekly practice begins next week.
Fall Running club: Starts next Wednesday, Sept 11, 3:00-4:15pm. Email Coach DK (sdekleine@adachristian.org) to sign up.
Want more details about PurePlay? Visit our website.
Wildcats
Please remember ACS asks for a full commitment from student athletes who participate in athletics through ACS. This means attending all practices and games. If you have questions about potential conflicts please contact Angela VanDuyn at avanduyn@adachristian.org before registering.
Calendar Reminders
Sept 04 - Back to School Picnic and Carnival 6:00-8:00pm
Sept 10 - K-8 Orientation 6:30pm
Sept 10 - Picture Retakes - must call the office if you wish to have retakes or sdejong@adachristian.org
Sept 27 - No Forest Hills bus transportation at 3:00pm
Sept 30 - No School (In-Service Day)
Oct 17 - Education Foundation Dinner
Oct 21 - Parent/Teacher Conferences 5:30-8:30pm
Oct 22 - Parent/Teacher Conferences 4:30-7:30pm
Oct 23-25 - No Schools (Teacher Convention)
Requested Announcements
Voice and Ukulele Lessons
Mrs. Vruwink is offering weekly after school lessons for voice and ukulele this fall. If interested, please contact her at gro.naitsirhcada@kniwurvk.
GRCHS Cheer
All girls in PK-6th grade: The 25th annual GRCHS Fall Junior Cheer program is back! This year, the Junior Cheer clinics will be held on Monday, September 23 and Monday, Sept 30. Registration takes place immediately prior to the Sept 23 clinic from 3:30–4:00pm. Clinics will be held in the Quest Center at Grand Rapids Christian High School and will begin at 3:50pm. and end at 5:15pm. Cost of the two clinics is $25 (checks to GR Christian Cheer) and include a long-sleeve t-shirt, after school snacks, and a ticket into the game. The Junior Cheer game is scheduled for Friday, Oct 04, which is also the GRCHS Homecoming game against the Thornapple-Kellogg Trojans. If you are unable to accompany your daughter to the first clinic on Sept 23, you may pre-register by contacting Varsity Cheer Coach, Jacquie DeJonge, at 616.949.7516 and leave a message with your name and cell number.