2019 Education Foundation Annual Dinner
Leading the Way for our Kids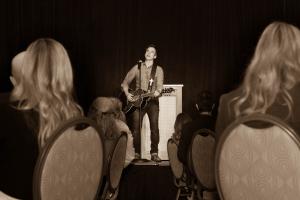 On Thursday, October 17, 2019 more than 350 members of the Ada Christian Community came together in the Amway Grand Plaza to celebrate the 30th Anniversary of the Ada Christian School Education Foundation and raise money for the future. It was a wonderful and inspirational evening to give many thanks for the blessings in our community given to us by God.
During the evening we had the honor of presenting Neil and Gwen Kraay with the Distinguished Service Award for their dedicated service and support of Ada Christian School.
As this year's guest speaker, we welcomed U.S. Army Ranger Veteran and Country Musician, Keni Thomas who used his powerful story from the "Black Hawk Down" mission to challenge us all to "Lead the Way".
With a record amount of funds raised, this truly was a night to remember.
Neil and Gwen Kraay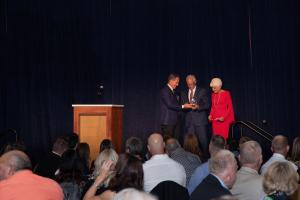 Each year, since 1996, the Foundation has presented a Distinguished Service Award to a person or persons who have shared their time, talents, and treasures in service to and in support of our school.
For over 30 years, Neil and Gwen have supported Ada Christian School. In fact, they have not missed an annual dinner. Neil and Gwen were presented the award by their son, Colin. Gwen reflected on what a blessing it is to be a member of the Ada Christian School community, both as a parent and now as a grandparent. Neil expanded on this sharing how the financial commitment to Ada Christian is worth every penny. Neil and Gwen are proud that all of their 7 school-aged grandchildren now attend Ada Christian.
Neil and Gwen have been an incredible blessing and embody what it means to serve God with mind, body and soul in Christian community. What a God-honoring legacy!
Securing a Strong Future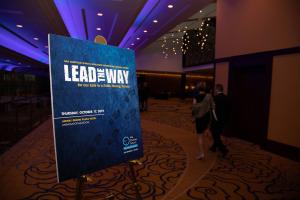 The legacy began back 30 years ago in 1989 when a group of parents came together to ensure a strong future for Ada Christian School by forming the Ada Christian School Education Foundation. The purpose of this was to build an endowment fund from which earnings could be used to support the school. After years of commitment and generosity from parents and the community then and now, the endowment is thriving. At this year's event the Ada Christian School Education Foundation announced it's annual gift to Ada Christian School for $533,744!
To show our support for our school we conducted a paddle raise. Maranda emceed the paddle raise, making it fun and engaging. The response was overwhelming! Thanks to The Stephen Klotz Family Foundation, The Van Andel Family Foundation, and Tom and Laurie Welch for providing a $50,000 matching challenge which we were able to successfully match and more!