Whatcha Doin' Out There!? –May 2020
May in Michigan
Bliss. A thousand shades of green, sun sparkling on the waters and flowering plants everywhere. The woods and fields become enchanted with life and mystery.
In this new and uncertain world we suddenly have an opportunity to participate in this wonder in a whole new way! Rediscovering our inner child, seeing the world with a whole new understanding, seeking a deeper connection to our Creator and feeling His Spirit in the trees, the sky, the Earth. Awakening again to the joys of youth!
Come on out
Hey, come on out to the outdoor kingdom at ACS in May! Here's the list of possible things to do:
Walk the Trails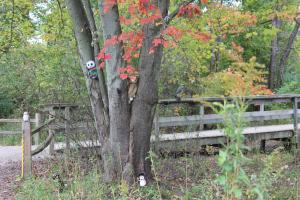 Walk the trails and look for the owls. BY May 15 there are 100 of them on our 3 miles of trails. Grab a trail map and adventure/treasure guide on the back of the bulletin board.
Newborn goats
Check out our dancing, jumping, happy little newborn goats: Dewey, Nellie, Nova, Nebula, Thunder, Happy, Iris, Bijou, Roux and their wonderful mommas...Joy, Raindance, Beau, and Frannie.
Garden and Trail Help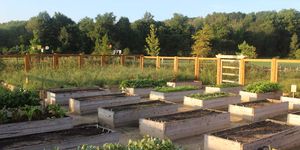 Sign-up
for a one hour slot with your family!
Help turn our garden areas into a summer and fall back to school paradise. The trails all need wood chips. The outdoor garden, hoophouse, herb garden, succulent garden and theme garden in the "V" all need cleanup and planting.
Eighth Grade Legacy Project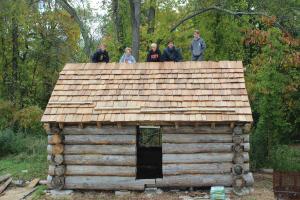 The last two years the eighth grade had a legacy project they worked on in May and especially the two days after their graduation. A sign at the Little Ones Outdoor Adventure Sandbox (Class of 2018) and the Sugar Shack (Class of 2019) remember their efforts. This year (Class of 2020) is going to finish the log cabin. This includes finishing the roof, digging a root cellar, putting in a rustic floor and adding a porch. We're still going to do this!
Please consider signing up for a time in May and June for your eighth grader with a "socially distant" friend or two OR your whole family. See attached sign-up.
Special May, June, July building projects. Fence around the new pumpkin patch, hauling brush to a big bonfire, work at the Native American village, light carpentry work. This is an opportunity for whole families or a dad, mom and grandpa.
TO THE WONDERS OF OUR CREATOR'S CREATION!