Whatcha Doin' Out There? – Apr 2019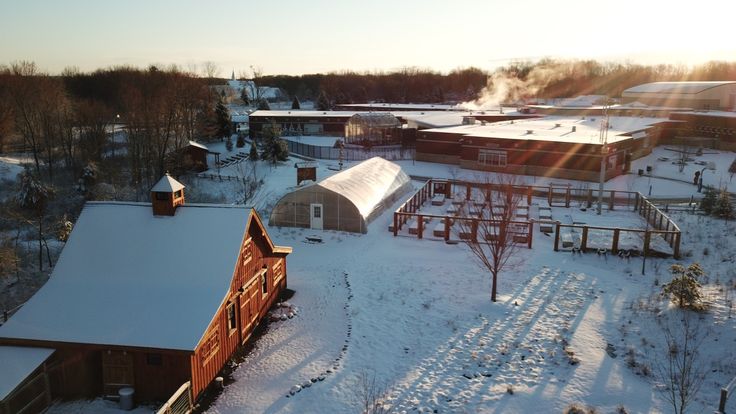 Winter's last hurrah! Look for a dramatic springtime change with the same drone shot in a few weeks.
Goats
The kids are coming! Goat Cam will again be live in mid-May for you to watch the miracle of birth.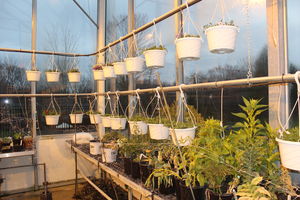 Greenhouse
Our greenhouse is packed with 60 hanging baskets and over 100's of other potted plants planted by 1st through 5th grade - some from seeds and others from plugs provided by Koetsier Greenhouse - thank you!
Hoophouse
Beds are all planted with early season plants by our 4th graders to be sold at market WEDNESDAY & THURSDAY after school.
Maple Syrup
Our eighth grade legacy project. They helped build the Sugar Shack in the woods & collected sap each day - 125 bottles were sold!
Composting
We are trying to be a ZERO food waste school. The 7th graders got this program off the ground. Waste food is composted and given to our new all star composers....Willy and Dilly (think little pink guys that grunt).
Last Supper
Last supper in the barn. K-5 grade this week will spend time with Mr. Hoo in the barn loft reflecting on the last time Jesus had with His disciples prior to His crucifixion.
Mr. Mittens
"The Cat Came Back" to reassert his barn supervisory role.
Volunteer Opportunities
Log Cabin
The kids (literally K - 8) helped build the log cabin and sugar shack and now it's time to put on the roofs to these two structures. With help, Mr. Hoo would love to get the rafters up with volunteers....young or old, male or female. Possible times - Wednesday or Thursday afternoons.
Greenhouse and Gardens
Anyone able to volunteer to help out here this spring (or summer) please let Mr. Hoo know!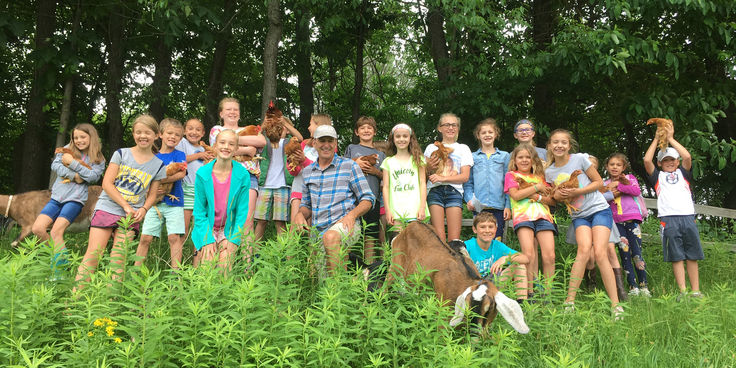 Advance notice, brochures in the office soon!
Farm and Forest Adventure Camp
June 24-28, 5-9pm
August 5-9, 5-9pm
Garden Club
Eight Wednesday mornings this summer from 9:00am-noon
We had such good times last summer with about 50 kids....looking for more of the same!