Middle School Matters – May 10, 2019
General Announcements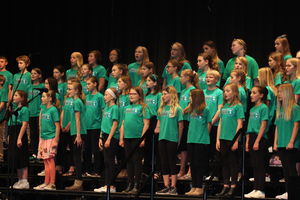 Thank you 5th-8th graders for a beautiful concert last night and a special thank you to Mrs. Kladder and Mrs. Van Noord.
Fifth Grade:
Chemistry Field Trip: Please fill out this form to give your child permission to attend our chemistry field trip to Calvin College on the afternoon of Thu May 16. We will leave school at 12:00 and return at 2:00. No hot lunch will be available for 5th grade on this day due to our travel time.
Spring Camp: Will be held at Camp Tall Turf May 22-24.
Reproductive Education: Reproductive Education will take place May 29-31.
---
Art: Students are stilling working on their Wayne Thiebaud cupcake inspired art.
Band/Choir: Thank you for coming to our concert. Aren't your 5th graders doing great? So fun!
Bible: This week we began practicing for Gospel Theatre! A formal invite will be sent out to parents next week. Students are plugging away at the Jesus Project. We have had lots of in class work time, but some students may need to spend time at home to catch up on some pieces to the project. Upcoming due dates are as follows: another verse is due Fri, May 17; Lost Comic due Thurs, May 16 (note change in date); Parable of the Sower recordings due Tues, May 21. All of these writings should be located in your child's Google Drive (login is gro.naitsirhcada@emanresu) if they would like to access them at home.
Language Arts: We are working on MAP testing and biography reading/writings.

Math: We are wrapping up our last math unit with a chapter test on Tues, May 14. Practice test is due Mon, May 13. Please check your child's answers here. Next week will will begin the math MAPS test.
Science: We're looking forward to our field trip this Thursday! Students will be excited to share about the chemical reactions we observe and learn about. Please remember to have your student bring a sack lunch on Thursday.
Social Studies: Students will continue to explore the events of the Revolutionary War. Ask them what they've learned so far!
Spanish: We are finishing our story "The Boy Who Cried Wolf." There will be a reading and a listening assessment next week. Students can prepare by taking home their folders or using Quizlet (linked to our Moodle page) to practice.
Sixth Grade:
Chicken Checker & Got Yolk: Mr. Hoo has assigned each family to chicken chores for 1 weekend between now and the end of the school year. This includes cleaning the coop, feeding the chickens and picking up eggs. Please look at which weekend you have been assigned to be sure you are available. If you are not, please work with another family to make a switch. Questions? Talk to Mr. Hoo. We are counting on you!
Devotion Sign-up: All of our Thursday morning 6th grade devotion slots are full! Thanks to all who signed up and shared with us this year. We are blessed by you!
---
Art: Next week is the last week of class time devoted to working on building our ceramic effigy animals. All animals must be built and dry by Thurs May 16. Please check the homework calendar for due dates.
Band/Choir: Thank you for coming to our concert! :) Isn't it fun to see how your 6th graders are growing up and doing so well!
Bible: We will be doing a project that involves reflecting on our school theme and our spiritual growth throughout our lives so far.
History: We will continuing learning about and exploring ancient Rome.
Language Arts: Students will write persuasive essays next week and take MAP tests.
Science: Students are putting their knowledge together to describe how ideas like density, energy, pressure, differential heating, and the particle model of matter are related to weather on Earth.
Spanish: Students are reading our novel and we hope to finish it this coming week. A test over the second half of the book will be May 23.
Seventh Grade:
Class Trip: Remember, the class trip will be taking place May 30-31 (Thursday-Friday). Several forms for the trip need to be completed and handed in by May 22. Several pieces of specific information have already been handed out and email, but one more form will be coming soon.
---
Art: Students are working on their layer of life project which seeks to visually represent faith, family, and self. Please check the homework calendar for due dates.
Band: Thank you for coming to our concert!
Bible: We are continuing to look for ways to serve our school. We have been diving further into Scripture and will be having a memory quiz on 1 Peter 4:10 and Matthew 25:40 next week.
History: We are studying the story of the first American Colonies and looking at the reasons why Europeans came to America and the reasons for starting different colonies throughout America.
Language Arts: We still have a good amount of work to do, but the end of the ProCon project is in sight! Students will be working hard on this project every day until the due date of May 22. More details will come to parents soon as there will be.
Pre-Algebra: Ch 10 Statistics & Probability Wrap-up: Test on Thursday. We will also start the Spring MAP test this week.
Spanish: Students will be finishing our novel this week. Our final test over the second half of the book is May 22.
Eighth Grade:
The Graduation Party for the 8th grade class will be hosted by the Tiede family - plans are underway and more information will come home soon.
Graduation Ceremony June 06: After much discussion and thought, we've decided to hold graduation at ACS this year instead of Thornapple Covenant Church.
There were several important factors that led to this decision, the most important being seating capacity. Last year, we had standing room only! We want to ensure we have room for everyone attending to have a seat. Two, ACS has the ability to live stream graduation. This is a wonderful option to include those who aren't able to travel or attend in person. Three, we have the space to accommodate receiving lines and refreshments in the event of inclement weather. Four, we don't have to transport kids (or risers) off campus for graduation practice. The list continues, not the least of which is we have a beautiful facility and campus with which to make graduation a really special event for our kids and families.
---
Algebra: We are finishing up some of our last lessons of the year already next week--so crazy! Next week we will take a quiz on Thursday and then begin taking the math portion of the MAP test on Friday. After that, we will start reviewing and preparing for our math exam.
Art: 8th graders must be completed with their street art project by Wednesday 5/15. In class on Monday and Wednesday students will be working on their calligraphy project. Please check the homework calendar for due dates.
Bible: Plumb-bob speeches began on Thursday. We will be working with Mr. Wanner next week to further the calligraphy projects.
History: We are finishing our study of the U.S. Civil War next week and then we will begin reviewing for our unit test. Our goal will be to take the test on Friday. After that, we will take some time to prepare for our history exam at the end of the following week.
Language Arts: We are working on finishing Lizzie Bright and the Buckminster Boy by Gary Schmidt. Students will then begin preparing for the LA exam. Now that GF Day, the Spring Concert and MAP testing are behind us, we will be able to take our quiz on The Diary of Anne Frank on Tuesday, May 15.
Pre-Algebra: This week will be Exam Review and Spring MAP testing.
Spanish: Students will finish our novel this week. The final test is on May 17. Our last class together is May 22. We will be having a Pinata Party that day. Perhaps you would like to rid your house of Easter candy. Great! I am taking candy donation.