Ada Connection – Oct 10, 2018
A Note From Principal Brower
A Heart Full Of Thanks
A few words to express a heart full of thanks.
As I greet students each morning, visit classrooms, and walk through the halls, I am constantly reminded of the incredible ACS family we have - one in which parents volunteer their time on a regular basis to help us be the best we can be for our students. Thank YOU for all you do!
Action Needed
Book Fair – Oct 15-19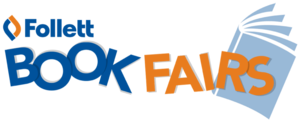 The first day of the Follett Book Fair is Sat,
Oct 13
. We will be open during Pure Play so come on in.
We need many volunteers to make it run smoothly. Volunteers get 20% off of any purchases. Interested? Sign up to volunteer.
Hot Lunch Volunteers
We desperately need more lunch volunteers and have reduced the time commitment to better fit parent schedules. What a wonderful way to connect with others and see what your children are eating! Hot lunch volunteers are needed from 11:15am-12:45pm.
Available? Find a day that works for you.
Contact Shelly VanGoor with questions (gro.scrg@roognavs, 616.325.3461).
This Week
Spirit Shop Sale – Oct 12 2:30-3:30pm
New items for sale. For every $5 you spend at the Spirit Shop in October you will receive a ticket to be entered in a drawing.
Moms In Prayer
Praying for 2nd graders and their teachers. God is just: One who is right or fair, impartial, correct, true and upright.
"Mankind, He has told you what is good and what it is the Lord requires of you: to act justly, to love faithfulness, and to walk humbly with your God." - Micah 6:8b
Come join us for the journey when you can. We meet every Thursday morning 8:00-9:00am, in the ACS office back conference room.
Need more information? Contact Kelly Stafford (616.304.2963, ten.tsacmoc@droffats-kj).
Now You Know
Parent Teacher Conferences – Oct 18 & 23
Please review the Oct 18 and Oct 23 schedule for elementary conferences. Parents of students in middle school will have the opportunity to visit with each of their student's teachers in the commons. No sign up is necessary for Middle School. Oct 18 the teachers will be available from 5:30 - 8:30 and Oct 23 from 4:30 - 7:30.
Box Top Collection
Only 9 more days to turn in your Box Tops! They are due by end of the day Oct 19. Please have your children empty your drawers and search your cupboards for any and all Box Tops at home. We will not be sending home collection sheets this year. Please place your Box Tops in a Ziploc bag; you may include your Bonus Box Tops with single Box Tops. Here are a few reminders:
Please cut out labels on the dotted line.
Please do not submit Box Tops with an expiration date before Nov 01, 2018.
If the expiration date is cut off of the Box Top it cannot be submitted.
Box Tops are to be turned in at the office.
Students turning in 25 or more Box Tops will receive a candy reward.
Education Foundation Dinner – Nov 08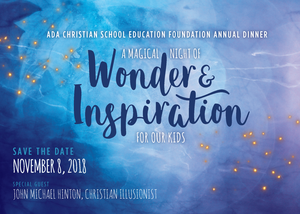 Dear Parents,
Join us for A Magical Night of Wonder and Inspiration featuring John Michael Hinton as our guest speaker. With a goal of spreading God's incredible gospel, he uses the power of illusion, storytelling, and humor to motivate and inspire. Another highlight of this year's dinner is the presentation of the Distinguished Service Award to Ray and Jeannine Lanning, long-time ACS and ACS Education Foundation supporters.
Parents, grandparents and friends of ACS are encouraged to join us at the Amway Grand Plaza Hotel on Nov 08. We offer table sponsorships (tables of eight) and individual tickets.
This year our students will be able to experience the illusion, storytelling, and humor through a special assembly with John Michael Hinton. This will occur during the day on Nov 08 at school. We are thrilled to be able to share this with them.
Don't wait to let us know you can join us! Sponsorship and tickets are available now!
Share this event with others!
PTO Happenings
Parent Teacher Conference Help
Feeding 50 people is quite a task;
please help
!
Parent Teacher Conferences are coming up on Thur, Oct 18 and Tues, Oct 23. The teachers will be having two home cooked fall menus and it would be very much appreciated if you would
sign up
to bring some of the ingredients. The food will need to be at the school no later than 3:00pm on Wed, Oct 17 and 3:00pm on Mon, Oct 22. Thank you in Advance for all your help!
- Kim Laufer and Sarah Barron
School Party – Oct 24
Join ACS Families a party over Fall Break:
Wed, Oct 24 from 1:00-3:00pm
Heidi's Farm Stand
11999 Cascade Rd, Lowell

Corn Maze: Adults $5, kids (3-13) $3.50. Hayride: $2 Enjoy a doughnut and cider, both for just $1.25!
Tell them you are from Ada Christian to get the group rate. Bring extra money if you want to buy a pumpkin or farm fresh fruit and vegetables! No need to sign up.

Questions? Contact Holly Karasinski at moc.liamg@4322kylloh or 901-8882
Fall Fundraiser – Ends Oct 12
Our fundraising deadline is this Fri, Oct 12, 2018 and we need your help! Please submit all online orders by Oct 12 and be certain that all order forms are in to your child's teacher by this Fri, Oct 12 in order to count for the school prizes such as the pizza and ice cream parties and drawing for Principal for a half-day. We know, firsthand, there is a lot going on this time of year, we get it! But if you would be sure to get the orders in we would be so very appreciative, we must send them out Friday afternoon to stay on schedule. Late orders will be accepted (with gratitude, it all counts!) but they will be sent on separately.

Please be sure to place your orders soon if you have not done so already. Also, it's not too late to spread the word to friends and family.

Help us support your student this year by reaching our goal! We are so excited and grateful for each and every order.
If you haven't participated already, click on the image below and register your student now.
Our school code is: z-15425.
Next: Spread the word!
Invite Friends & Family! Use the email invitation generator after registration to send email invites to family & friends (break out your contact list). Can we count on you to send at least 10 emails?
Share! Use the social media sharing tool to spread the word about our fundraiser.
Shop! Your holiday gift purchases will help us reach our goals.
Thank you for your support!
Questions? Contact Holly Karasinski (hollyk2234@gmail.com, 616.901.8882).
PTO Information
Looking for our calendar, information about upcoming events or opportunities to serve? Check out our updated website.
ACS Athletics
PurePlay
Fall soccer – Oct 13 – Girls @ 9:00am, Boys @ 10:15am
Want more details? Visit the PurePlay website.
Calendar Reminders
Oct 18 & 23 – Parent/Teacher Conferences
Oct 24-26 – No School (Teacher's Convention)
Nov 08 - Foundation Dinner
Nov 20 - All School Chapel
Nov 21-23 - Thanksgiving Break
Nov 30 - Report cards go home
Requested Announcements
Forest Hills Central Pom & Dance Clinic
Sat, Nov 03 for grades K through 6th. Early registration $35 by Oct , late registration deadline is Oct 24 for $40. Information sheets are available in the ACS office.