Ada Connection – June 01, 2016
Action Needed
DEA Scores
Included with your student's report card, you will find his/her Discovery Education Assessment (DEA) scores, a parent letter (141 KB PDF), and an explanation (152 KB PDF) for interpreting the data. View the video below for additional help in understanding these scores.
"Faith. Strong." Friday, June 03!
All students, staff and parents are encouraged to wear their ACS gear to school this week Friday, June 03.
Wanted: Books for GRPS
ACS has an opportunity to bless students in the Grand Rapids Public Schools with books to encourage and inspire them over the summer. As you are spring cleaning and you find any children's books that you would like to donate please send them to school with your child. We will be collecting books for GRPS until Jun 03. Jan Wilkins, a former teacher at ACS, is excited to help those books find a new home. A box is in the library to collect the books.
Give the Gift of Gym Shoes
There will be boxes in the three hallways and front lobby to collect gym shoes that students have out grown for Baxter Community Center and New2You. The shoes will be distributed to needy children.
Join Us for Chapel
Our end of the year all school chapel is on Jun 03 at 8:15am. We would love to see you there!
Become an ACS Host Family!
We have host families to welcome new families to ACS. Would you consider being a host family for the upcoming school year? As a host family you introduce yourself to an assigned family that has a child entering the same grade as yours. We encourage you to welcome them, serve as a resource and attend the Ice Cream Social in late August. This event is hosted by the ACS Service Committee to welcome all kindergarten families and new families at ACS. Please sign up to be an ACS Host Family today!
Questions?
Contact Karen Clark (moc.oohay@cdkralcrk), Mayra Huyser (moc.liamg@silaidararyam) or Sarah Setlock (moc.oohay@kcoltesharas)
Now You Know
Summer Office Hours
Jun 12-30: 9:00am-12:00pm, Monday – Thursday.
July: Please call the office and leave a message. Your call will be returned ASAP.
Aug 01-12: 9:00am-12:00pm Monday – Thursday.
Aug 15-23: 8:00am-3:30pm.
On August 24, welcome back to school!
Hot Lunch
There is no scheduled hot lunch for May 31 - Jun 02. If you are not packing a lunch but bringing food for your children at lunch time please tell your child to come to the office to pick it up. The office will not be calling your child as a reminder. Any food left in the office will be thrown away at 3:00pm each day.
KIDS-TRIP
ONLY paid orders through Presto Pay will be accepted during the summer months.
The summer schedule is as follows: Jun 01, 15, 29, Jul 13, 27, Aug 10, 24 (normal schedule resumes)
Supply List 2016-2017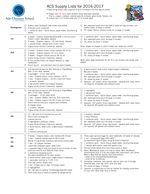 Ready for next year? We are (almost).
Here's a list of supplies (117 KB PDF) to bring when you come back to school.
"Faith. Strong." Summer Camps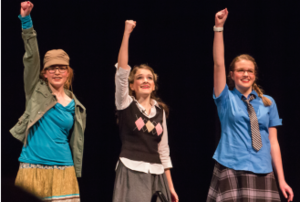 Drama Camp ($120) July 11 - 15:
Drama Camp offers:
Acting!
Stage basics
Proper vocalization
Characterization
Movement
Script work
Theatre games
Friday Performance Showcase
6-8 Students per session
Session I - Middle School students entering grades 6-8 9:00 - 11:30am
Session II - Elementary students entering grades 3-5 12:45 - 3:00pm
Whether a beginner or veteran on stage, you will learn and improve your acting skills and gain confidence and poise through theatre games, exercises and working a scene with your fellow actors. Family and friends are invited to a half-hour Performance Showcase on Friday, giving our thespians a chance to perform for an audience!
More info/sign up for drama camp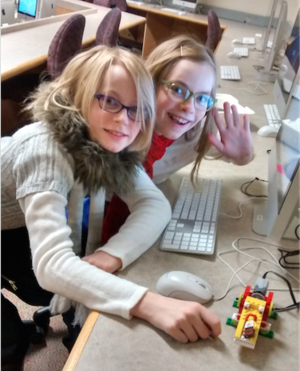 Technology Camp, Grades 3-8 ($120) August 08-12:
Amazing Tech Opportunities including:
Stopmotion videos
Game Design
Coding
Raspberry Pi
Ozobots and Mindstorms
Other awesome tech activities
No matter your skill level, you will have a great time hanging out with the tech team, learning new things and meeting new friends. Snack and games every day!
More info/sign up for tech camp!
PTO Opportunities
Thank You For a Great Year
Thank you to everyone who gave their time and resources for the many PTO events and fundraisers throughout the year! Also, a gigantic thank you to the talented and dedicated individuals who chaired these events. If you see any of these parents, please give them a big thanks!


Back to School Carnival – Judy Jackson, Alison Lisiak
Fall Fundraiser – Katie Kileen
Room Parents Coordinator – Dawn Norman
School Parties – Amberly Hoyer
Moms In Touch – Laura Cawley
Christmas Gift Shop – Brecken Grieve, Sarah Heynen
Daddy-Daughter Dance – Sharon Dykhouse
Mommy-Son Event – Amanda Wildman
Bus Driver Appreciation – Lauri Hanenburg
Staff Appreciation – Brecken Grieve, Katie Minks
Grand Friends Day – Dee Lenters, Lauri Hanenburg
Fine Arts Night – Kim Laufer
Walk-A-Thon – Paula Bremer

Because we were able to exceed our fundraising goals AND keep our events at or under budget, we have a surplus of funds that will go directly to teacher wish lists: More Stand-up Desks for several classrooms, podiums with special arms to allow digital projection, a few new toys for the kdgt. rooms, rugs and tables in a few rooms, a new bookshelf, a fridge for the science room, a few large white boards to enhance projection and a few new cutting boards. Our teachers and staff are thrilled - thank you!
Again, many thanks for a GREAT year!
The 2016 PTO Executive Team:
President – Rachel Boville
Vice President – Dawn Raymond
Treasurer – Kristen Yeh
Secretary - Sarah Plantinga
Board Liaison – Elizabeth Westhouse
Staff Liaison – Julie DeKoster
Calendar Reminders
Jun 02 – 8th Grade Graduation at 7:00pm
Jun 03 - Last Day (dismissed at 11:30am; no Forest Hills 11:30am transportation)
2016-2017 Dates
Aug 24 – First day of school (dismissed at 11:30am)
Sep 02-05 – Labor Day Weekend
Sep 26 – No School (Professional Development)
Oct 19-21 – No School (CEA Convention)
Nov 23-25 – No School (Thanksgiving Break)
Dec 21-Jan 02 – No School (Christmas Break)
Jan 03 – School Resumes
Jan 23 – No School (Professional Development)
Feb 17-20 – No School (Winter Break)
Mar 30-Apr 07 – No School (Spring Break)
May 05 – Grand Friends Day (dismissed at 11:30am)
May 08 – No School (Professional Development)
May 29 – No School (Memorial Day)
Jun 07 – Last Day of School (dismissed at 11:30am)
ACS Athletics
PurePlay (PK-4th grade)
Sign up for fall soccer; Young 5's through 4th grade.
Requested Announcements
Brookside Christian Reformed Church is currently accepting applications for a part-time Spiritual Formation Coordinator. Responsibilities include supporting, developing, and promoting personal spiritual formation and growth among the members of church. Position is approximately 15 hours per week. Application deadline: June 14, 2016. To learn more about the congregation at Brookside or to view the full job description, go to brooksidecrc.org.
To apply: Please send cover letter and resume to Pastor Paul DeVries at gro.crcediskoorb@seirvedp, including the words "Spiritual Formation Coordinator" in the subject line. Alternately, mail these materials to Pastor DeVries at Brookside Christian Reformed Church, 3600 Kalamazoo Ave. SE, Grand Rapids, MI 49508.