Ada Connection – Aug 23, 2017
A Note From The Principal
A New School Year
Welcome back to a new school year. We are so eager to welcome students into our hallways, classrooms and great outdoors tomorrow!
Many gardens have been planted; our hoop house is nearly complete and boasting beautiful raised beds filled with vegetables and flowers; our barn has been stained and doors/hardware added; our wind/solar tower is much closer to completion; a sign has been built, and much more has been accomplished over the summer on our campus.
May you and your family enjoy ACS - a beautiful garden of delight inside and out.
New Students
We are so thankful and thrilled to welcome 18 new students to ACS in grades 1-7. We have 50 kindergarten students enrolled and 134 preschool students registered! God is blessing us with new families. Thank you for sharing ACS with others. We want to educate as many kids for Christ as we can.
A Warm Welcome
ACS is pleased to welcome these new members to our team.
Mrs. Lindsey Bosma, 3-8 Spanish teacher.
Mrs. Haley Herbruck, Covenant Care director.
Mrs. Shannon Quist, 4th grade teacher.
Miss Anika Slauer, 5/6 teacher.
Mrs. Kaylee Vruwink, K-4 music teacher.
School Theme 2017-2018
Solus Christus: Christ Alone
We are celebrating the 500th anniversary of the Reformation and being reminded that we are saved by grace.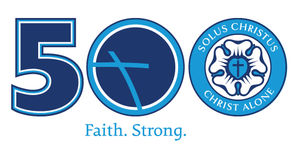 Morning Procedures
Help your children and their classmates get the day off to a smooth start by arriving by 7:55am.
Classes begin at 8am.
Students not in their classrooms by 8am will be marked tardy.
Hallway doors will remain open until 8:05am.
Students arriving after 8:05 need to sign in at the office.
Calling The Classroom
To help us keep classrooms as free from distractions and interruptions as much as possible, we are asking students to come to the office at an appropriate time to pick up lunches, practice clothes, computers, instruments, assignments, and other forgotten items without an announcement being made in the classroom.
As you can imagine, calling classrooms for the numerous deliveries made to ACS each day can equal several interruptions to instruction, quizzes, tests, labs and the like. If students need a forgotten item, they need to check in the office at a convenient time.
Parents, if you are making a delivery, please tell your students you will be leaving the items in the office rather than delivering them personally or having them called to the office.
Action Needed
Important Student Information Forms
Several forms which formerly came in your August mailing have now been digitized and are ready for you to complete (emergency authorization, chaperone agreement etc). These forms must be completed by Wed, Aug 30.
To complete the forms:
Log into your PowerSchool parent portal.
Select Ecollect Forms
Complete all forms under the category Back to School Forms.
Pay special attention to the submission instructions at the bottom of each form.
Note: Middle School students may not attend the retreat on Aug 31 if these forms are not completed.
Hot Lunch
ACS is happy to provide hot lunch again this year, starting Sept 05. Here's a few of the highlights.
Forest Hills Food Service will again be providing our lunches.
The cost of each lunch will be $3.05 and it will include milk.
Your child can order just milk for $.65 each day.
Payments will be processed through a different service (SchoolPay) this year. You will need to

create a new account.

Set up your account.
Select "Forest Hills" as your school district.
Select "Ada Christian" as your school.
Add your students to your account using their first and last name.

What's for lunch? Check the menu to see daily choices, starting Sept 05.
Keep up with all the hot lunch details!
This Week
Recess Fun!
Moms and dads, your kids love to see you at school and the teachers are blessed beyond measure by your willingness to help keep our precious ones safe as they play, or in middle school "hang out". Because of your help, our teachers are only assigned 3 different recess duty slots instead of 5 - thank you! There will be clipboards on a table outside of school on Thursday morning that will articulate the times that are needed.
This year there will be 3 different recess times that need coverage each day:
7/8 – 11:35am-12:00pm
5/6 – 11:55am-12:20pm
K-4 – 12:25-1:05pm
Thought - you could come to school on the first Monday of the month from 11:35 - 1:05 and bless all of our teachers in one 90 minute window! Or maybe you would prefer to do that on the 4th Thursday of every month? The possibilities are vast!
Sharon DeKleine will be supervising our K-4 recess time and the MS staff will work with the 7/8 and 5/6 parents.
Have time to volunteer? Look for sign ups on Thursday.
Car Safety First
Please, for everyone's safety:
Back into parking spaces

in the afternoon
Don't drive through the cross walk

when leaving the parking lot
Cell phones ARE NOT allowed

while driving in the parking lot
School Guidelines
There are a number of details of which you need to be aware. Please review the list below to become familiar with some basic requirements.
Latex Balloons And Pets: These are dangerous to our students with allergies and therefore are not allowed at school.
Vacation Absences: Parents, if you are taking students out of school for a family vacation, please write or email (email addresses are in the front of your directories) a note of explanation to the school office and your student's teacher at least one week prior to the absence.
Leaving Early From School: When you pick up your child(ren) before the end of the day, you must first come to the office to sign them out, and then the office will call them from their room. (Please do not tell your child(ren) to come wait in the office for you and do not go to their classroom to get them).
Cell Phone Numbers: ACS will not give out cell phone numbers that are given to us on the emergency form. We use those numbers as contact for emergencies only. Please be sure to exchange cell phone numbers with your friends that you want to have those cell numbers.
Tardies or Early Dismissals, and Appointments: All students who arrive late or leave before the end of the school day must go to the office to sign in or out. School begins at 8:00am. The first minutes of the day are important for devotions and announcements, and your child should not miss them. Please send a note or email to the teacher the day before, if you plan on being late the next morning due to an appointment.
Messages: Please call before 2:30pm in order for the office to have time to give the message to your child.
Leaving Phone Messages: Please instruct/train your children to leave a message on your home phone and/or cell phone if they call home during the school day. If it is an emergency, we will continue to call until we reach you.
School Closings Or Delays: If fog or weather conditions result in a two hour delay or closing being necessary, local TV and radio stations will list Ada Christian School. Since many of our students are bused by Forest Hills Public Schools, we close when they do during weather emergencies. If Lowell Public Schools closes and Forest Hills Schools remain open, Ada Christian School will remain open, but the Ada Christian buses to Lowell will not run and those parents will need to bring their students into school that day and pick up at the end of the day.
Attention New Students
Birth Certificates: Any student new to Ada Christian School, Kindergarten - 8th (2017-2018 school year) must bring to the office a copy of his/her birth certificate. This is required by law in the state of Michigan. The office will make a copy for you.
Immunization Forms: Immunization forms are due now. By state law the school must have this form on file for your child by the start of school. If this form is not in, please turn it in yet this week or call Sharon DeJong in the office at 616.676.1289 to let her know when it will be arriving.
Advisory To Parents (as required by Michigan Department of Agriculture)
As part of Ada Christian School's pest management program, pesticides are occasionally applied. You have the right to be informed of any pesticide application made to the school grounds or building. In certain emergencies, pesticides may be applied without prior notice, but you will be provided notice following any such application. If you need prior notification, please email Mr. Jeff Droge, school custodian (gro.naitsirhcada@egordj).
Now You Know
School Pictures
Scheduled for Aug 29 - Aug 31. The photo schedule is:
Tues Aug 29 – 5th grade Hoo/Witte, 6th grade, 7th grade, 8th grade
Wed Aug 30 – Kindergarten Diepstra & Phillips, 1st grade, 4th grade Slauer & DeYoung, 5th grade Slauer
Thur Aug 31 – Kindergarten Wittenbach, 2nd grade, 3rd grade, 4th grade Quist
After photos are taken watch for an email from Ada Christian School containing a link, password and detailed instructions for ordering photos.
PTO Happenings
Greetings From The PTO
Welcome to another school year! The mission of the ACS PTO is to support our wonderful teachers and staff in delivering our school's mission – to equip students for service in God's world. This year the PTO will offer many great ways for you to get involved and enjoy fellowship with the ACS community.
Back To School Picnic And Carnival
Come one and come all! Wed, Aug 30 from 6:00-8:00pm. One wristband allows your preschool through 8th grade student to play all the carnival games and rides. Buy your wristbands early and save! Advance purchase wristbands are $12 while wristbands sold at the door are $15. We will have a table in the lobby on Aug 24 and Aug 25 before and after school selling advance purchase wristbands. Otherwise you can purchase them in the office from Sharon DeJong.
Volunteer Opportunities
Get started right and check out all the volunteer opportunities that will be available for you to sign up for. On the first day of school you will notice tables along the entrance and perhaps in the lobby. On these tables will be volunteer opportunities from big to small! Each classroom will need a Room Parent. Moms in Prayer and School Parties will need a Chairperson. ACS Bazaar, Carnival, and Mother/Son Event will need Co-Chairs. Plus much more. Stop by to see if God is calling you to one of these volunteer opportunities!
All other PTO events will appear for sign up a month or so before the event. If you have any questions, please email pto@adachristian.org. Thank you!
Class Coffees
All coffees will be held in the ACS Outdoor Education classroom from 8:00-9:00am. Childcare provided for K-4th grade class coffees.
Aug 29 – Kindergarten class coffee
Aug 28 – 1st grade class coffee
Aug 30 – 2nd grade class coffee
Aug 31 – 3rd grade class coffee
Sept 06 – 4th grade class coffee
Sept 07 – 5-6th grade class coffee
Sept 08 – 7-8th grade class coffee
ACS Athletics
PurePlay
Fall soccer begins
Sept 09
.
Sign up
to play! Registration deadline is
Aug 31
.
Calendar Reminders
Aug 24 – Open House
Aug 24 – School Dismissed at 11:30am
Aug 24 - Aug 25 – No Forest Hills Bus Transportation (AM & PM)
Aug 29 - Aug 31 – School Pictures
Aug 30 – Back to School Picnic and Carnival (6:00-8:00pm)
Sept 01 - 04 – No School
Sept 07 – Elementary and Middle School Parent Orientation 6:30pm
Sept 08 – Picture Retake Day
September 25 – No School - Inservice day
September 29 – No Forest Hills Bus Transportation (PM)