Ada Connection – May 15, 2019
A Note From Principal Brower
Vested In Student Safety
Greetings,

If you have picked students up after school recently, you have noticed some orange "vested" friends caring for the safety of children. We have increased the number of teachers and administrators on duty after school to help with parking lot safety during the busy pick-up time between 3:00 and 3:15.

How can you help?
Only use the pick-up loop if you have kindergarten students, and do not exit your car. If you must park, please use the parking lot.
Please pick students up before 3:15. All students not picked up by then will be asked to wait in the school lobby.
Please enforce our rule that students may not play on the playground without parent/adult supervision.
Remind students to keep their feet on the ground -- no climbing on trees, flagpoles, light poles, snow piles, etc…
Ask students to keep their feet on the cement and out of our landscaping where plants are trying to grow.
Encourage students not to play tag or other similar games by the flagpole -- their excitement and momentum can sometimes carry them into the parking lot which is dangerous.
Thank you for your help!
This Week
Hanging Baskets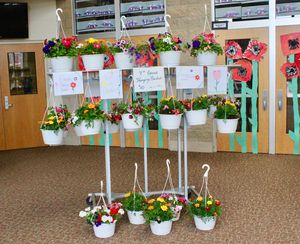 Our 4th graders have planted beautiful flowers into hanging baskets that are now available for purchase. Come by the front lobby any day this week and see the beauty. Baskets are $10.
Lost & Found
The lost will be in the front lobby on Fri, May 17. What is left at the end of the day will be boxed away. You can always check the lost and found which is located by the kitchen/music rooms.
Moms In Prayer – Praying for 7th Grade
Praying for our seventh graders and their teachers. God is righteous: One who is just, true, honorable, blameless, upright.
"You were taught, with regard to your former way of life, to put off your old self, which is being corrupted by its deceitful desires; to be made new in the attitude of your minds; and to put on the new self, created to be like God in true righteousness and holiness." - Ephesians 4:22-24
Come join us for the journey when you can. We meet every Thursday morning 8:00-9:00am, in the ACS office back conference room.
Need more information? Contact Kelly Stafford (616.304.2963, ten.tsacmoc@droffats-kj).
MENistry
MENistry is a coffee group for dads who want to get to know more about themselves and the Bible. Join us on Fridays from 8:00-9:00am.
Now You Know
Hot Lunch – Ends May 31
The last day that Ada Christian School will be serving hot lunch is Fri, May 31. You will need to bring a sack lunch for June 03-06.
Until then check out the May menu and plan for lunch.
Thursday, May 16 will be Lunch Lady Choice:
We will be serving roasted turkey with gravy, mashed potatoes, corn and rolls.
Protect Young Eyes
Protect Young Eyes is a great parent resource regarding technology. If you have time please read this article about the YOLO app.
End Of Year Chapel
Please join us on Fri June 07 at 8:15am. Our 7th graders and our "Special Teachers" will be leading us in worship.
ACS Summer Camps
Discover the exciting camps we are offering at ACS this summer. Whether your child loves art, technology, music or outdoor ed there is something for them!
Summer Tutoring
The following ACS teachers and staff will be available for tutoring this summer. Please email them individually if interested. Flyers will be available next week in the front lobby.
Elementary
Middle School
Mr. Hapner: Tuesday & Thursday 9:00am-12:00pm, all subjects 1st-8th
Miss Slauer: Tuesday & Thursday all day, Math and Language Arts
Music
Mrs. Vruwink: Tuesdays & Thursdays 9:00am-12:00pm, Ukulele and Voice Lessons incoming 3rd-8th
Mr. Taylor: Thursdays 12-5, all band instruments (except oboe and bassoon), guitar and voice as well. 4th-8th
Action Needed
From the Library
At the end of the school year, we take inventory of every book on the shelves in the library. In order to complete that task by the end of the school year, the last day to check out books will be Friday, May 17. All books must be returned by Friday, May 24. After that date, lists will be sent home with students who have overdue books.
Direct Your Dollars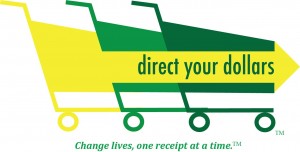 Do you have Forest Hills Foods, D & W, Ada Market or Family Fare receipts to submit for our Direct Your Dollars campaign? We are less than $11,000 away from our next $1,000 check. Please get your receipts in so that we can celebrate our next milestone. 100% of the money goes directly to benefit our students and support our staff through the PTO. No receipt is too small to help us get to our goal.
Covenant Care Registration
Dear Parents,
We are excited to share that Covenant Care is getting full! Below you will find a chart that explains how many spots are left based on the day and time of day. The blue numbers represent the number of spots left. Time slots that are full are marked as such. If you wish to enroll your child, please do so as soon as possible. Our numbers continue to grow everyday. Thank you for continuing to support our program!
Haley Herbruck
Covenant Care Director
ACS Athletics
Elementary Field Day
Elementary Field Day will be held on June 03.
PurePlay
Soccer: Boys @ 9:00am, Girls @ 10:15am.
Calendar Reminders
May 27 - No School – Memorial Day
June 06 - 8th Grade Graduation at Ada Christian School
June 06 - No Forest Hills PM transportation
June 07 - Last day of school - dismissed at 11:30am
June 07 - No Forest Hills transportation at 11:30am
Aug 26 - First day of school - dismissed at 11:30am
2019-2020
Aug 26 – First Day (Half Day)
Aug 30-Sept 02 – No School (Labor Day)
Sept 30 – No School (In-Service Day)
Oct 23-25 – No School (Teacher's Convention)
Nov 27-29 – No School (Thanksgiving Break)
Dec 23-Jan 03 – No School (Christmas Break)
Jan 27 – No School (In-Service Day)
Feb 28-Mar 02 – No School (Winter Break)
Apr 02-10 – No School (Spring Break)
May 01 – GrandFriends (Half Day)
May 04 – No School (In-Service Day)
Jun 04 – 8th Grade Graduation
Jun 05 – Last Day (Half Day)