This Week
Picture Ordering
Last day to turn in your picture order form is Thurs, Sept 19, by 12:00 noon. If you are ordering composites, that form is due Fri, Oct 11.
Accessing the online gallery:
Visit huttengaphoto.shootproof.com
Select Ada Christian School Session using password: ACS2019
Locate your family's last name and enter your family password (this can be found on the picture form/and or email you received last week).
Select the poses you would like to purchase (the photos you see are without edits and will be edited after selection).
Fill out the order form sent home and send back to school with your child by Sept 13.
Moms-In-Prayer
Praying for our Covenant Care, PreK & Kindergarten students and their teachers and aides – God is our Savior - a person who saves, rescues, preserves from harm or danger, keeps safe.
"May they grow in the grace and knowledge of our Lord and Savior Jesus Christ." - 2 Peter 3:18.
Come join us for the journey when you can. We meet every Thursday morning 8:00-9:00am, in the orchestra room (through the Commons and past straight past the kitchen). Younger siblings are always welcome!
Need more information? Contact Kelly Stafford (616.304.2963, ten.tsacmoc@droffats-kj)
MENistry
Come join other ACS dads on Wednesdays at 8:00am as we go through C.S. Lewis The Screwtape Letters. We meet in the orchestra room.
Now You Know
Parent Teacher Conferences Oct 21 & 22
The parent/teacher conference form is coming home this week with kindergarten through 4th grade. There will be extras in the office also. Please fill in your preference of nights. It must be returned by next Tue, Sep 24.
Parents of students in middle school will have the opportunity to visit with each of their student's teachers. No sign up is necessary for middle school.
Important Information
Another school year is well underway and we have a yearly reminder to share with all ACS families. Head Lice are real and they are also a topic that no one wants to really talk about. Please read this letter and information sheet . We value your partnership in this matter.
Education Foundation Dinner - Thursday, Oct 17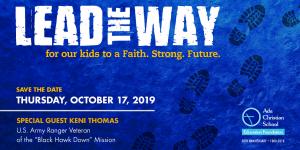 Dear Parents,
Join us for an exciting night of inspiration and motivation as we celebrate the 30th Anniversary of the Ada Christian School Education Foundation and welcome Keni Thomas, U.S. Army Veteran of the "Black Hawk Down" Mission. Drawing from his experiences on the battlefield, Keni shares an inspired Christian view of our greater purpose and calls on people to "use their gifts" and "lead by example". Keni left the Army to pursue his music career and now works full-time as an award winning country music artist in Nashville.
Another highlight of this year's dinner is the presentation of the Distinguished Service Award to Neil and Gwen Kraay, long-time ACS and ACS Education Foundation supporters.
Parents, grandparents and friends of ACS are encouraged to join us at the Amway Grand Plaza Hotel on Oct 17. We offer table sponsorships (tables of eight) and individual tickets.
Don't wait to let us know you can join us, sponsorship and tickets are available now!
Questions, Contact Mark Stuit, Director of Advancement (gro.naitsirhcada@tiutsm)
PTO Happenings
Class Coffees
Looking for a way to connect with parents who have children in the same grade as you do? Please join us right after school drop off for a time of food and fellowship in the ShEd! This year we are excited to be serving Starbucks coffee!
Sept 19 – 5-8th grade class coffee
School Party – Sept 30
Meet your Ada Christian School friends at Robinette's Apple Haus, 3142 4 Mile Rd NE Grand Rapids at 10:00am on Mon, Sept 30 for a fun fall day.
Activities include corn maze, pillow jumping, and apple picking. Tickets for the following activities are available for purchase on site: $5 pillow jumping, $8 corn maze or $12 combo ticket for both.The playground in front of the Apple Haus is always free!
Box Tops
Every little bit helps - keep those Box Tops coming, we sure appreciate it! It's now easier and faster than ever. Download the app, make a quick habit of scanning your grocery receipts and . . . DONE!! No clipping through tough cardboard boxes, checking the expiration dates, saving them all in a baggie and sending them in with your child - all of that is in the past. Make way for the new and light-years improved system, and keep those credits coming our way. We average about $900/year from this program for the PTO and we're expectantly hoping that with the new, more efficient system we'll actually see an increase. Thank you so much in advance!
Direct Your Dollars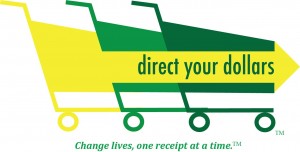 Do you shop at D&W, Forest Hills Foods, Ada Market or Family Fare? If so, please save your receipts! SpartanNash gives Ada Christian School a $1,000 check for each $150,000 in receipts collected.
BBQ, watermelons, popsicles . . . make use of all those fun summer purchases by submitting your receipts. Last year we practically hit a goal from the summer collections alone!
The money earned through this program goes directly back to our students through the PTO. Ask your family and friends to save receipts too! Every little bit helps. Deposit your receipts in the marked container on the office counter.
Questions? Please contact Kristen Yeh (moc.oohay@hey_netsirk, 616.307.2488).
ACS Athletics
PurePlay
Fall soccer: Saturday, Sept 14. Boys at 9:00am, Girls at 10:15am.
Fall Running club: Wednesday after school, pick up kids at 4:15pm behind school.
Want more details about PurePlay? Visit our website.
Wildcats
Please remember ACS asks for a full commitment from student athletes who participate in athletics through ACS. This means attending all practices and games. If you have questions about potential conflicts please contact Angela VanDuyn at avanduyn@adachristian.org before registering.
Calendar Reminders
Sept 27 - No Forest Hills bus transportation at 3:00pm
Sept 30 - No School (In-Service Day)
Oct 17 - Education Foundation Dinner
Oct 21 - Parent/Teacher Conferences 5:30-8:30pm
Oct 22 - Parent/Teacher Conferences 4:30-7:30pm
Oct 23-25 - No Schools (Teacher Convention)
Requested Announcements
Karate with Sensei Rick
The Karate for Kids program will be starting up Oct 07. The cost is the same as last year. $64/month. Classes are on Mondays from 3:10 to 4:10 in the commons area. The class runs monthly from October through May for ages 5 and up and no prior knowledge or training is necessary.
Benefits:
Fitness and fun
Confidence
Realistic Personal Protection Skills
Self Control
Rank progression in the traditional, 1500 year old art of Tang Soo Do along with state of the art self-defense techniques. Kids learn how to recognize a threat early and avoid or deescalate it. Risk reduction and awareness are major factors in staying safe. If they encounter hostility they are able to resolve it non-violently or with minimal force.
We start every class with the question: Did you make your bed today? If the answer is no kids do 10 pushups. They like the challenge and expectation. We do body and core strengthening, balance, agility, and coordination drills. Then we practice boundary setting and defending techniques, do bag work, hand and foot techniques, traditional forms (kata) and light no contact sparring. We finish with flying kids on the bags.
Parents are encouraged to view classes anytime. The philosophy taught is the Christian based golden rule, do unto others... You have no right to touch or hurt others ...and you have the right to protect yourself from being hurt or harassed. Kids just need to be taught appropriate ways of handling aggression with poise.
I hope to see you on Oct 07.
My Credentials: I will have a one page listing my credentials with me on Oct 07for those who would like further information on me. We have held this class at Ada now for 3 years running and have operated a studio in Kentwood for the last 28 years. It takes no prior knowledge or training to join this class.
GRCHS Cheer
Reminder: Our 25th Junior Cheer Clinic will kick off after school next Mon, Sept 23, in the Quest Center of GRCHS! All girls are invited PreK - 6th grade. The second clinic is Mon, Sept 30, and the Junior Cheer game will be on our Homecoming game, Oct 04. Questions? Contact Jacquie DeJonge at 949-7516.