Ada Connection – Sept 11, 2019
A Note From The Principal
Student Relations Snippet
There will be times during a student's school career that a friend says or does something that is unkind. Following is advice we give students as a way of trying to help them work things out. We tell students they should try to speak to the friend in private and then:
Calmly say:
I don't like that.
I wouldn't do that to you.
Please don't do it to me.
Friends don't treat each other that way.
Will you think about it?

Calmly walk away.
This may be something helpful for parents to reinforce with students when they need help with a friend situation or, perhaps, in a sibling disputes etc.
This Week
Whatcha Doin' Out There?!
The September installment of our outdoor education news Whatcha Doin' Out There!? is out and ready to read.
Picture Ordering
Picture orders are due by Friday, Sept 13.
Accessing the online gallery:
Visit huttengaphoto.shootproof.com
Select Ada Christian School Session using password: ACS2019
Locate your family's last name and enter your family password (this can be found on the picture form/and or email you received last week).
Select the poses you would like to purchase (the photos you see are without edits and will be edited after selection).
Fill out the order form sent home and send back to school with your child by Sept 13.
Moms-In-Prayer
Welcome to the new school year! Last year's Moms-In-Prayer theme centered around responding to everything that's put in our path with His attitude, gratefulness, and strength to respond in godly ways even in negative circumstances. While still working to align our prayer life to God's will, this year we'd like to widen our perspective when it comes to prayer.
A.W. Tozer describes a trap that causes us to separate the two worlds in which we live (the spiritual and natural worlds). The result is that we find no peace in either, our strength is reduced, and our joy is taken. Tozer calls this separation the " sacred/secular dilemma." We generally categorize sacred acts as being prayer, Bible reading, hymn singing, church attendance, and secular acts being eating, sleeping, working/studying, performing routine duties. Jesus knew no divided life. He lived in perfect relationship with His Father from babyhood to His death. "I do always those things that please him" (John 8:29). He was poised and restful. The pressure and suffering He endured grew out of His position as the world's sin bearer; they were never the result of moral uncertainty or spiritual maladjustment. So how can we "do all to the glory of God" as Paul exhorts us (Col. 3:17)? How can we make every act of our lives contribute to the glory of God, be good examples, and pray this over our kids? Let's explore this as the backdrop to our prayer time on Thursdays.
Feel free to join us Thursday mornings to pray for our kids/teachers/school community from 8:00-9:00am. Young kids are always welcome. Our kick-off/fellowship meeting is this Thursday, Sept 12, 8:00-9:00am, in the Orchestra room number 504. We look forward to seeing you!
Now You Know
From the Library
Author Glenys Nellist will be visiting ACS on Nov 01 to share her new book The Wonder That is You. If you would like to hear Glenys share her book, she will be at Epilogue Books in Rockford on Saturday morning, Sept 28. There is also a coloring contest .
Protect Young Eyes
Protect Young Eyes is a resource ACS likes to share with parents as we work together to keep kids safe in the digital world. This blog post holds helpful info. You may wish to sign up for monthly emails.
Tricky People – Stranger Danger in the Digital Age
Education Foundation Dinner - Thursday, Oct 17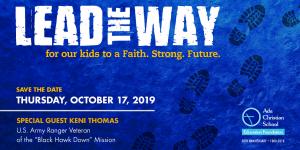 Dear Parents,
Join us for an exciting night of inspiration and motivation as we celebrate the 30th Anniversary of the Ada Christian School Education Foundation and welcome Keni Thomas, U.S. Army Veteran of the "Black Hawk Down" Mission. Drawing from his experiences on the battlefield, Keni shares an inspired Christian view of our greater purpose and calls on people to "use their gifts" and "lead by example". Keni left the Army to pursue his music career and now works full-time as an award winning country music artist in Nashville.
Another highlight of this year's dinner is the presentation of the Distinguished Service Award to Neil and Gwen Kraay, long-time ACS and ACS Education Foundation supporters.
Parents, grandparents and friends of ACS are encouraged to join us at the Amway Grand Plaza Hotel on Oct 17. We offer table sponsorships (tables of eight) and individual tickets.
Don't wait to let us know you can join us, sponsorship and tickets are available now!
Questions, Contact Mark Stuit, Director of Advancement (gro.naitsirhcada@tiutsm)
PTO Happenings
Carnival Success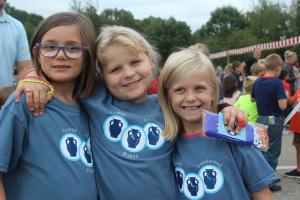 Thank you to all who made the Carnival and Back to School Picnic such a wonderful success! What a fun way for the children to begin the year.
We have an opening for a Co-Chair for the Carnival for next year! This is the perfect opportunity to be a part of such a classic childhood memory for your children and others. What could be more darling than a little school carnival on a summer evening? We would truly appreciate your help for next year, we have a great team in place but we need just one more.
Interested? Contact Holly Karasinski (moc.liamg@4322kylloh, 616.901.8882)
Picnic Thank You
Thank you so much to all who helped make the Back to School Picnic a great success! This event is an excellent way to kick off the school year and re-connect as a school community. We loved seeing everyone come together and enjoy this fun evening! A special thanks to those who donated products: Forest Hills Foods, Gordon Foods, NuVu Fuels, and those who donated their time and efforts: the entire promotions team and volunteers, and Jeff Droge for set up/tear down. We could not have done it without all the amazing teamwork!
Class Coffees
Looking for a way to connect with parents who have children in the same grade as you do? Please join us right after school drop off for a time of food and fellowship in the ShEd! This year we are excited to be serving Starbucks coffee!
Sept 12 – 2nd grade class coffee
Sept 17 – 3rd grade class coffee
Sept 18 – 4th grade class coffee
Sept 19 – 5-8th grade class coffee
Box Tops
Every little bit helps - keep those Box Tops coming, we sure appreciate it! It's now easier and faster than ever. Download the app, make a quick habit of scanning your grocery receipts and . . . . DONE!! No clipping through tough cardboard boxes, checking the expiration dates, saving them all in a baggie and sending them in with your child - all of that is in the past. Make way for the new and light-years improved system, and keep those credits coming our way. We average about $900/year from this program for the PTO and we're expectantly hoping that with the new, more efficient system we'll actually see an increase. Thank you so much in advance!
Direct Your Dollars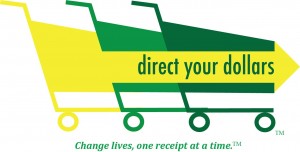 Do you shop at D&W, Forest Hills Foods, Ada Market or Family Fare? If so, please save your receipts! SpartanNash gives Ada Christian School a $1,000 check for each $150,000 in receipts collected.
BBQ, watermelons, popsicles . . . make use of all those fun summer purchases by submitting your receipts. Last year we practically hit a goal from the summer collections alone!
The money earned through this program goes directly back to our students through the PTO. Ask your family and friends to save receipts too! Every little bit helps. Deposit your receipts in the marked container on the office counter.
Questions? Please contact Kristen Yeh (moc.oohay@hey_netsirk, 616.307.2488).
ACS Athletics
PurePlay
Fall soccer: Saturday, Sept 14.Girls at 9:00am, Boys at 10:15am.
Fall Running club: Starts today Wednesday, Sept 11, 3:00-4:15pm. The kids should come down to the North gym after school, eat their snack and be ready to go outside.
Want more details about PurePlay? Visit our website.
Wildcats
Attention 5th-8th Grade Boys: Jeff Stafford has graciously offered to hold open gym sessions that will work on baseball hitting skills.
Interested in practicing? Sign up. Hitting sessions will be held in the North Gym.
Calendar Reminders
Sept 13 - Picture Forms Due
Sept 27 - No Forest Hills bus transportation at 3:00pm
Sept 30 - No School (In-Service Day)
Oct 17 - Education Foundation Dinner
Oct 21 - Parent/Teacher Conferences 5:30-8:30pm
Oct 22 - Parent/Teacher Conferences 4:30-7:30pm
Oct 23-25 - No Schools (Teacher Convention)
Requested Announcements
Karate with Sensei Rick
The Karate for Kids program will be starting up Oct 07. The cost is the same as last year. $64/month. Classes are on Mondays from 3:10 to 4:10 in the commons area. The class runs monthly from October through May for ages 5 and up and no prior knowledge or training is necessary.
Benefits:
Fitness and fun
Confidence
Realistic Personal Protection Skills
Self Control
Rank progression in the traditional, 1500 year old art of Tang Soo Do along with state of the art self-defense techniques. Kids learn how to recognize a threat early and avoid or deescalate it. Risk reduction and awareness are major factors in staying safe. If they encounter hostility they are able to resolve it non-violently or with minimal force.
We start every class with the question: Did you make your bed today? If the answer is no kids do 10 pushups. They like the challenge and expectation. We do body and core strengthening, balance, agility, and coordination drills. Then we practice boundary setting and defending techniques, do bag work, hand and foot techniques, traditional forms (kata) and light no contact sparring. We finish with flying kids on the bags.
Parents are encouraged to view classes anytime. The philosophy taught is the Christian based golden rule, do unto others... You have no right to touch or hurt others ...and you have the right to protect yourself from being hurt or harassed. Kids just need to be taught appropriate ways of handling aggression with poise.
I hope to see you on Oct 07.
My Credentials: I will have a one page listing my credentials with me on Oct 07for those who would like further information on me. We have held this class at Ada now for 3 years running and have operated a studio in Kentwood for the last 28 years. It takes no prior knowledge or training to join this class.
CSI Job Opening
Christian Schools International has an opening for an Administrative Assistant. The ideal candidate will have a strong belief and dedication to Christian education. The successful candidate will support the efficient operation of the Benefits Department by performing a variety of clerical and administrative tasks. Excellent computer skills, and verbal and written communication skills are required.
Apply by sending a resume to Howard VanMersbergen, gro.enilnoisc@negrebsremnavh.
GRCHS Cheer
All girls in PK-6th grade: The 25th annual GRCHS Fall Junior Cheer program is back! This year, the Junior Cheer clinics will be held on Monday, September 23 and Monday, Sept 30. Registration takes place immediately prior to the Sept 23 clinic from 3:30–4:00pm. Clinics will be held in the Quest Center at Grand Rapids Christian High School and will begin at 3:50pm. and end at 5:15pm. Cost of the two clinics is $25 (checks to GR Christian Cheer) and include a long-sleeve t-shirt, after school snacks, and a ticket into the game. The Junior Cheer game is scheduled for Friday, Oct 04, which is also the GRCHS Homecoming game against the Thornapple-Kellogg Trojans. If you are unable to accompany your daughter to the first clinic on Sept 23, you may pre-register by contacting Varsity Cheer Coach, Jacquie DeJonge, at 616.949.7516 and leave a message with your name and cell number.