Annual Society Meeting Summary
Mar 26, 2019
Dear Ada Christian Parents and Society Members,
Last evening we enjoyed our annual society meeting with many members of the ACS Society. It was a wonderful opportunity to discuss and celebrate another year of Ada Christian School's faculty, staff and parents partnered in equipping students for service in God's world.
View a PDF of the slides presented last night .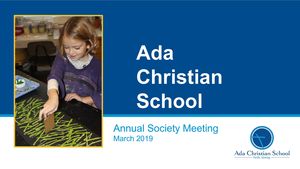 At our meeting, we received updates from our board highlighting progress made on our goals and objectives for this year. We appreciate the time, energy and prayers that so many people shared with us in reaching and exceeding our goals.
Budget & Tuition
Our Finance Committee and our ACS Education Foundation have been working very hard to offset increasing operating costs while maintaining the excellent education and environment our children enjoy. Their goal is to simplify the admissions process, tuition structure, and financial aid process in order to keep Ada Christian School accessible to all of those who desire to enroll. Our proposed budget, tuition and fees passed last evening (view).
Restated Articles & Amended Bylaws
Good guidance practices require the Board to periodically review our corporate documents for legal and internal compliance. Our proposed Restated Articles of Incorporation and Amended Bylaws passed last evening. View the Restated Articles & Amended Bylaws .
Board Members
Volunteering for a leadership role and a three-year commitment to the school board is a significant commitment. Our gratitude goes out to everyone who agreed to participate in the board nominee selection process. The following candidates were chosen to represent us on our School Board:
Andrew Clark
Sarah Plantinga
Jason Reiffer
Kristen Yeh
Reports
Melissa Brower, our principal, shared with us the successes and our direction in curriculum, instruction and assessment. We believe our strong academics are a reflection of our commitment to educating the whole child – mind, body and soul in community and our dependence on Christ for wisdom and knowledge. She shared some examples of how ACS integrates faith, outdoor education, and technology for our students.
It was a privilege to honor several of our faculty and staff members for their years of service to our students and for their dedication to our school. Thank You – Jennifer Bruining, Sharon DeKleine, Jackie Frens, Jim Hapner, Jolene Holtrop, Hannah Phillips, Amy Ingersoll, Sue VanSpronsen, Andrea DeYoung, Nate Kiser, Tawnie Reitsma, Sue Prins, Mary Kladder, Gwen Overbeek, Julie DeKoster, Nancy VanNoord and Bill Hoogstrate. Thank you, also, to our outgoing Board members – Mark Homans, Jim Overbeck, Anna TerBeek and Kara VerMeulen. We are grateful to all who have given so much of themselves to help make ACS what it is today.
Over the past year the school board has overseen a number of changes and tried to be intentional about all that we do:
Monitored the CSI pension developments independently and as part of the consortium of other Christian schools; reviewed and selected a replacement defined contribution retirement plan option to have in place starting in the 2019-2020 school year.
Completing a full advancement audit that will allow us to streamline all of our fundraising and marketing efforts and identify better ways to engage our families.
Completed a 10 year budgetary plan for building and grounds maintenance, repairs, and updating.
Preparing a five year strategic plan for the school, including identifying where we are now, researching key trends impacting our community of learners, and casting a vision for a strong future.
Reviewed, assessed and updated the ACS Articles of Incorporation, bylaws, and policies in order to promote consistency, good communication and ease of transitions, as well as ensure policies and practices align.
Thank you for your continued support of Ada Christian. Our school is in a very strong position and is a blessing to our students, families, staff and community because of your commitment.
Blessings to you and your family,
Kara VerMeulen, President
Ada Christian School Board of Trustees