Annual Society Meeting
Mar 26, 2019
Dear ACS Society Members
The Ada Christian School (ACS) Board of Trustees cordially invites you to attend the annual ACS Society Meeting on Tuesday, March 26, 2019 at 7:00 pm in the school commons.
At this meeting, we will praise God for his faithfulness to Ada Christian School over the last year and also look ahead to the 2019-20 school year. You will receive updates from the administration, the ACS Education Foundation and the School Board, as well as vote on the annual budget, the Restated Articles of Incorporation and the Amended Bylaws, and elect four new school board members.
You may wonder why the additional items for your review and vote this year? Good governance practices require the Board of Trustees to periodically review our corporate documents for legal and internal compliance. As a result, we updated our Articles of Incorporation ("Articles") to reflect current Michigan law and incorporate indemnification provisions not available to us when the Articles were drafted in 1946.
We are also recommending we amend our bylaws to restrict Trustees to serving on either the ACS Board or the ACS Education Foundation and to allow a second three-year term for Trustees under very specific and limited circumstances. Any changes to the Articles of Organization ("Articles") and certain changes to the bylaws must be approved by the ACS Society. We submit these to you, with the changes highlighted in red and blue, for your review and recommend that you vote to approve these Restated Articles and Amended Bylaws.
We also plan to celebrate the faculty and staff of ACS as we recognize a number of them for their years of service to our school and for their continued partnership in educating our children for service in God's world.
Accompanying this letter, you will find the following:
the agenda for our society meeting;
the proposed 2019-20 budget;
the Restated Articles of Incorporation;
the Amended Bylaws;
a biographical sketch of each Board of Trustees candidate; and
an absentee ballot
Please join us as we take the time to reflect on the past year, as well as look towards the future as we learn about the many exciting things happening around our school.
If you are unable to attend the March 26 meeting, please cast your votes using the absentee ballot. Your vote is important to Ada Christian School. Absentee ballots will be accepted until 7:00 pm on March 26.
Thank you for your continued support of Ada Christian School. We look forward to seeing you on the 26th.
In Him,
Kara VerMeulen
Ada Christian School Board President
Agenda
Welcome
Opening Devotions & Prayer
Review and approval of minutes from Society Meeting of March 27, 2018
Treasurer's Report
View Budget Summary and proposed tuition rates
Introduction of new Board candidates
View board candidate profiles
Vote on Budget, Board Members, Articles and Bylaws
Staff Service Awards

Five Years – Jennifer Bruining, Sharon DeKleine, Jackie Frens, Jim Hapner, Jolene Holtrop & Hannah Phillips
Ten Years – Amy Ingersoll & Sue VanSpronsen
Fifteen Years – Andrea DeYoung, Nate Kiser & Tawnie Reitsma
Twenty Years – Sue Prins
Twenty Five Years – Mary Kladder & Gwen Overbeek
Thirty Years – Julie DeKoster & Nancy VanNoord
Thirty Five Years – Bill Hoogstrate

Principal's Report
Advancement Report
Acknowledgement of Service to Outgoing Members
Closing Prayer and Adjournment
Casting your ballot
The ballot consists of four parts – Tuition, Fees & Budget Approval, Amended Bylaws Approval, Restated Articles of Incorporation Approval and Board Member Election. Society members who attend will be able to complete and turn in their ballots at the meeting.
We look forward to seeing you there.
If you are unable to attend the meeting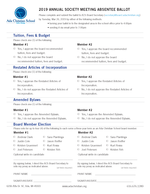 Absentee ballots are available to pick up at the school office; you may also download a ballot here.
Please complete and submit the ballot to the ACS Board Secretary, Sarah Wolters by Tuesday, Mar 26, 2019 by either of the following methods:
turning your ballot in to the designated area in the school office prior to 4:00pm
sending it via email prior to 7:00pm