This Week
Moms-In-Prayer
Praying for our 1st graders and their teachers/aides this week. God is our Shepherd -- One who cares for, guards, guides and tends sheep.
"May You, the God of peace, who through the blood of the eternal covenant brought back from the dead our Lord Jesus, that great Shepherd of the sheep, equip them with everything good for doing Your will, and may You work in them what is pleasing to You." - Hebrews 13:20-21a
Come join us for the journey when you can. We meet every Thursday morning 8:00-9:00am, in the orchestra room (through the Commons and past straight past the kitchen). Younger siblings are always welcome!
Need more information? Contact Kelly Stafford (616.304.2963, ten.tsacmoc@droffats-kj)
MENistry
Come join other ACS dads on Wednesdays at 8:00am as we go through C.S. Lewis The Screwtape Letters. We meet in the orchestra room.
Now You Know
Book Fair - Oct 12-18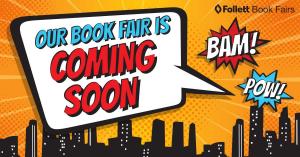 Join us for the Book Fair Saturday, Oct 12 (during Pure Play) through Friday, Oct 18. Stay tuned for more details.
Mosquito Control
As an additional barrier, ACS has contracted with a pest control company to have our campus sprayed for mosquitoes through the remainder of the season.
Education Foundation Dinner - Thursday, Oct 17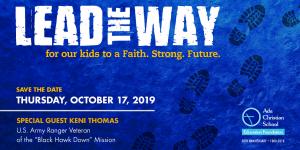 Dear Parents,
Join us for an exciting night of inspiration and motivation as we celebrate the 30th Anniversary of the Ada Christian School Education Foundation and welcome Keni Thomas, U.S. Army Veteran of the "Black Hawk Down" Mission. Drawing from his experiences on the battlefield, Keni shares an inspired Christian view of our greater purpose and calls on people to "use their gifts" and "lead by example". Keni left the Army to pursue his music career and now works full-time as an award winning country music artist in Nashville.
Another highlight of this year's dinner is the presentation of the Distinguished Service Award to Neil and Gwen Kraay, long-time ACS and ACS Education Foundation supporters.
Parents, grandparents and friends of ACS are encouraged to join us at the Amway Grand Plaza Hotel on Oct 17. We offer table sponsorships (tables of eight) and individual tickets.
Don't wait to let us know you can join us, sponsorship and tickets are available now!
Questions, Contact Mark Stuit, Director of Advancement (gro.naitsirhcada@tiutsm)
PTO Happenings
School Party – Sept 30
Meet your Ada Christian School friends at Robinette's Apple Haus, 3142 4 Mile Rd NE Grand Rapids at 10:00am on Mon, Sept 30 for a fun fall day.
Activities include corn maze, pillow jumping, and apple picking. Tickets for the following activities are available for purchase on site: $5 pillow jumping, $8 corn maze or $12 combo ticket for both.The playground in front of the Apple Haus is always free!
ACS Athletics
PurePlay
Fall soccer: Saturday, Sept 28. Girls at 9:00am, Boys at 10:15am.
Fall Running club: Wednesday after school, pick up kids at 4:15pm behind school.
Want more details about PurePlay? Visit our website.
Wildcats
Registration for 5th-8th grade boys basketball is now open. Please visit the ACS Athletic Website to sign up. The registration deadline will be Sun, Oct 06. If you have any questions or concerns please contact Angela VanDuyn at (gro.naitsirhcada@nyudnava).
Please remember ACS asks for a full commitment from student athletes who participate in athletics through ACS. This means attending all practices and games. If you have questions about potential conflicts please contact Angela VanDuyn at avanduyn@adachristian.org before registering.
Calendar Reminders
Sept 27 - No Forest Hills bus transportation at 3:00pm
Sept 30 - No School (In-Service Day)
Oct 17 - Education Foundation Dinner
Oct 21 - Parent/Teacher Conferences 5:30-8:30pm
Oct 22 - Parent/Teacher Conferences 4:30-7:30pm
Oct 23-25 - No Schools (Teacher Convention)
Requested Announcements
Ada CRC After School Program
Ada Christian Reformed Church is offering a free After School Program on Wednesdays beginning Sept 25 and running through Nov 13, 2019. The 8-weeks session features five programs for students 1st through 4th grades: 1) girls club [GEMS]; 2) boys club [Cadets]; 4) Life Skills through Magic; 5) Dance Class 6) Stomp Band. Students will be picked up at ACS at 3:00pm. via our church van and transported to the church for snack, then go to the class for which they registered. Parent pick-up is 5:00pm. To learn more and to register go to: www.adacrc.org and click on After School Program. Classes began Wednesday, Sept 25, but late registration is accepted. Questions, call the church at 616.676.1698