Ada Connection – Sept 19, 2018
A Note From Principal Brower
Morning Matters
Thank you for working with us to have students in class by 8am. The first few minutes of class are important ones -- attendance is taken, lunches are ordered, teachers review the daily agenda, and devotions begin.
Being on time helps us get off to a smooth start -- we appreciate your help!
Meet Mr. Mittens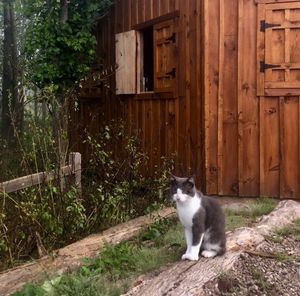 Meet Mr. Mittens, our barn cat. We all have chores to do at school and his is to scare the mice away. He is settling into his new home, often wandering and wondering near the ACS WoodshED and barn. Mr. Mittens enjoys company, so be sure to give him a gentle scratch and a friendly hello when you see him.
A Note From The Kids
Forts destroyed during Saturday PurePlay - please help.
Dear Friends,
Once we get to third grade, we get to "cross the bridge" and go behind the baseball diamond to play in the forts. It is something we really, really, really look forward to. It's lots of fun! We have worked together this year to build really cool forts and a neat place to have our own little city in the woods. It looked totally awesome when we left last Friday.
Then, on Saturday during PurePlay some people destroyed our city. They took big sticks and used their hands to tear our forts apart. We were super sad (and kind of mad) when we saw the damage -- most of the forts were ripped to the ground.
Our teachers reminded us of what the families are going through because of the hurricane and that we have to move forward to rebuild, so we are working hard again -- together! But, it feels different when a hurricane rips things up compared to when people destroy stuff.
Will you help us keep our forts nice by reminding everyone that our forts are important to us and maybe checking on kids while they are "back there"? We are trying to be good "care takers" of our school. We like other people to see our work and to play there, but are asking respectfully for you to remind kids to treat our stuff with respect.
Thanks for listening.
Love your fellow caretakers,
Kids who love the forts
Action Needed
Theme T-shirt Pick Up
If you ordered a theme t-shirt they are ready for pick up. Stop by the ACS office and your t-shirt(s) will be ready for you.
Egg Carton Return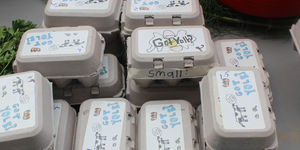 Help us reuse & recycle. If you have purchased eggs from ACS you can return the cartons to the office. Thank you for your help.
School Pictures
Orders due Fri, Sept 21. There will be a late fee if the form comes in after Sept 21. No exceptions unless you had a retake on Sept 18-19. You should have received an email with your password to view your pictures. If you haven't seen the email, first check your spam folders, then email Karen (ten.labolgcbs@agnettuhk).
Hot Lunch Volunteers
We need and appreciate our lunch volunteers. What a wonderful way to connect with others and see what your children are eating! Hot lunch volunteers are needed from 10:45am-1:15pm.
Available? Sign up for a day that works for you.

Contact Shelly VanGoor if you have questions (gro.scrg@roognavs, 616.325.3461)
This Week
Farm Sale – Wed & Thu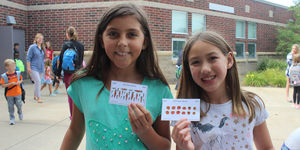 Every Wed & Thu we host our farm sale after school. Our 4th graders are harvesting fresh vegetables and our 6th graders are collecting and cleaning eggs for you to enjoy! Save money by purchasing punch card to make buying convenient. $10 punch cards provide $12 of produce and $20 punch cards provide $25 of goods!
Moms In Prayer
God is our jealous. He is the One who shows/inspires awe; majestic, magnificent, wondrous, astonishing, amazing and breathtaking.
"You are to fear Yahweh your God and worship Him. Remain faithful to Him and take oaths in His name. He is your praise and He is your God, who has done for you these great and awesome works your eyes have seen." - Deut 10:20-21
Come join us for the journey when you can. We meet every Thursday morning 8:00-9:00am, in the ACS office back conference room.
Need more information? Contact Kelly Stafford (616.304.2963, ten.tsacmoc@droffats-kj).
Now You Know
Whatcha Doin Out There?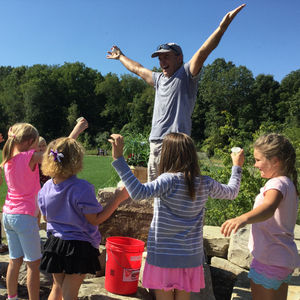 The Sept installment of
Whatcha Doin Out There?
is here. See what your kids have been doing in Outdoor Ed and find out about this months challenge!
Digi Know?
This week Apple released iOS 12 for iPhones and iPads. Protect Young Eyes has developed a guide complete with instructions on how to set up Screen Time restrictions and other parental controls.
Classes With Sensei Rick
Rick Mirandette is excited to return to ACS again this year to work with kids interested in the martial arts. This year he will focus on "BYOB training (be your own bodyguard) along with Tang Soo Do rank promotion materials".
Several ACS families have worked with Rick for many years and they need a few more to join, in hopes of having him come to ACS on Mondays again this year.
Need more information? Interested in joining? Contact Rick (ten.tta@ettednarimkcir, 616.889.5933)
Education Foundation Dinner - Thur, Nov 08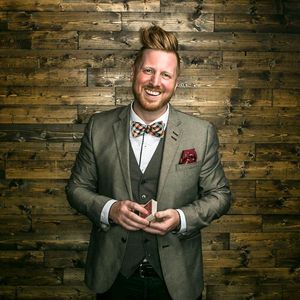 A Magical Night of Wonder and Inspiration! The annual fall dinner held at the Amway Grand Plaza is the signature fundraising event for the Ada Christian School Education Foundation, which provides essential support to our school. This promises to be a magical night of wonder and inspiration as we welcome Christian Illusionist, John Michael Hinton and honor Ray and Jeannine Lanning with the 2018 Distinguished Service Award.
Watch your newsletters and mailboxes for sponsor and ticket information, invite your friends, and be a part of this great evening.
PTO Happenings
PTO Information
Looking for our calendar, information about upcoming events or opportunities to serve? Check out our updated website.
Fall Fundraiser
We have begun! The Charleston Wrap Catalog and instructions came home with your child on Monday, there are some great new items available. Get an early jump on holiday shopping and share with friends and family. Shop now!
Our PTO Fall Fundraiser provides the resources to power our programs and events all year long, in addition, it provides teacher and classroom support. We will close up shop on Oct 12 and tally the totals for some cool prizes like pizza and ice cream parties, and even a drawing to be the ACS Principal for half a day!

We could use some volunteer help with a few things - if this sounds like something you'd enjoy, sign up to volunteer!
Contact Holly Karasinski (moc.liamg@4322kylloh, 616.901.8882) for more information.
School Party – Sept 24
Meet your Ada Christian School friends at Robinette's Apple Haus, 3142 4 Mile Rd NE Grand Rapids at 10:00am on Mon, Sept 24 for a fun fall day.
Activities include corn maze, pillow jumping, and apple picking. Tickets for the following activities are available for purchase on site: $5 pillow jumping, $7 corn maze or $11 combo ticket for both.The playground in front of the Apple Haus is always free!
ACS Athletics
PurePlay
Fall soccer – Sept 22 – Boys @ 9:00am, Girls @ 10:15am
Running club starts today from 3:00- 4:15pm – Sept 19, 26, Oct 03, 10. Email Coach DK to sign up (gro.naitsirhcada@enielkeds).
Want more details? Visit the PurePlay website.
Calendar Reminders
Sept 24 – No School (Inservice day)
Sept 28 – No Forest Hills Transportation (AM)
Oct 18 & 23 – Parent/Teacher Conferences
Oct 24-26 – No School (Teacher's Convention)