Ada Connection – October 26, 2016
A Note From Principal Brower
Honored Teachers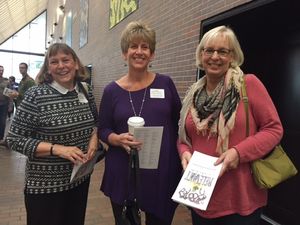 It was a privilege to have three of our ACS teachers honored at the Christian Educator Teacher Conference this past week for their 35 years of service in Christian Education. Thank you for giving to the Lord.
Student Relations Tip
Teachers are introducing and helping students practice a positive way for friends to deal with unkind behavior between them. This is something new Dr. McEvoy shared with us this year and something you can review with students at home.
Situation - What if a friend is unkind to you? Try this:
Calmly say "I don't like that. I wouldn't do that to you. Please don't do it to me. Friends don't treat each other that way. Will you think about it?"
This Week
Outdoor Education Dedication Services and Guided Tours
Friday, Oct 28 has been set aside to formally dedicate and celebrate our new Outdoor Education spaces. There will be 3 different times available for parents to join us. Please view the schedule (37 KB PDF) for the day and join us at your convenience.
Pajama Drive
Ada Christian School is having a school wide pajama drive to benefit children at Mel Trotter Ministries. From Oct. 24-28, everyone who brings in a pair of pajamas to donate gets to participate in our school wide pajama day on Oct. 28. We specifically need NEW pajamas size 8-14 for boys and girls. There will be bins at the end of each hallway for drop off.
Moms In Prayer
This week we will be praying specifically for 1st grade and Guest Speaker - defending our children/picture days. God reigns. 1 Chronicles 16:31 "Let the heavens rejoice, let the earth be glad; let them say among the nations, 'The LORD reigns!'"
Please join us this Thursday, Oct 27, at 8:00-9:00am in the office conference room as we pray for our children, their teachers and the ACS community. Questions? Contact Laura Cawley (616.425.9728, moc.oohay@57_csarual).
MENistry
A group of ACS dads who meet and dwell with the Word of God every Friday 8:00-9:00am in the back office conference room. This fall we will be going through the book of Ephesians.
Action Needed
Serve Through Bus Driving
Do you have a few hours a day and a desire to support our ACS programming by driving a bus? We are in need of a driver! The hours are 6:30-8:00am and 2:45-4:15pm M - F. Training is required and will be provided.
Available? Please contact Bill Venneman or Julie DeKoster. Kids LOVE their bus drivers and we would love to welcome a new driver to our family!
Spirit Shop News
Our ACS Spirit Shop is introducing a new way to purchase school spirit items. This change will allow us to have more clothing options, accessories and sports gear available for you more frequently. The online store can be found on Ada Christian's main website under the link 'Spirit Shop'. When possible, samples will be displayed in the lobby.
Here's how ordering will be different:
NO SHIPPING FEES!
The online store will only be open for orders during the FIRST WEEK of every other month, starting Nov 01, 2016.
Standard items noted online, such as long and short sleeve tees, will be available for purchase every time the online store is open. However, some items will only be available during certain months. Items will change according to the season.
Orders placed within the 7 day window will go into production the following week and be delivered to ACS for pick up.
ACS Spirit Shop Will Be Open:
Nov 01-07, 2016 Jan 01-07, 2017 Feb 01-07, 2017 and Apr 01-07, 2017.
No late orders will be accepted, so mark your calendars. We have really great stuff coming! Please contact Laura Kaminski at 616.460.6109 for further information.
Book Fair Volunteers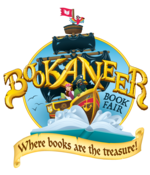 The Scholastic Book Fair will be returning to ACS on Monday, Oct 31 and run through Friday, Nov 04. All proceeds support the library media center. To volunteer, please
sign up
online.
Missing Something?
Found a few weeks ago: one sliver camera, one black wallet, and 1 Toyota mini van fob together with a Subaru fob, and 5 extra keys. Come to the office to claim.
ACS Foundation Dinner—Nov 21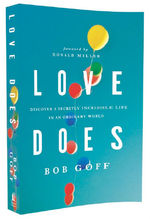 We're looking forward to hearing from best-selling
author Bob Goff speaking
about his book, Love Does. Bob is an entertaining, engaging speaker who passionately tells stories of the impact of love in our world. He's an attorney, founder of an international organization "Restore International" and professor at Pepperdine Law School.
Another highlight of this year's dinner is the presentation of the Distinguished Service Award to Duke and Sue Suwyn, long-time ACS and ACS Education Foundation supporters.
We offer table sponsorships (tables of eight) and individual tickets. Parents, grandparents and friends of ACS are encouraged to join us for this very enjoyable event at the Amway Grand Plaza Hotel on Nov 21.
Questions? Contact Dan Day (616.676.1289 ext. 104, gro.naitsirhcada@yadd).
Keycard Sales
The Keycard will be available for $25. Find out just how many places it can be used. Stop by the office to buy yours any time between now and Christmas break.
Only $25 for $100's of dollars in savings and an opportunity to help our music department.
Meals For The Rauch Family
The Rauch family has several students at ACS and Teresa, the mom, has been diagnosed with ALS. Outside of coveting your prayers, the family could really use meals. The meal would need to feed 5-6 people. No allergies. Meals may be delivered to the office and will be pick up after school. Sign upfor more details and see what others are marking.
Questions? Contact Jill Anderson (ten.labolgcbs@5791nosrednaj)
PTO Happenings
Charleston Wrap Fundraiser Results and Rewards
Thank you to all who participated in this year's Charleston Wrap fundraiser! We met our overall school goal and Mrs. Brower and Mrs. DeKoster will be spending time on the roof soon!
The student with the highest sales for the entire school, earning her family the highly sought after reserved parking spot for the year is Emma VanGoor.


The top four grades with the highest sales have won a pizza party! (in order):



| | | | |
| --- | --- | --- | --- |
| 3rd grade | 6th grade | 2nd grade | Kindergarten |
The following students achieved the top sales award, raising $500.00 or more in sales, and earning a special ice-cream party (in addition to the other tier rewards):



| | | |
| --- | --- | --- |
| Cole VanderBaan | Allie Kaminski | Isaac Anderson |
| Laura VanderSloot | Sara Muir | Addie VanderWeide |
In addition to the students listed above, the following students raised more than $150.00, earning them a pajama day:



| | | |
| --- | --- | --- |
| Abigal Zylstra | Adde Plantinga | Alden DeGennaro |
| Ally Samuels | Anna Tubbergan | Aundrea Anderson |
| Ava Jansen | Banks McNinch | Barron Mulder |
| Blake Jackson | Bree Lane | Brock Barron |
| Carter Yarch | Charlie King | Colton Dempsey |
| Cooper Reitsma | Denia Yarch | Dylan Walters |
| Eddie Overbeck | Elyssa Haley | Emma Dykhouse |
| Henry Kraay | Hugo Uekert | Jack Karasinski |




| | | |
| --- | --- | --- |
| Jacqueline Lanning | Jadyn Koenes | Joshua Siegfried |
| Kaylee Enders | Landon Dempsey | Landon Foster |
| Leyton Harmon | Lindsey Wierenga | Madi Wellman |
| Maggie Styf | Molly Dykhouse | Rowan Jansen |
| Samantha Brandt | Sarah Contant | Sykler Dempsey |
| Sophie Zylstra | Tatyanna VanVoorst | Taylor Frost |
| Will Overbeck | Zachary Hudson | |
In addition to the students mentioned above, 132 students sold at least $50.00 in sales, entering them into a drawing to be principal for a half day. The lucky winner of the drawing is Eva Hoyer (4th grade)! Congratulations, Eva!
ACS Athletics
PurePlay
Wild Cat Athletics
Winter Basketball – Winter basketball sign ups for students in grades 5-8 are now available. Please visit the athletic website to sign up your son or daughter for the season.
Calendar Reminders
Oct 31 – No Forest Hills transportation (PM)
Nov 15 – Picture retake day
Nov 21 – Foundation Dinner
Nov 23 - 25 – Thanksgiving break
Requested Announcements
Snack And Shop Event
2nd Annual Ladies snack and shop event at Cascade Fellowship CRC Tuesday Nov 01, 7:00-9:00pm. Come to just snack, just shop, or do both! Support home businesses- many from our ACS family. This is a really fun event!
Contact Renee Overbeck with questions (moc.oohay@kcebrevoeener).