Ada Connection – Oct 31, 2018
This Week
"Faith. Strong." Friday – Nov 02

It's that time again. All students, staff and parents are encouraged to wear their ACS gear to school this week
Fri, Nov 02
.
Lost & Found
The lost will be found in the front lobby on Fri, Nov 02. What is left at the end of the day will be boxed away. You can always check the lost and found which is located by the kitchen/music rooms.
MENistry
MENistry is a coffee group for dads who want to get to know more about themselves and the Bible.
Moms In Prayer – Praying For 4th Grade
This week we will be praying for 4th graders and their teachers: God is Life: One who is our physical, mental and spiritual experiences, who constitutes our existence.
"You reveal the path of life to me; in Your presence is abundant joy; in Your right hand are eternal pleasures." - Psalm 16:11
Come join us for the journey when you can. We meet every Thursday morning 8:00-9:00am, in the ACS office back conference room.
Need more information? Contact Kelly Stafford (616.304.2963, ten.tsacmoc@droffats-kj).
Action Needed
School Board Update & Request for Nominees
We hope your school year is off to a great start! Tests, projects, field trips, retreats, and sports are well underway and routines are set. Your school board members have met many times already between full board and committee meetings. Standing committees of the Board consist of Education, Executive, Development, Finance, Long-Range Planning, Operations, Promotions and Technology.
Our committees have identified areas we'd like to focus on over the course of this school year. Some, but not all, of these S.M.A.R.T. goals include the following:
review and update the ACS Society Bylaws and Policy Manual
review the Annual Fund to ensure proper alignment with the needs of ACS as well as the capacity of our constituency
discuss and implement a timeline and framework for an academically gifted program at ACS
assess and evaluate MAP testing
review the dress code
establish a long-term Capital plan as it relates to capital needs, depreciation, and funding
finalize a replacement retirement plan
establish guidelines and parameters for Reserve Funds
set a road map for completion of the 2020-25 Compass
evaluate current filtering hardware and security cameras
research and upgrade the current phone system
achieve higher retention of preschool families
develop and implement a comprehensive strategic communications, development, and marketing plan for ACS
We are keeping busy! Blessings to you all this school year as we continue to work together in equipping students for service in God's world.
Board Nominations
It is hard to believe that November is almost here and the holidays are right around the corner! Among other things, this means that it is time to begin the nomination process for our 2019-2020 School Board Members. Retiring board members this year are: Mark Homans, Jim Overbeck, Anna TerBeek and Kara VerMeulen.
Please take a minute to submit your nominations. Thank you!
Advent Project
We are in need of several gallon jugs for an advent luminary project. If you have empty gallon size jugs from milk, juice etc please drop them off in the bins at the end of the halls. We will be collecting jugs until the first week of Dec. Thank you in advance!
School Pictures
PreK and Young 5's
The PreK and Young 5s pictures will be coming home next week.
Notice for all orders PreK - 8th
Please check your order as soon as possible for accuracy. You have until Fri, Nov 02 to contact Karen Huttenga about any corrections needed. If you placed an order but did not receive it earlier and do not receive it this week with the PreK orders, then you have until Fri, Nov 02 to place another order. Also, if you forgot to place an order, but would still like to, you have until Fri, Nov 02 to place that order. Please bring your orders directly to the school office, no later than noon on Fri, Nov 02. Email Karen Huttenga if you need another order form. ten.labolgcbs@agnettuhk
Ski Club
Our ski club will be held on Tuesdays in Jan and Feb after school until 8:00pm. We will make arrangements to carpool to Cannonsburg if needed, but you will need to pick up your child at the end of the evening. If you have younger children who are not old enough to be by themselves you will need to be there throughout the evening either skiing or in the lodge.
6 years old and under get their lift tickets free.
Deadline is Wed, Nov 28. After that time you will need to go through Cannonsburg.
All the prices are on the registration form. Checks should be payable to "Cannonsburg Ski Area" and sent to the ACS office with the form.
Sign up now for your ski passes and save money – 50% off the regular price.
Card holders may use their passes anytime, any day during the 2018-2019 ski season, including weekends.
Questions? Ask Katie Kuiper (616.485.1888, moc.oohay@repiuk_kj).
Now You Know
Cider & Donut Sale – Nov 07-09
Support our Ada Christian Service Project by purchasing donuts & cider. The sale will happen after school on Nov 07-09. Donuts are $1 and cider is 25 cents.Thank you to the Vander Heides of VanderMill Cider for donating all of the donuts & cider.
Family Advent Walk – An Outdoor Christmas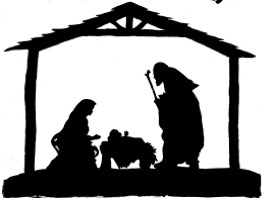 Get into the Christmas spirit by reflecting on the First Christmas, told from different perspectives. This family event allows all ages to listen, interact, and enjoy the true meaning of Christmas. Join us on
Dec 06, from 5:30-7:30pm
, at Ada Christian's outdoor campus.
Please travel as an entire family whenever you choose, however in order to attempt to space out the visits of families:
PK-1st grade families are encouraged to visit at 5:30 pm
2nd-4th grade families are encouraged to visit at 6:00 pm
5th-6th grade families are encouraged to visit at 6:30 pm
7th-8th grade families are encouraged to visit at 7:00 pm
Visits will be around 30 minutes, but you are welcome to stay longer.
The last tour will begin around 7:00 pm.
November Hot Lunch Menu
The November hot lunch menu is here. See what's for lunch and help your kids plan ahead!
We are always looking for moe lunch volunteers. What a wonderful way to connect with others and see what your children are eating! Hot lunch volunteers are needed from 11:15am-12:45pm.
Available? Find a day that works for you.
Contact Shelly VanGoor with questions (gro.scrg@roognavs, 616.325.3461).
Education Foundation Dinner – Nov 08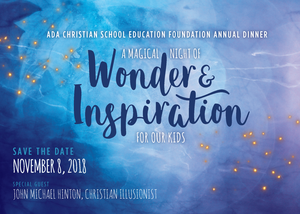 Dear Parents,
Join us for A Magical Night of Wonder and Inspiration featuring John Michael Hinton as our guest speaker. With a goal of spreading God's incredible gospel, he uses the power of illusion, storytelling, and humor to motivate and inspire. Another highlight of this year's dinner is the presentation of the Distinguished Service Award to Ray and Jeannine Lanning, long-time ACS and ACS Education Foundation supporters.
Parents, grandparents and friends of ACS are encouraged to join us at the Amway Grand Plaza Hotel on Nov 08. We offer table sponsorships (tables of eight) and individual tickets.
This year our students will be able to experience the illusion, storytelling, and humor through a special assembly with John Michael Hinton. This will occur during the day on Nov 08 at school. We are thrilled to be able to share this with them.
Don't wait to let us know you can join us! Sponsorship and tickets are available now!
Share this event with others!
PTO Happenings
PTO Information
Looking for our calendar, information about upcoming events or opportunities to serve? Check out our updated website.
ACS Athletics
PurePlay
Basketball signups are underway. Deadline to sign up is Nov 16.
Want more details? Visit the PurePlay website.
Calendar Reminders
Nov 08 - Foundation Dinner
Nov 20 - All School Chapel
Nov 21-23 - Thanksgiving Break
Nov 30 - Report cards go home