Ada Connection – Oct 24, 2018
Action Needed
School Pictures
PreK and Young 5's
The PreK and Young 5s pictures will be coming home next week.
Notice for all orders PreK - 8th
Please check your order as soon as possible for accuracy. You have until Fri, Nov 02 to contact Karen Huttenga about any corrections needed. If you placed an order but did not receive it earlier and do not receive it this week with the PreK orders, then you have until Fri, Nov 02 to place another order. Also, if you forgot to place an order, but would still like to, you have until Fri, Nov 02 to place that order. Please bring your orders directly to the school office, no later than noon on Fri, Nov 02. Email Karen Huttenga if you need another order form. ten.labolgcbs@agnettuhk
Ski Club
Our ski club will be held on Tuesdays in Jan and Feb after school until 8:00pm. We will make arrangements to carpool to Cannonsburg if needed, but you will need to pick up your child at the end of the evening. If you have younger children who are not old enough to be by themselves you will need to be there throughout the evening either skiing or in the lodge.
6 years old and under get their lift tickets free.
Deadline is Wed, Nov 28. After that time you will need to go through Cannonsburg.
All the prices are on the registration form. Checks should be payable to "Cannonsburg Ski Area" and sent to the ACS office with the form.
Sign up now for your ski passes and save money – 50% off the regular price.
Card holders may use their passes anytime, any day during the 2018-2019 ski season, including weekends.
Questions? Ask Katie Kuiper (616.485.1888, moc.oohay@repiuk_kj).
Hot Lunch Volunteers
We desperately need more lunch volunteers and have reduced the time commitment to better fit parent schedules. What a wonderful way to connect with others and see what your children are eating! Hot lunch volunteers are needed from 11:15am-12:45pm.
Available? Find a day that works for you.
Contact Shelly VanGoor with questions (gro.scrg@roognavs, 616.325.3461).
Now You Know
Education Foundation Dinner – Nov 08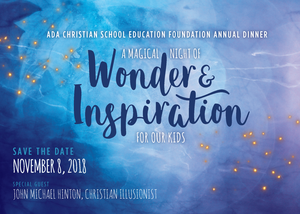 Dear Parents,
Join us for A Magical Night of Wonder and Inspiration featuring John Michael Hinton as our guest speaker. With a goal of spreading God's incredible gospel, he uses the power of illusion, storytelling, and humor to motivate and inspire. Another highlight of this year's dinner is the presentation of the Distinguished Service Award to Ray and Jeannine Lanning, long-time ACS and ACS Education Foundation supporters.
Parents, grandparents and friends of ACS are encouraged to join us at the Amway Grand Plaza Hotel on Nov 08. We offer table sponsorships (tables of eight) and individual tickets.
This year our students will be able to experience the illusion, storytelling, and humor through a special assembly with John Michael Hinton. This will occur during the day on Nov 08 at school. We are thrilled to be able to share this with them.
Don't wait to let us know you can join us! Sponsorship and tickets are available now!
Share this event with others!
MENistry
MENistry is a coffee group for dads who want to get to know more about themselves and the Bible.
Moms In Prayer – Praying for 4th Grade
This week we will be praying for 4th graders and their teachers: God is Life: One who is our physical, mental and spiritual experiences, who constitutes our existence.
"You reveal the path of life to me; in Your presence is abundant joy; in Your right hand are eternal pleasures." - Psalm 16:11
Come join us for the journey when you can. We meet every Thursday morning 8:00-9:00am, in the ACS office back conference room.
Need more information? Contact Kelly Stafford (616.304.2963, ten.tsacmoc@droffats-kj).
PTO Happenings
Parent Teacher Conference Thank You
Thank you so much to all who brought ingredients for the Parent Teacher Conferences meals - we had a total of 41 items needed and it was covered with 100% participation! That is amazing, and so appreciated, to see everyone bring their own contribution to bless the teachers with a nice meal on their long work day.
A very special thank you to Kim Laufer and Sarah Barron to making two delicious, warm, homemade meals for the teachers. This is no small task, I assure you. This amazing team decided last year that the money just didn't go very far when catering, and they took it upon themselves to create a menu, ask for donated ingredients, and spend their time making a homemade meal to nourish the teachers so they could focus on their work and the parents coming in for conferences. The best part? With her talent for design work, Kim had a brilliant idea. She has been saving every penny in her budget, which has been possible because of your generous support with food donations, and she intends to take that as far as it can go to update the teacher lounge! Your generosity, along with this team's stewardship, will really make a lasting impact on blessing the teachers, so thank you very much. And of course, thank you to Kim and Sarah for all of their hard work.

In addition to this, Kristen Yeh stepped into action and through her amazing team of Room Parents covered recess duty for the teachers on Tuesday, giving them those precious extra moments to prepare, or even just to take a small mental break without managing a playground full of sweet but rambunctious kiddos. Thank you to Kristen, thank you to the team of Room Parents, and a special thank you to the "boots on the playground" who made that teacher-break possible.
Fall Fundraiser Results
The results are in! Drum-roll please . . . . .
$23,211 in Total Charleston Wrap Sales (PTO Receives 50% Profit)
$794 in Donations
$12,400 Total Income for the PTO (Exceeds our goal of $12,000)
These numbers are incredible, they are the highest that we have seen in years, and it is all thanks to you. So many wonderful things will be accomplished for the children, the teachers, and the school itself because of your support. We recognize that these fundraisers take effort on your part, and we thank you all the more because of it.
Now, even more importantly, the prizes!
K-4 Classroom Victors

1st Place Pizza Party - Mrs. Alphenaar's Class in 3A with $1,380
2nd Place Ice Cream Party - Mrs. Phillips' Class in KP with $1,333
5-8 Classroom Victors

1st Place Pizza Party - Mrs. Reidsma's Class in 5R with $2,110
2nd Place Ice Cream Party - Miss Slauer's Class in 5S with $1,076
(Way to go 5th grade!!)
Family with the Most Sales: The Hemker Family!
Principal for Half Day: Tessa Honholt!
(Drawing winner for any individual with over $50 in sales/donations)
Honorable Mention

Faith Gonzalez in Preschool had the highest sales in the entire school!
We decided to honor this, along with the INCREDIBLE Preschool participation this year, with a Preschool Popsicle Party!
We will coordinate with each teacher to find the best time to plan these fun parties. Thank you again, to everyone. It was a wildly successful fundraiser and we are thrilled and so grateful for the results.
A special thank you for the countless hours put in by the volunteers for this committee to pull this whole thing off: Melissa Hoekzema, Jamie Mulder, Jamie Abernathy, Jennifer Kreuzer, Brooke Clark, Leslie Hulst, Heidi Jaeckle, Amy Leonard, Tim Taig, Karen Naude, and Kristen Goodyke. There were a lot of details to manage and this crew was up to the task, thank you!
PTO Information
Looking for our calendar, information about upcoming events or opportunities to serve? Check out our updated website.
ACS Athletics
PurePlay
Basketball signups are here. Deadline to sign up is Nov 16.
Want more details? Visit the PurePlay website.
Calendar Reminders
Oct 24-26 – No School (Teacher's Convention)
Nov 08 - Foundation Dinner
Nov 20 - All School Chapel
Nov 21-23 - Thanksgiving Break
Nov 30 - Report cards go home