A Note From The Principal
A Warm Welcome
Welcome to Scott and Andrea Kraemer and their daughter Zooey. Zooey is in Mrs. Quist homeroom.
This Week
Book Fair – Oct 12-18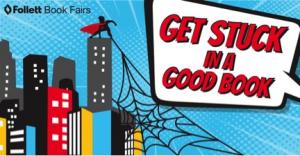 Swing into the Book Fair with your child before or after school. It's an opportunity for you to buy great books for your home library. We are open from 7:30 - 3:30 and all proceeds go to the ACS library.
Moms In Prayer
Praying for our 4th graders and their teachers this week. God is our Strength -- One who has firmness of will, character, mind or purpose; power to resist force.
"May they be strong in the Lord and in His mighty power. May they put on the full armor of God so that he/she can take his/her stand against the devil's schemes." - Ephesians 6:10-11
Come join us for the journey when you can. We meet every Thursday morning 8:00-9:00am, in the orchestra room (through the Commons and past straight past the kitchen). Younger siblings are always welcome!
Need more information? Contact Kelly Stafford (616.304.2963, ten.tsacmoc@droffats-kj)
MENistry
Come join other ACS dads on Wednesdays at 8:00am as we go through C.S. Lewis The Screwtape Letters. We meet in the orchestra room.
Now You Know
Whatcha Doin' Out There?!
Our studnets have been busy in outdoor education, harvesting, building and learning. See our top 10 moments in the October Whatcha Doin' Out There?!
Parent Teacher Conferences – Oct 21 & 22
Please review the elementary conference schedule . Parents of students in middle school will have the opportunity to visit with each of their student's teachers in the commons. No sign up is necessary for Middle School. Oct 21 the teachers will be available from 5:30-8:30 and Oct 22 from 4:30-7:30.
Hot Lunch
Did you know you can drop off money to the ACS office to be added to your child's hot lunch account? Simply place the money in an envelope labeled hot lunch, along with your child's first and last name.
PTO Happenings
Pizza for the PTO
We realize that many parents will be attending the Foundation Dinner on Thursday night. This is a great time to order pizza for the kids and babysitters! The PTO is partnering with one of our very own ACS families, Joel and Sarah Brandt and their Jet's Pizza stores. On Thursday night Jet's Pizza will be running a special promotion that donates 10% of sales to benefit the ACS PTO.

Please feel free to contact either of the participating stores:
Jet's Pizza Forest Hills - 820 Forest Hills Ave 940-8860 or
Jet's Pizza Cascade - 6275 28th St. SE 940-1888
or order online at www.jetspizza.com.
Pick up, delivery or dine-in...it all counts! Pizza, sandwiches, salads, bread sticks, drinks and even desserts. Dinner...done. Please mention when ordering that you are participating in the Ada Christian promotion, and if ordering online please indicate it in the "notes" section.
Thank you!
Your Pizza-loving PTO
Box Tops
We are still collecting paper box tops this year as the program transitions, and we truly appreciate each one. Please send in unexpired box tops by Friday Oct 18, thank you!
Every little bit helps - keep those Box Tops coming, we sure appreciate it! It's now easier and faster than ever. Download the app, make a quick habit of scanning your grocery receipts and...done! No clipping through tough cardboard boxes, checking the expiration dates, saving them all in a baggie and sending them in with your child - all of that is in the past. Make way for the new and light-years improved system, and keep those credits coming our way. We average about $900/year from this program for the PTO and we're expectantly hoping that with the new, more efficient system we'll actually see an increase. Thank you so much in advance!
School Party At Heidi's
Wed, Oct 23 from 1:00-3:00pm at Heidi's Farm Stand - 11999 Cascade Rd Lowell
Freshly baked doughnuts and crisp apple cider. Locally grown farm fresh produce, bright pumpkins and bushels of apples!
Are you up for the challenge of the corn maze?! This year the theme is "Out of this world: celebrating 50 years since landing on the moon." Enjoy the fall scenery of never-ending corn with your younger ones...or send the older ones out to explore on their own for a few minutes (or hours) of peace and quiet.
The Lil' Pumpkins Bounce Zone is open for children 10 and under with bounce houses, a barrel train ride, and a journey through the Jr. Corn Maze while searching for astronaut gear.
Or simply come to enjoy the beautiful fall weather with friends and let you kiddos play in the corn box or on the giant slide and run around for free!
Corn maze: $6 for adults and $4.50 for kids (ages 3-13) or $25 for families (parents and children).
Questions? Contact Holly Karasinski (616.901.8882, moc.liamg@4322kylloh)
Parent Teacher Conference Help
Fall Conferences are coming up! Would you be willing to help bless our elementary teachers and cover recess duty so they can have a break?
ACS Athletics
PurePlay
Soccer season is finished, thanks to all who participated!
Registration for basketball is open. Deadline for 1st-4th grade is Nov 15.
Visit our website for details.
Calendar Reminders
Oct 17 - Education Foundation Dinner
Oct 21 - Parent/Teacher Conferences 5:30-8:30pm
Oct 22 - Parent/Teacher Conferences 4:30-7:30pm
Oct 23-25 - No Schools (Teacher Convention)
Nov 27-29 - Thanksgiving Break