Ada Connection – Oct 09, 2019
This Week
Moms In Prayer
Praying for our 3rd graders and their teachers this week. God is Sovereign – One who is above or superior to all others, controls everything, can do anything.
"You are a shield around them, O Lord; bestow glory on them and lift up his/her head" - Psalm 109:21
Come join us for the journey when you can. We meet every Thursday morning 8:00-9:00am, in the orchestra room (through the Commons and past straight past the kitchen). Younger siblings are always welcome!
Need more information? Contact Kelly Stafford (616.304.2963, ten.tsacmoc@droffats-kj)
MENistry
Come join other ACS dads on Wednesdays at 8:00am as we go through C.S. Lewis The Screwtape Letters. We meet in the orchestra room.
Action Needed
Book Fair – Oct 12-18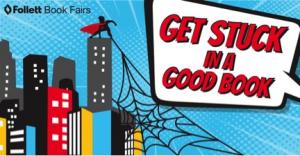 If you look in the Commons, you will see that we are getting the Book Fair ready. The last step before opening to the public is our Teacher Preview after school on Friday. Plan to stop in this Saturday, Oct 12 rain or shine between 8:30am–12:00pm or any time next week between 7:30am–3:30pm. We can use a few more volunteers. (including grandparents). All sale proceeds stay at ACS and benefit the library. If your child brought home a flyer about the sale, please remember that not all of the items advertised will be at the fair.
Donate Your Shovels
Each year our middle school students serve our community, Camp Tall-Turf, Camp Henry, & Camp Scottie. Borrowing tools each time is a logistical challenge. If you have a spade or flat shovel you don't use any longer, Ada Christian would love to have it. Please drop off shovels in Mr. Wanner's room.
Zac, Alan, Shannon
Elementary Christmas Program Volunteers
The Elementary Christmas program is upon us! Mrs. Vruwink needs 2-3 moms who would be willing to help organize and collect props and costumes for the Christmas musical. This task would require a couple of days after school, minimal shopping/ searching, possible sewing, and organizing white gowns.
If interested please email Mrs. Vruwink at gro.naitsirhcada@kniwurvk
Now You Know
Class Composites
The blue form to order class composites is due this Fri, Oct 11. Extra form are in the office.
Parent Teacher Conferences – Oct 21 & 22
Please review the elementary conference schedule . Parents of students in middle school will have the opportunity to visit with each of their student's teachers in the commons. No sign up is necessary for Middle School. Oct 21 the teachers will be available from 5:30-8:30 and Oct 22 from 4:30-7:30.
Hot Lunch
Did you know you can drop off money to the ACS office to be added to your child's hot lunch account? Simply place the money in an envelope labeled hot lunch, along with your child's first and last name.
Education Foundation Dinner - Thursday, Oct 17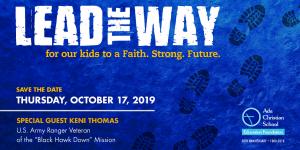 Dear Parents,
Join us for an exciting night of inspiration and motivation as we celebrate the 30th Anniversary of the Ada Christian School Education Foundation and welcome Keni Thomas, U.S. Army Veteran of the "Black Hawk Down" Mission. Drawing from his experiences on the battlefield, Keni shares an inspired Christian view of our greater purpose and calls on people to "use their gifts" and "lead by example". Keni left the Army to pursue his music career and now works full-time as an award winning country music artist in Nashville.
Another highlight of this year's dinner is the presentation of the Distinguished Service Award to Neil and Gwen Kraay, long-time ACS and ACS Education Foundation supporters.
Parents, grandparents and friends of ACS are encouraged to join us at the Amway Grand Plaza Hotel on Oct 17. We offer table sponsorships (tables of eight) and individual tickets.
Don't wait to let us know you can join us, sponsorship and tickets are available now!
Questions, Contact Mark Stuit, Director of Advancement (gro.naitsirhcada@tiutsm)
PTO Happenings
Box Tops
We are accepting cut out Box Tops until Oct 18. Every little bit helps - keep those Box Tops coming, we sure appreciate it!
Every little bit helps - keep those Box Tops coming, we sure appreciate it! It's now easier and faster than ever. Download the app, make a quick habit of scanning your grocery receipts and...done! No clipping through tough cardboard boxes, checking the expiration dates, saving them all in a baggie and sending them in with your child - all of that is in the past. Make way for the new and light-years improved system, and keep those credits coming our way. We average about $900/year from this program for the PTO and we're expectantly hoping that with the new, more efficient system we'll actually see an increase. Thank you so much in advance!
Parent Teacher Conference Help
Fall Conferences are coming up! Would you be willing to help bless our elementary teachers and cover recess duty so they can have a break?
ACS Athletics
PurePlay
Fall soccer: Saturday, Oct 05. Girls at 9:00am, Boys at 10:15am.
Thank you for a great season of running club!
Want more details about PurePlay? Visit our website.
Calendar Reminders
Oct 17 - Education Foundation Dinner
Oct 21 - Parent/Teacher Conferences 5:30-8:30pm
Oct 22 - Parent/Teacher Conferences 4:30-7:30pm
Oct 23-25 - No Schools (Teacher Convention)
Nov 27-29 - Thanksgiving Break