Ada Connection – Nov 07, 2018
A Note From Principal Brower
A Special Guest
Dear Families,
We are looking forward to our Annual Foundation Dinner tomorrow evening and thrilled that our students will get a "sneak peek" of our guest speaker and Christian illusionist, John Michael Hinton. He will be sharing a positive message with our students in morning assembly about treating others with kindness. Be sure to ask them all about it!
Blessings,
Principal Brower
This Week
MENistry
MENistry is a coffee group for dads who want to get to know more about themselves and the Bible.
Moms In Prayer – Praying For 5th Grade
This week we will be praying for 5th graders and their teachers: God is Light: One who is our spiritual illumination, enlightenment and truth.
"Let us discard the deeds of darkness and put on the armor of light." - Romans 13:12
Come join us for the journey when you can. We meet every Thursday morning 8:00-9:00am, in the ACS office back conference room.
Need more information? Contact Kelly Stafford (616.304.2963, ten.tsacmoc@droffats-kj).
Action Needed
Education Committee Needs Your Help
As an Education Committee, we periodically review our policies. We are reviewing the current Dress Code policy as part of our annual SMART goal and your input is important to us. Please watch your email. A survey will be sent your way soon.
Board Nominations
We need your Nominations for the 2019-2020 Ada Christian School Board! Please submit your nominations for next year's Ada Christian School Board. Retiring board members this year are: Mark Homans (Education and Technology Committees), Jim Overbeck (Finance Committee), Anna TerBeek (Promotions and Development Committee) and Kara VerMeulen (Education Committee).
Please take a minute to submit your nominations. Thank you!
Recess Help
We are in need of additional recess volunteers on Mondays. Able to help? Email Coach DK (gro.naitsirhcada@enielkeds)
Advent Project
We are in need of several gallon jugs for an advent luminary project. If you have empty gallon size jugs from milk, juice etc please drop them off in the bin by the office. We will be collecting jugs until the first week of Dec. Thank you in advance!
Ski Club
Our ski club will be held on Tuesdays in Jan and Feb after school until 8:00pm. We will make arrangements to carpool to Cannonsburg if needed, but you will need to pick up your child at the end of the evening. If you have younger children who are not old enough to be by themselves you will need to be there throughout the evening either skiing or in the lodge.
6 years old and under get their lift tickets free.
Deadline is Wed, Nov 28. After that time you will need to go through Cannonsburg.
All the prices are on the registration form. Checks should be payable to "Cannonsburg Ski Area" and sent to the ACS office with the form.
Sign up now for your ski passes and save money – 50% off the regular price.
Card holders may use their passes anytime, any day during the 2018-2019 ski season, including weekends.
Questions? Ask Katie Kuiper (616.485.1888, moc.oohay@repiuk_kj).
Now You Know
Thanksgiving Chapel – Nov 20
Please join us on Tue Nov 20 at 8:15am for our Thanksgiving Chapel. Our 3rd and 4th grade teams will be leading us in worship.
Directories Are Here
Your student (youngest in K - 8th grade)brought home the directory last week. Extras are in the office for $3.00 each. If your student did not bring home a directory, check the bottom of their backpack and/or locker.
School Wide Service Project
We are assembling shoe boxes for Operation Christmas Child, a world-wide service project that provides children with a gift of essential and fun items that often is the only present they ever receive. These children also hear the Gospel and learn about God's love for them. Wolverine Worldwide is providing all the shoe boxes that students will be assembling and we need your help in collecting the items that will go inside.
Not sure what to bring in? Check the list that came home with your child today.
We will be selling cider & donuts on Nov 07, 08, & 09 after school. Donuts are $1 and cider is 25 cents. Thank you to the Vander Heides of VanderMill Cider for donating both donuts and cider. This will help pay for the delivery of the boxes as well as the volunteers who distribute the gifts and the good news of our Lord. We are excited to have each of our students assemble a shoe box with their buddies, write a letter, and pray for the child who receives their box this Christmas.
Interested in helping? We need volunteers to organize tables and others to help classes assemble shoe boxes.
Family Advent Walk – An Outdoor Christmas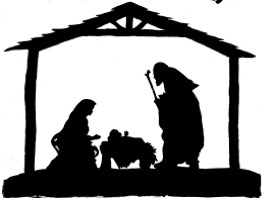 Get into the Christmas spirit by reflecting on the First Christmas, told from different perspectives. This family event allows all ages to listen, interact, and enjoy the true meaning of Christmas. Join us on Thur
Dec 06, from 5:30-7:30pm
, at Ada Christian's outdoor campus.
Please travel as an entire family whenever you choose, however in order to attempt to space out the visits of families:
PK-1st grade families are encouraged to visit at 5:30 pm
2nd-4th grade families are encouraged to visit at 6:00 pm
5th-6th grade families are encouraged to visit at 6:30 pm
7th-8th grade families are encouraged to visit at 7:00 pm
Visits will be around 30 minutes, but you are welcome to stay longer.
The last tour will begin around 7:00 pm.
November Hot Lunch Menu
The November hot lunch menu is here. See what's for lunch and help your kids plan ahead!
We are always looking for moe lunch volunteers. What a wonderful way to connect with others and see what your children are eating! Hot lunch volunteers are needed from 11:15am-12:45pm.
Available? Find a day that works for you.
Contact Shelly VanGoor with questions (gro.scrg@roognavs, 616.325.3461).
PTO Happenings
PTO Information
Looking for our calendar, information about upcoming events or opportunities to serve? Check out our updated website.
ACS Athletics
PurePlay
Basketball signups are underway. Deadline to sign up is Nov 16.
Want more details? Visit the PurePlay website.
Calendar Reminders
Nov 08 - Foundation Dinner
Nov 20 - All School Chapel
Nov 21-23 - Thanksgiving Break
Nov 30 - Report cards go home
Requested Announcements
Snack and Shop
Ladies! Come to the 4th annual "Snack and Shop" at Cascade Fellowship CRC on Thurs Nov 15 from 7:00-9:00pm. This is a fun event that has many Ada Christian moms and teachers selling a great variety of homemade and vendor items. Whether you want to just snack, just shop, or do both, we would love to see you!! Lots of door prizes and you get extra entries for bringing friends! 10% of the sales go to the women's ministry. Questions? Contact Renee Overbeck at moc.oohay@kcebrevoeeneR