Ada Connection – Mar 29, 2017
A Note From Principal Brower
Warm Wishes
Warm Spring Break Wishes to YOU! May you and your family enjoy time away from the normal school routine spending some special time together.
Dessert Theatre Thank You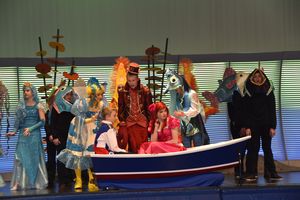 A very special thank you to all that "played a role" in the success of our Dessert Theater. What a great production!
"You gotta kiss the girl!"
Greek Olympiad Winners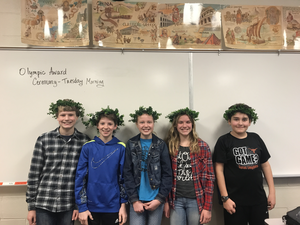 Congrats to our 6th grade Greek Olympiad Winners! Students worked together with a city/state to complete a series of ten events each worth points. The points totals accumulated over the games, until we had a final winner. Events included drawing a map of Ancient Greece, completing a crossword puzzle, chariot races, spear throwing, wrestling, an outdoor education pentathlon, and a variety of other team events. The final event of the games was a test on our Ancient Greece Unit. The city-state of Ithaca earned the most points for the games and won a crown of "laurel leaves" the same prize for which the Ancient Greek Olympians competed.
A Letter From Linda Slotsema
Please take time to read this letter of thanks from Mrs. Slotsema
This Week
Moms In Prayer - God Is Our Shepherd
On Apr 13 we will be praying specifically for 6th grade. God is our shepherd.
"May the God of peace, who through the blood of the eternal covenant brought back from the dead our Lord Jesus, that great Shepherd of the sheep, 21 equip you with everything good for doing his will, and may he work in us what is pleasing to him, through Jesus Christ, to whom be glory for ever and ever. Amen." Hebrews 13:20-21a
The week of Apr 10, please join us Thursday at 8:00-9:00am in the back office conference room as we pray for our children, their teachers and the ACS community.
Questions? Contact Laura Cawley (616.425.9728, moc.oohay@57_csarual).
MENistry
A group of ACS dads who meet and dwell with the Word of God every Friday 8:00-9:00am in the back office conference room. We will be discovering how to be a Christ-like spiritual leader within our families, places of work, and the world. Coffee and donuts provided.
Now You Know
Celebrating Mr. Bill – Ticket Deadline Apr 14
On Friday, May 05 we will be celebrating Mr. Bill at Fifth Third Ballpark. Order your tickets for the ball game and join us to honor his time at ACS. The deadline for ordering tickets is Apr 14.
Society Meeting
Last evening we enjoyed our annual society meeting with many members of the ACS Society. It was a wonderful opportunity to discuss and celebrate another year of Ada Christian School's faculty, staff and parents partnered in equipping students for service in God's world.
Read more about the meeting and see which candidates were chosen to represent us on our School Board.
Easter Chapel
Please join us on Monday, Apr 17 at 8:15am. Our 3rd and 4th grade teams will be leading us in worship.
A Day On The Green
Our annual golf outing to raise much-needed funds for financial aid,
will be held on
May 15
, 2017 at Egypt Valley Country Club.
Join us for an afternoon of golf
, followed by a 19th hole reception and silent auction. This year's event feature fun new ways to increase your opportunity to win! Sponsorships are available.
Not a golfer? Volunteers are needed too!
Looking Ahead
2017-2018 calendar. Feel free to start your plans for the coming year…we certainly are!
Aug 24 – First Day
Sept 01-04 – Labor Day Weekend
Sept 25 – No School - Staff Professional Development Day
Oct 18-20 – No School - Fall Teacher's Convention
Nov 22-24 – Thanksgiving Break
Dec 22 – Christmas Break Begins
Jan 08 – School Resumes
Jan 29 – No School - Staff Professional Development Day
Feb 23-26 – Winter Break
Mar 29 – Spring Break Begins
Apr 09 – School Resumes
May 04 – GrandFriends Day
May 07 – No School - Staff Professional Development Day
May 28 – Memorial Day
June 08 – Last Day
Action Needed
Kids Gardening Club
Spring has arrived and the Ada Christian Kids Gardening Club invites your child in grades 3-6 to come and grow with us. Not only will your child learn about gardening but s/he will also be involved in many hands-on activities that will increase their understanding of God's beautiful creation. The class will be taught by John Boerkoel who is our Outdoor Education Instructor.
Ready to garden and grow? Sign-up and join the fun.
Spring Diaper Drive
Diapers (any size) and wipes for Bethany Christian Services Refugee Families. Collection will take place Apr 10-21. Look for boxes at the end of each hallway.
KIDS-TRIP Program
Thank you so much for participating in the KIDS-TRIP program. If you would like to know the balance for the credit you have earned for 2016-2017 please contact Elizabeth Westhouse (gro.naitsirhcada@sdik).
PTO Happenings
Help Needed: Grand Friends Day Co-Chair
The PTO is in search of a Grand Friends Day Co-Chair. This person would co-chair, this school year, with our presiding Grand Friends Chair. It will be a great opportunity to learn from our presiding chairperson who will be rotating off this committee. For the following year, we already have a parent who has committed to co-chair as well, thus, making this a two person chair committee.
This event will require the week of Grand Friends Day (Thursday and Friday) as well as a little bit of time pre-planning (making a of couple phone calls and shopping). It's really a fun event to be apart of!
Interested? Contact Dawn Raymond (gro.naitsirhcda@otp, 616-238-6606).
Spring Break School Party
Come and join your Ada Christian Friends at this fun school party to kick off spring break. Friday, Mar 31 at Airtime Trampoline, 3681 28th St SE. Students and parents may jump for any 2 hours during the hours of 3:00-9:00pm for $10 per person. No sign up is needed. However, save time in line by signing a waiver online before you go.
When you show up you must let Airtime know that you are from Ada Christian School to get this great rate! As a bonus Airtime will donate $1 for every jumper back to the ACS PTO. At the last Airtime school party, we had 85 jumpers from ACS!
School Cookbook
Thank you to all who have provided recipes so far! This is going to be one, great cookbook! It will be filled with favorite recipes submitted by our wonderful ACS teachers and families. So, we need your favorite recipes! The cookbooks will be available at many school functions throughout the 2017-18 school year and beyond. We are collecting recipes now through the end of the school year. Please submit your recipes electronically or via photo copy and drop off in the office.
Do you know someone affiliated with a printing company? If so please contact Laura Kaminski (616.460.6109, moc.oohay@iksnimak_bl)
Direct Your Dollars
Save your Forest Hills Foods and D&W receipts. Ada Christian School will receive a $1,000 check for every $150,000 we collect in receipts. This money will go directly toward providing a yearbook for each student in June 2017. Please start saving your receipts from Forest Hills Foods and D&W. Place your original receipts in the marked box in the ACS office. Questions? Please contact Kristen Yeh at gro.naitsirhcada@otp
ACS Athletics
PurePlay Spring Sports
Five different PurePlay opportunities are available for the spring. Please see the ACS website for details.
Calendar Reminders
Mar 30 - Apr 07 - Spring break
Apr 10 - School Resumes
Apr 27 - Fine Arts Night
Requested Announcements
Calvin Spring Classic 5K
Calling all runners, walkers and movers! Ada Christian School will be participating in the Calvin Spring Classic 5K School Challenge on Apr 29. This is a great way to be active, promote our school, and be entered to win some awesome prizes. The school with the most participants wins $250. One student from each of the five schools with the most registrants will win a $350 gift card to Village Bike Shop.
Register now and make sure you select Ada Christian School under the school challenge. Encourage friends and family to sign up as well. Younger kids who sign up for the fun run are still counted toward our team total and are entered to win prizes as well.
Need more information? See the attached flyer or check out the posters around school. If you have any questions, please contact Anna Ter Beek (gro.htlaehmurtceps@keebret.anna).
Facilities Manager At LaGrave CRC
Facilities Manager position available at LaGrave Christian Reformed Church in downtown Grand Rapids. This full time position is responsible for the day-to-day and long-term maintenance associated with the operation of the church's facilities. This position supports the life, mission, ministries and programs of the church by working with other staff and members to provide an environment that is functional and hospitable.
For full job description go to the church's website. Inquiries and resumes may be sent to Ruth Ringnalda, Administrative Manager (gro.evargal@adlangnirr).
Sports Physicals
Current 8th graders planning to play sports in high school in 2017-18 school year need to have an MHSAA physical form on file with the high school athletic office before they are allowed to participate. A valid physical for 2017-18 must be completed anytime after April 15, 2017.
Questions? Contact Carolyn Groendyk (616.574.5819)