Ada Connection – Mar 25, 2020
A Note From The Principal
Working Together
Good Afternoon,
Thank you for all you are doing to continue supporting our students with Off-Campus Learning. We are learning with you as we partner to help our students move forward in learning. Your many notes of thanks and encouragement have been greatly appreciated by all of us.
If you have questions about school work, please reach out to your child's teacher(s). We are here to help.
Hope to see you SOON!
"May the God of hope fill you with all joy and peace as you trust in him, so that you may overflow with hope by the power of the Holy Spirit." Romans 15:13
A Warm Welcome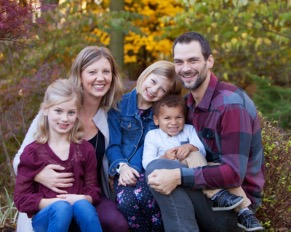 It is my joy and pleasure to introduce Reuben Sportel to you! Reuben has accepted our Integrated Outdoor Education Instructor position, and I can hardly wait for you and your kids to meet him.
Hello Everyone,
I am very excited to be joining the Ada Christian community and serve students in outdoor education. I look forward to bringing my experience back to a school setting after working at a camp the last two years. The largest part of my career was as a middle school science teacher at Dutton Christian. The last couple of years though, I have been working at Camp Roger as the Assistant Director of Outdoor Education where I have been able to lead school groups and homeschool students from all ages, prek-12th. It is a pleasure to lead students through the woods to explore a wide variety of topics from ecology, physics, historical simulations, survival, team building, poetry writing, and much more. I have a passion for the outdoors and my heart's desire is to help students discover God their creator through exploration of the created world.
My family and I reside in the Alger Heights neighborhood in Grand Rapids. Rachel, my wife of 15 years, is nurse Practitioner at Calvin University's Health Services. We are both natives to the greater Grand Rapids area and graduates of South Christian and Calvin University. We have three children; Alena, Nora, and Michael ages 10, 7, and 3 respectively. Alena and Nora attend school at Grand Rapids Christian's Iroquois Campus where they are in the Spanish immersion program. We have attended Madison Square Church since before we were married. My family enjoys time outdoors in the backyard, hiking through the woods, camping (in a tent), kayaking, and many other things the outdoors has to offer as well as other simple modes of quality time together at home or with friends and extended family.
It is an honor to be joining the good work that God is doing at Ada Christian and I look forward to getting started soon.
Sincerely,
Reuben Sportel
Annual Society Meeting - Mar 30, 2020
The ACS Annual Meeting will take place on Mar 30, 2020. This will be a virtual format. You will be provided a link to a prerecorded video on Mar 30 with the opportunity to send in questions, vote for new board members and approve the 2020-2021 budget. In anticipation of this unique format we encourage you to review this information.
Ballots will be accepted until 6:00 PM on Mar 31, 2020.
Important Enrollment Information
Please note that open enrollment will begin on Apr 22, 2020. Details to follow.
Now You Know
Michigan COVID-19 Update
Updated COVID-19 information from the State of Michigan.
Helpful Resources
Keys for Kids
Are your kids feeling anxious over the coronavirus? Keys for Kids has partnered with YouVersion to provide seven days of devotions to help your family conquer fear and trust in God in these difficult times.
Pilgrim's Progress
Now available to watch online for free.
Do Off Campus Learning days count for ACS?
Short answer: Yes!
Longer Answer: Here.
Spring Break
Ada Christian School, along with the Kent ISD, has decided NOT to change the dates of our originally planned Spring Break. Spring Break 2020 will remain Apr 03-10.
2020-2021 Calendar
Here is a preview of our school calendar for the 2020-2021 school year:
Aug 25 – First Day (Half Day)
Sept 04-Sept 07 – No School (Labor Day)
Sept 28 – No School (In-Service Day)
Oct 21-23 – No School (Teacher's Convention)
Nov 25-29 – No School (Thanksgiving Break)
Dec 19-Jan 03 – No School (Christmas Break)
Jan 18 – No School (In-Service Day)
Feb 18-Feb 22 – No School (Winter Break)
Apr 02-12* – No School (Spring Break) - *Please note, we will start Spring Break on Friday, Apr 02 and return on Tuesday, Apr 13.
May 07 – GrandFriends (Half Day)
May 10 – No School (In-Service Day)
Jun 08 – 8th Grade Graduation
Jun 09 – Last Day (Half Day)