Ada Connection – Mar 14, 2017
A Note From Principal Brower
In Like A Lion!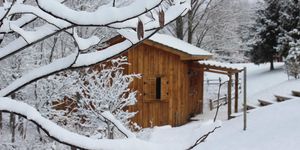 What a beautiful campus we have. March came in like a lion and blessed us with breathtaking views. Let's hope March decides to to go out like a lamb!
SEED Market Success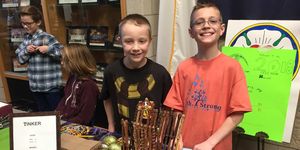 Our 5th and 6th grade students sold over $2,000 in products at their SEED market last week. What a great event. Students researched Non-profit organizations and used their persuasive skills to try to convince classmates that their chosen organization should receive the profits from the event. Thank you for your support of this meaningful event!
Once 5th graders voted and narrowed the choices to six organizations, 6th graders voted to decide on the top four. The organizations who will receive gifts are: Make-A-Wish, Paws With a Cause, St. Jude's Children's Hospital, and God's Kitchen.
This Week
Moms In Prayer
This week we will be praying for 4th grade. God is Gentle. One who is mild in temperament or behavior; kind or tender; not harsh or severe.
"Therefore I, the prisoner for the Lord, urge you to walk worthy of the calling you have received, with all humility and gentleness, with patience, accepting one another in love." – Ephesians 4:1-2
If you can join us for prayer, we meet every Thursday morning 8:00-9:00am, in the ACS office back conference room. Younger siblings are always welcome! Need more information? Contact Kelly Stafford (616.304.2963, ten.tsacmoc@droffats-kj).
MENistry
Come join other dads in room 504 on Fridays at 8:00am as we explore our call to be faithful men of Christ. We will be dwelling with the Word in the Book of Luke this semester. Coffee and donuts provided. All ACS dads welcome!
Now You Know
Lion King Jr. – Tickets Available
ACS 8th grade presents: The Lion King Jr.
Dessert Theatre has been an important part of our school for many years. It is a wonderful community event and we hope that you can join us. Come for one or both nights, Mar 22 and Mar 23 at 7:00pm.
Tickets are available to purchase at the doors.
March Is Reading Month – Author Visits
On Monday, Jacque Viol from the Cascade Public Library told stories to the K-4 students. Some of her stories included string figures. The students were mesmerized. It was fabulous!
On Mar 21 members of the Grand Rapids Christian High School forensics team will be at ACS to tell stories to our elementary school students. The high school students compete against other schools around Michigan and get judged on their storytelling abilities. We are eager to hear what they have to share with us.
On Mar 28 local author Kenneth Kraegel is visiting to speak to Kindergarten-3rd grade students. Watch the book trailer for his most recent book Green Pants. Green Pants is available to order as well as Ken's other titles. All books will be autographed by Kenneth Kraegel, please place your order by Mar 23.
Reminder: Mar 28 will be green (pants) day. Be sure to set out green clothes for your K-4th grader to wear on the last day of school before Spring Break.
Calvin 5K Spring Classic
Would you like a chance to promote Ada Christian School at a local race, get some exercise, and have the chance to win some great prizes? Sign up for the Calvin 5K Spring Classic School Challenge on Apr 28.
One student from each of the top five schools with the most participants will win a $350 gift certificate to Village Bike. The school with the most participants will win a $250. Participation in the 5K run, 5K walk or kids' fun run all count toward Ada Christian's participation. Tell your friends, family and neighbors. Anyone who registers under Ada Christian will be added to our team. Once you sign up, send an email to Anna Ter Beek at aberke98@yahoo.com to let her know you signed up. There will be a weekly drawing every Wednesday between now and race day to win a $5 gift card to Gazelle Sports. The earlier you sign up, the more chances you have to win!
Action Needed
Plan to Attend: ACS Annual Society Meeting – Mar 27, 2018 at 7:00pm
The time is fast approaching for our Annual Society Meeting. This annual meeting is where the members of the Ada Christian School Society (parents of children in grades K-8) gather to formally vote to approve the school's budget and tuition for the 2018-1019 school year and to elect new members to the Board.
We'll also take time to distribute Staff Service awards and to hear reports from the Principal, the Education Foundation, and the Board.
Begin reviewing the information now
Looking forward to seeing you on the 27th – Save the date.
Outdoor Education Spring Cleanup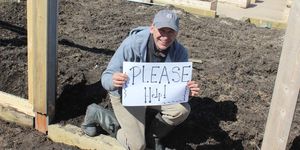 Mr. Hoo needs your help! Spring is in the air and there is much work to be done in our outdoor spaces.
Have time to spare? Volunteer to help Mr. Hoo ready our outdoor education spaces.
Peanut Butter And Pretzel Drive
Help support Kids Food Basket this spring by bringing in creamy peanut butter and snack size pretzels that can be used in trail mix. Collection will take place Mar 12-16. Your donation can make a big difference to a child in need!
PTO Happenings
Staff Appreciation Week – Apr 16-20
It is that wonderful time of the year in which all of the ACS parents have the privilege of showing our appreciation to the outstanding ACS staff. Not only are they an important part of our children's lives, but they also have a huge impact on our future! Staff includes all the teachers, support staff, specials teachers, administration, janitorial, and bus drivers!
On behalf of all the ACS parents, the PTO has made arrangements to bless the staff with a little treats throughout the week in their staff lounge including a luncheon. You can help us shower our staff and teachers with special notes/cards made by you and your children. Our teachers and staff will treasure your and your children's words of appreciation. You can also focus your prayers on specific ACS staff. A list of staff members can be found in the ACS directory. Thank you in advance for your support.
Dear Loving Father,
We thank you for the women and men You have called to work in education. Please continue to bless their hearts with Your love, joy, and peace. Fill their minds with Your faithfulness, gentleness and self control. Please use the parents of ACS to sprinkle extra love and appreciation in their life during staff appreciation week.
Amen
All School PTO Meeting
Have you ever been curious about what the PTO does, how to get more involved in the PTO or why we even have a PTO? Well here is your chance to get those questions answered plus more. The PTO will be hosting an all school PTO meeting on Monday, Apr 09 at 6:30pm. All school just means that all ACS parents are invited. We hope to see you there!
ACS Athletics
PurePlay Spring Sign Ups
Spring soccer sign ups deadline Mar 23.
Track and Field, Wednesdays, Apr 18 - May 16, 3:00-4:15pm.
Tennis, Tuesdays, May 01, 08, 15 & 22, 3:00-4:30pm. Cost is $10.00
Calendar Reminders
Mar 22-23 – Dessert Theater
Mar 27 – Annual Society Meeting in Commons
Mar 28 – All school Chapel at 8:15
Mar 29-Apr 06 – No School (Spring Break)
Apr 09 – School Resumes
Apr 26 – Fine Arts Night
2018-2019 Calendar
Aug 23 – First Day (Half Day)
Aug 31-Sept 03 – No School (Labor Day)
Sept 24 – No School (In-Service Day)
Oct 24-26 – No School (Teacher's Convention)
Nov 08 – ACS Education Foundation Dinner
Nov 21-23 – No School (Thanksgiving Break)
Dec 24-Jan 04 – No School (Christmas Break)
Jan 28 – No School (In-Service Day)
Feb 22-25 – No School (Winter Break)
Mar 28-Apr 05 – No School (Spring Break)
May 03 – GrandFriends (Half Day)