Ada Connection – Mar 01, 2017
This Week
March Is Reading Month
March is reading month and we are busy with it.
Mar 01 – Sweet Sixteen Brackets
Forget college basketball, we are watching our favorite books battle it out during the days of March leading up to Spring Break. In the elementary hallway, Dr. Seuss books will be playing hard to see who rises to the top. The middle school students have voted on their favorite titles. Now they need to fill out their brackets and wait for the results as the books battle their way to the top.
Mar 02 – Read Across America Day
According to Checkiday.com "National Read Across America Day", also known as Dr. Seuss Day, is observed Thursday, Mar 02. At ACS, everyone is also encouraged to wear stripes on that day.
Mar 24 – Books and Blankets
On the last day of school before Spring Break, everyone is encouraged to bring a blanket (or towel). We will find time during the day to spread out and read.
Month of March – Mystery Readers
Many of the teachers and staff have narrated book videos. However, their voices have been altered. During the month, students will watch the read aloud movies and try to guess who the mystery reader could be.
"Faith. Strong." Friday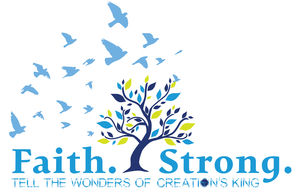 It's that time again. All students, staff and parents are encouraged to wear their ACS gear to school this week
Friday, Mar 03
.
Moms In Prayer - God Is Our Defender
This week we will be praying specifically for 2nd Grade. God is our defender.
"It will be a sign and witness to the LORD Almighty in the land of Egypt. When they cry out to the LORD because of their oppressors, he will send them a savior and defender, and he will rescue them." Isaiah 19:20
Please join us Thursdays at 8:00-9:00am in the office conference room as we pray for our children, their teachers and the ACS community.
Questions? Contact Laura Cawley (616.425.9728, moc.oohay@57_csarual).
MENistry
A group of ACS dads who meet and dwell with the Word of God every Friday 8:00-9:00am in the back office conference room. We will be discovering how to be a Christ-like spiritual leader within our families, places of work, and the world. Coffee and donuts provided.
Now You Know
Celebrating Mr. Bill – Save The Date
On Friday, May 05 we will be celebrating Mr. Bill at Fifth Third Ballpark. Please watch your mailbox for more information coming soon!
Service Team Registration
Join the Service Team as we serve people again in the Grand Rapids area. We will meet on select Thursdays in March and April. In the past we have served Helen DeVos Children's Hospital, Bethany Christian Services, and Mel Trotter Ministries among other organizations. To sign your student up for the Service Team, please fill out the registration form (59 KB PDF) and send in the $30 registration fee to the school office. Space is limited so sign up today! If you as a parent have an interest in joining our planning team or in occasionally assisting with transportation to service projects, we welcome you!
Dates: Mar 16, 23, 30 and Apr 13, 20
Fee: $30 (checks made out to Ada Christian School)
Questions? Contact Sheila Hemker (moc.liamg@rekmeh.aliehs)
GRASP Summer Program
Grand Rapids Academic Summer Programs forms are now available. GRASP is an optional summer correspondence education program for grades K through 8, which helps students maintain reading and math skills while they are on summer vacation.
Interested? Complete and return this form by Mar 10.
Looking Ahead
2017-2018 calendar. Feel free to start your plans for the coming year…we certainly are!
Aug 24 – First Day
Sept 01-04 – Labor Day Weekend
Sept 25 – No School - Staff Professional Development Day
Oct 18-20 – No School - Fall Teacher's Convention
Nov 22-24 – Thanksgiving Break
Dec 22 – Christmas Break Begins
Jan 08 – School Resumes
Jan 29 – No School - Staff Professional Development Day
Feb 23-26 – Winter Break
Mar 29 – Spring Break Begins
Apr 09 – School Resumes
May 04 – GrandFriends Day
May 07 – No School - Staff Professional Development Day
May 28 – Memorial Day
June 08 – Last Day
Action Needed
Help Keep Our Kids Safe
Please, please, please have your children ready to go when you approach the loop. We have been having too many close calls lately. Remember, if you have to help your children out of the car or help them with school items you MUST park in the parking lot. Your child(ren) need to exit the car curb side, it is too dangerous to come out roadside. Thanks for helping keep our kids safe!
Kindergarten Information Night
2017 -2018 Kindergarten Parents: Come to Kindergarten Information Night on Tuesday, Mar 14 at 7:00pm in the commons. This is for parents only.
During this time you will need to sign up your future kindergartener for visiting on Thursday, April 13 at 8:30-9:30am, 10:00-11:00am, or 12:00-1:00pm. Testing must be done if your child turns 5 after June 01, 2017. Testing is Thursday, Apr 20 from 8:30-9:30am or 9:45-10:45am. If you are not able to come to Kindergarten Information Night, please stop in the office before Mar 14 and sign up your child to visit and pick up a folder with papers that need to be filled out and return on Apr 13.
Spirit Shop Open Mar 01-07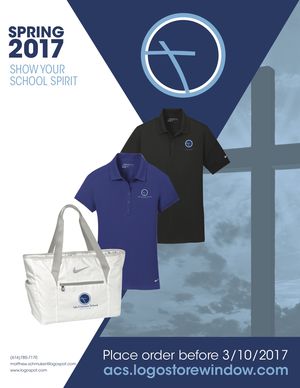 Our online Spirit Shop with be open Mar 01-07! Check out our new golf gear, tie dye shirts, beach bags, plus much more! Any online orders will receive a FREE Ada Christian School tote bag!
Don't see what you are looking for? Contact Laura Kaminkski (moc.oohay@iksnimak_bl). Special orders are also available, the options are endless!
Serve Through Bus Driving
We are in need of a driver. The hours are 6:30-8:00am and 2:45-4:15pm M - F. Training is required and will be provided.
Available? Please contact Bill Venneman or Julie DeKoster (616.676.1289). Kids Love their bus drivers and we would love to welcome a new driver to our family!
PTO Happenings
Thank You For Serving Our Teachers
Thank you to everyone who provided food and covered recess duty for the parent teacher conferences. You all are much appreciated! A special thank you to Katie Minks and Kim Laufer who planned and organized the meals. We couldn't do it without you!
School Cookbook
Thank you to all who have provided recipes so far! This is going to be one, great cookbook! It will be filled with favorite recipes submitted by our wonderful ACS teachers and families. So, we need your favorite recipes! The cookbooks will be available at many school functions throughout the 2017-18 school year and beyond. We are collecting recipes now through the end of the school year. Please submit your recipes electronically or via photo copy and drop off in the office.
ACS Bazaar
Coming to ACS in the 2017-2018 school year! The PTO is considering hosting an ACS Bazaar led by one of our parents. Booths at this Bazaar would include any parent, grandparent, or staff who has a direct sales/home business or craft business. The event will be held at the school and will be opened to parents, staff, and possibly the community to shop. The details are currently being discussed and worked through. We have one awesome parent that has agreed to lead this fun event.
In an effort to ascertain the level of interest, we will be sending out a survey. Please look for a survey coming soon to your email. We absolutely need your feedback to be able to move forward with this event.
Direct Your Dollars
Save your Forest Hills Foods and D&W receipts. Ada Christian School will receive a $1,000 check for every $150,000 we collect in receipts. This money will go directly toward providing a yearbook for each student in June 2017. Please start saving your receipts from Forest Hills Foods and D&W. Place your original receipts in the marked box in the ACS office.
Questions? Please contact Kristen Yeh (gro.naitsirhcada@otp).
ACS Athletics
PurePlay Spring Sports
Five different PurePlay opportunities are available for the spring. Please see the ACS website for details.
Calendar Reminders
Feb 23 - Parent Teacher Conferences
Mar 09 - K-4 Spring Program
Mar 17 - No PM Forest Hills transportation
Mar 23-24 - Dessert Theatre
Mar 28 - Annual ACS society meeting
Mar 30 - Apr 07 - Spring break
Requested Announcements
Calvin Spring Classic 5K
Calling all runners, walkers and movers! Ada Christian School will be participating in the Calvin Spring Classic 5K School Challenge on Apr 29. This is a great way to be active, promote our school, and be entered to win some awesome prizes. The school with the most participants wins $250. One student from each of the five schools with the most registrants will win a $350 gift card to Village Bike Shop.
Register now and make sure you select Ada Christian School under the school challenge. Encourage friends and family to sign up as well. Younger kids who sign up for the fun run are still counted toward our team total and are entered to win prizes as well.
Need more information? See the attached flyer or check out the posters around school. If you have any questions, please contact Anna Ter Beek (gro.htlaehmurtceps@keebret.anna).
Self-Defense Seminar
Master Sensei Rick Mirandette, a 7th degree black belt, is offering a self-defense seminar at Ada Christian on Mar 17 from 3:15-5:15pm. Rick is passionate about empowerment and has graciously offered to do a class at the reduced cost of $35/person.
This class is geared for adults and middle-schoolers 5th-8th grade. He plans to cover risk reduction strategies and defense techniques in a highly interactive and fun format. Sign-up on the clipboard in the office. Payment can be made by cash or check at the time of the class.
Benefit Sports Card Show
West Side Christian School is having their 26th annual benefit sports card show in the West Side Christian School gymnasium (955 Westend N.W.) on Saturday, Mar 04, from 9:00am-3:00pm. There will be approximately 40 eight-foot tables. Former Detroit Lion Greg Landry will be signing from 11:00-1:00pm and former Detroit Tiger Charlie "Paw Paw" Maxwell from 1:00-3:00pm.
Admission is free and concessions are available. All proceeds will go to the Christian Education Fund. For further information, contact Vern (616.784.4299)
Marriage Seminar
Redeemer Presbyterian Church is hosting a marriage seminar on Friday evening, Mar 03 and Saturday morning, Mar 04. We invite you to join Kent and Barbara Hughes as they share their journey of over forty years of marriage. Based on their book Disciplines of a Godly Family, you will leave with Biblical encouragement for your marital relationship.
Interested? See what it's all about and register.
Boys Lacrosse 101 & 102
GRCH Varsity Coach, Dave Kransberger is building up the Youth Boys Lacrosse Program. He would like to see all parents of youth players at his 101 and 102 class. He will go over the mysteries of lacrosse and how this season will roll. Please plan on attending on Mar 06 from 6:30-7:30pm at the GRC Elementary School Library.
For more information about Lacrosse opportunities for boys and girls, stop by the office and check out the Sports Information Center.