Ada Connection – Apr 24, 2019
A Note From Principal Brower
Easter Chapel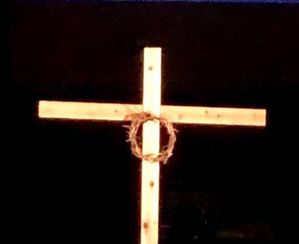 A giant thank you to our 56er teachers and students for an Easter Chapel that was so meaningful and well done! The message was strong and the kids were amazing.
Enrollment Reminder
Haven't turned in your enrollment form yet? Please do! We are in the midst of planning for fall and want to be sure we have the right size staff to best meet student needs.
This Week
Fine Arts Night – Apr 25, 6:30-8:00pm
A perfect night to share with friends and neighbors that may be interested in ACS. The hallways will be filled with amazing works of art. Mr. Wanner has a gift for encouraging young artists and they are eager to share the fruits of their labors! Please come enjoy Ada Christian's very own "Art Prize"!
Our 6th graders are creating our very own "Epcot Center"! During your visit to the North Gym, you will be able to travel the world enjoying the sights, sounds and tastes of more than 50 countries.
See you there!
Moms In Prayer – Praying for 4th Grade
Praying for our fourth graders and their teachers. Jesus the Resurrection: Risen from death; giving us new life, a living hope, an imperishable inheritance.
"For we know that our old self was crucified with him so that the body ruled by sin might be done away with, that we should no longer be slaves to sin— made us alive with Christ even when we were dead in transgressions—it is by grace you have been saved." - Romans 6:6 and Ephesians 2:5
Come join us for the journey when you can. We meet every Thursday morning 8:00-9:00am, in the ACS office back conference room.
Need more information? Contact Kelly Stafford (616.304.2963, ten.tsacmoc@droffats-kj).
MENistry
MENistry is a coffee group for dads who want to get to know more about themselves and the Bible. Join us on Fridays from 8:00-9:00am.
Action Needed
2019-2020 K-8 Enrollment – Forms Were Due Apr 19
It is time to re-enroll your student(s) at ACS. To complete the enrollment form, log into PowerSchool and click on Ecollect Forms in the navigation menu.
There is a Tuition & Grants section on the form.
The first TUITION amount you see is the calculation for the "Requested" or "Full Cost" amount of tuition.


In the GRANT section, thanks to the generous, ongoing support of the ACS Education Foundation, you will be notified of the maximum grant amount you may accept towards your tuition. The grants are available for all families. Families that are able to pay the "Requested" or "Full Cost" of tuition will receive a charitable receipt for the difference.


For families needing additional tuition assistance, you may complete an online application through FACTS, by May 07. Qualifying families will be notified of the assistance amounts in June and adjustments to your tuition total will be made at that time.
We have worked hard to ensure our online enrollment process will go well for our families; however, we realize you may have questions during this process. Please do not hesitate to contact us if you have any questions or concerns.
Thank you for choosing Ada Christian School as your partner in education.
Covenant Care Registration
Dear Parents,
We are excited to share that Covenant Care is getting full! Below you will find a chart that explains how many spots are left based on the day and time of day. The blue numbers represent the number of spots left. Time slots that are full are marked as such. If you wish to enroll your child, please do so as soon as possible. Our numbers continue to grow everyday. Thank you for continuing to support our program!
Haley Herbruck
Covenant Care Director
Long Range Planning Survey
Dear ACS Community,
The Long Range Planning Committee is working on the 2020-25 Strategic Plan for Ada Christian School. Currently, we're collecting data, evaluating trends and exploring ways of how the school can continue to equip our children for service in God's world. Your input is valuable and critical to this process.
Responses will remain anonymous. Keep in mind that, although every response will be considered in our planning, it would be impossible to implement every idea that is submitted.
Please answer thoughtfully and honestly and submit your completed survey by Monday, Apr 29.
Thank you in advance for your time.
Sincerely,
The Long Range Planning Committee
Glasses In The Office
In the office there are 2 black glasses, 1 pink and 1 brown. Please claim by Apr 26 or the glasses will be donated.
Now You Know
Author Visit
Author Nancy Cavanaugh will be visiting Ada Christian School! Her presentation, A Trip to the Okefenokee Swamp: An Author's Journey into Historical Fiction will occur on Monday, May 13 for 1st-6th grade students. Information about Mrs. Cavanaugh and her presentation will be sent home with students on Friday. Please watch for it along with an order form for her autographed books.
Book orders with payment are due on Thursday, May 02. See what's available!
Grand Rapids Youth Symphony
Does your child love to sing? Would they like to be a part of another choir? Grand Rapids Symphony Youth Chorus is a great way to do this. Practices are once a week at Calvin College's campus. For incoming 1st graders- through 12th grade. Information on auditions (for younger students this audition is very low key).
Any questions? Please contact Mrs. Vruwink.
Employment Opportunity
ACS is seeking an Early Intervention Specialist. If you or someone you know is interested please review the full job posting to apply.
Summer Tutoring
Mrs. Overbeek will be tutoring interested students this summer. She is available on Tuesdays and Thursdays for half hour sessions here at school. Please see the flyer for details and email her if you are interested.
Service Team Opportunity
Looking for a way to serve as a family? We will be praying for our neighbors in AdaCroft and then planting flowers and delivering them to their doorsteps. Sunday, Apr 28. 2:00-4:00pm.
Please RSVP so we can plan for supplies. Laurie Welch, (314.456.1409, moc.oohay@gnag6hclew) or Sheila Hemker (708.212.2558, moc.liamg@rekmeh.aliehs)
Calvin 5K Spring Classic
Runners, we need your help! The Calvin 5k Spring Classic is Saturday morning. We are currently in a three way tie for 4th and 5th place in the School Challenge. If Ada Christian is one of the top five schools, one of our kids will win a $350 Village Bike gift certificate. Organizers have agreed to keep registration for the school challenge open until Thursday night so we can break the tie! Please consider coming out to walk, jog or run. Sign up at using this link, and join the Ada Christian School team during registration. If you have any questions, contact Anna Ter Beek (moc.oohay@89ekreba)
Register for the Calvin 5k Spring Classic here at D&W Fresh Market School Challenge. During registration, click to "join a team" and then select Ada Christian School from the drop down list.
2019-2020 Calendar
Aug 26 – First Day (Half Day)
Aug 30-Sept 02 – No School (Labor Day)
Sept 30 – No School (In-Service Day)
Oct 23-25 – No School (Teacher's Convention)
Nov 27-29 – No School (Thanksgiving Break)
Dec 23-Jan 03 – No School (Christmas Break)
Jan 27 – No School (In-Service Day)
Feb 28-Mar 02 – No School (Winter Break)
Apr 02-10 – No School (Spring Break)
May 01 – GrandFriends (Half Day)
May 04 – No School (In-Service Day)
Jun 04 – 8th Grade Graduation
Jun 05 – Last Day (Half Day)
PTO Happenings
Grand Friends Day
Calling all willing volunteers! Grand Friends Day is around the corner and we need about 16 smiling volunteers to help it run smoothly. There is a type of job for everyone. It's a wonderful day and the delight of seeing the students with their grandparents is a blessing!
Available to help? Sign up here.
Questions? Contact Becky Workman (ten.tsacmoc@krowabj), Shelly Harmon (ten.tsacmoc@nomrahs) or Holly Karasinski (moc.liamg@4322kylloh)
Be sure that your "Grand Friends" have May 03 on their calendar. Students will come home with schedules and additional information for our special guests one week before the big day!
School Party - May 06
Jump, bounce, flip, tumble, rock the ninja course - all with your best buddies!
The last school party of the year will be at Grand Rapids Gymnastics (GRG) on Monday, May 06 from 1:00-2:30pm. Cost is $5 per child. No need to sign up ahead of time.
GRG, 1601 Galbraith Ave, Grand Rapids
ACS Walk-a-thon
Get ready to walk! Our children will be participating in the annual ACS Walk-A-Thon on the morning of Friday, May 10. This is one of only two fundraisers for our school, and proceeds go to such items/events as:
Teacher and room parent funds
Offsetting school field trip costs
The ACS Yearbook
Fifth grade camps
Music scholarships for band and orchestra students
Books for our library
Bibles for our 3rd graders to use through 8th grade
Teacher wish lists
Grandfriends' Day and Staff Appreciation
Back to School Picnic/Carnival
Interested in volunteering? Sign ups for ways to help support our kids and school on this year's walk-a-thon are here: https://signup.com/go/VZcaOee
Thanks for your help! Any questions? Contact Sarah Plantinga (moc.liamg@tnalps)
Staff Appreciation Week
Cowboy up! Our school was turned into the wild, Wild West last week for Staff Appreciation! Hopefully you were able to find your teacher on the WANTED sign, and meander on by the teachers' lounge to see the decorations. Thank you for to tipping your hat to all the teachers and staff members at ACS that work so hard to settle these hills, and the little wild folk that fill them.

All of the treasured cards, gifts, and words of encouragement and gratitude that you and your children poured out made for a very special week indeed.

A extra special thank you to Kim Laufer for transforming the teachers' lounge, surprising the staff with a treat every single day and ending the week with a bbq luncheon for all! That's one big crew! Everyone around her is blessed by her creativity and generous heart.
Warmly,
The PTO
Bus Driver Appreciation Breakfast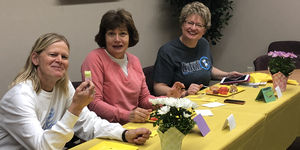 Our awesome bus drivers were honored last week with a special homemade breakfast, flowers, gift cards and most importantly - downright adorable hand made cards by the littlest of our students. During the informal breakfast they shared some of their most hilarious stories over the years and a few very sweet memories too. It doesn't take long at all to recognize how much they genuinely love each and every child that steps onto their bus. We are so very fortunate to have Jeff Drooge, Sue VanSpronsen, Sheryl DeWeerd, Coach DK, Phil Engelsman, and Bill Hoo taking our children to and from school every day, and along on field trips too.
An extra special thank you to the incredible duo that teamed up to pull this off - Dawn Carbines and Tabitha Goldsmith. They carefully planned ahead and got up long before dawn that morning to provide a hot breakfast, all while taking care of their own children, and decorated the room in bright yellow with spring flowers - what a lot of hard work and a job beautifully done!
Warmly,
The PTO
ACS Athletics
Elementary Field Day
Elementary Field Day will be held on June 03.
PurePlay – Spring Opportunities
Soccer: First event: Saturday, Apr 27: Girls @ 11:00am, Boys @ 12:15am.

Track and Field Club: Today after school. Pick up kids at 4:15pm.

Tennis: Starts next Tuesday Email me to sign up, (gro.naitsirhcada@enielkeds).
Calendar Reminders
Apr 25 - Fine Arts Night
May 03 - Grand Friends Day
May 03 - School dismissed at 11:30am
May 03 - No Forest Hills transportation ay 11:30
May 06 - No School - Staff In-service
May 10 - ACS Walk-a-thon
May 10 - No Forest Hills PM transportation
May 27 - No School – Memorial Day
June 06 - 8th Grade Graduation
June 06 - No Forest Hills PM transportation
June 07 - Last day of school - dismissed at 1:30am
June 07 - No Forest Hills transportation at 11:30am
Aug 26 - First day of school - dismissed at 11:30am