Ada Connection – Apr 15, 2020
A Note From The Principal
"Faith. Strong." – What a Ride!
The swiftness of moving from a traditional school to an Off Campus Learning school due to a state mandated closure had, at times, made me feel like I was fiercely cranking a steering wheel and pumping the brakes on a vehicle as I tried to regain control during a wild and dangerous ride. That feeling has passed. I now feel like I am buckled in and going for the most exhilarating ride of my life -- hands up and a smile on my face as I look around to see the greatest team of faculty, staff, parents, and kids strapped on with me as Jesus takes the wheel and steers us safely through an adventure-filled ride with learning for everyone.
This has not been easy and I don't think it will be. But! We are faith strong and able to nurture kids - mind, body, and soul in Christian community. It is our commitment and, with God's help, it is exactly what we will do! It is what gives me true joy and a reason to smile. Every. Single. Day.
Bright Spots
ACS 2nd graders enjoyed a Faith Strong Good Friday!
New Kids at ACS
A note from Ms. Leah: What a time to bring new life into this world! Kidding time--a light and buoyant season within this heavy one. Thank you for following along, checking the goat-cam, and keeping vigil with me during some long labors. All the kids were born in the evenings and the ladies showed pretty clear signs of their impending births, so I was glad to keep you all informed and assist with each of their entrances into the world. Seven out of nine kids are doing quite well--a couple have been rejected from their moms or are unable to nurse successfully, and we've employed a combination of tube-feeding and bottle-feeding, with hopes that they'll gain energy and weight and hopefully start feeding on their moms. Please respect social distancing around the barn and wash your hands after petting the goats. :)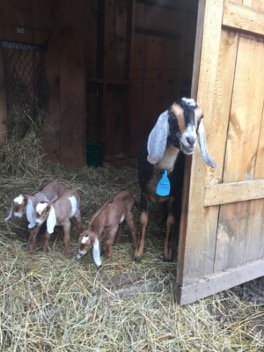 First born were triplets out of Franny: Nebula, Nova, and Nellie. Nebula (only boy) was breech and needed a little push-n-pull. Nellie came out (1.5 hours later, a bit of a surprise, thus 'woah Nellie') with a crooked neck from her chin being tucked to her chest in utero. Happy to report it's straightened out. Nebula is one of the kids currently being bottle-fed as Franny isn't keen on feeding him.
Second came twins out of Beau. A leggy couple of kids, Roux (girl/doe) and Bijou (boy/buck) follow in the french-name theme (past kids: Belle, Boone & Blaise). They are strong, mostly solid-colored kids, and well-mothered by doting Beau.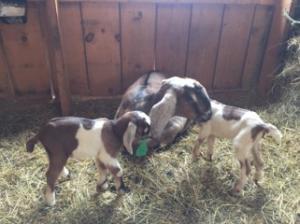 Third was Joy, who needed only a bit of help and gave birth to two gorgeous, flashy doelings. Joy has not always excelled in mothering in the past, but I've learned to milk-out her highly productive udder to make it easier for the kids to latch. I've named them Iris (whiter goat) and Happy (her face is just like Joy's!).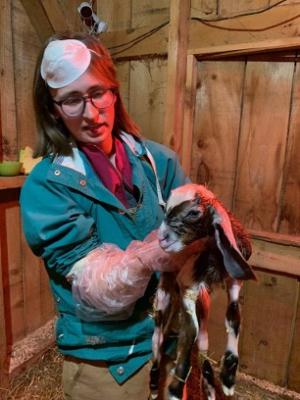 The grand finale was Rain, whose labor was more than eight hours and who seemed not to dilate before contracting. I had to reach through the tight cervix and into the "horn" to extricate the two little dudes. Thunder is twice the size of little Dewey (who is 4 pounds). We guess they may have shared a sack but aren't sure! Dewey is still a bit weak and struggles to find his way to mom's udder, but has a wicked latch for a little guy!
Keep the herd in your prayers as we try our best to keep everyone happy & fed. Some long but lovely days ahead.
<3 -Leah
Now You Know
Pick-Up/Drop-Offs
If you have completed hardcopies of student work, please bring them to ACS on these days.
If you put library books on hold by noon on the Wednesday before pick-up days, Mrs. Boerman will have your books on the tables, labeled and with your students' packets.
Saturday, May 02 from 10:00am-2:00pm
Monday, May 04 from 10:00am-12:00pm
Saturday May 16 from 10:00am-2:00pm
Monday, May 18 from 10:00am-12:00pm
June 01-05 Times to be determined
Important 2020-2021 Enrollment Information
It is almost time to re-enroll your students for the 20-21 school year! On Wednesday, Apr 22 you will receive an email with detailed instructions on how to enroll. We will also include enrollment information in the Ada Connection next week.
ACS Calendar
We will continue to follow our school calendar as it was posted for this school year, which means students will not have assignments posted for scheduled days off and our school year will conclude on June 05. We are working on details.
When Do Teachers Check Email?
On weekdays, teachers are committed to checking their emails at 8am, Noon, and 3pm, and they will return emails as quickly as they can.
ACS Library Books Now Available
Effective immediately, your family will be able to check out books from the ACS library. All books must be placed on hold by noon on the Wednesday prior to homework pick up days. The books will be pulled from the shelves and checked out to your children by gloved and masked personnel. They will be placed with any other materials that need to be picked up. That means you have two days to place your books on hold.
A tutorial on how to place books on hold can be found here.
Any time the school is open, books may be returned to the lobby M-Th, 10:00am-12:00pm. Place the returned books in the library wagon.
Returning books as soon as you are finished will make them available for our other readers.
If you have any questions or concerns, please email or text Lois Boerman (lboerman@adachristian.org or 616.259.3302)
Moms In Prayer
This week we're praying for our classroom & education aides and specials teachers --
Jesus is Emmanuel — God with us.
"May we not be afraid because You are with us. May we not be dismayed, for You are our God. Strengthen us. Help us. Uphold us with Your victorious right hand." - Isaiah 41:10
We're a group of Moms (aunts/grandmas) passionate about lifting up our kids and ACS community in prayer. We are meeting virtually Thursday mornings 8:00-9:00am. If you'd like to be included in this virtual prayer meeting, please let me know :)
Need more information? Contact Kelly Stafford (616.304.2963, ten.tsacmoc@droffats-kj).
Employment Opportunities
We are pleased to share that there are a couple of employment opportunities at Ada Christian for the coming school year.
The following positions are available:
COVID-19 Michigan
Updated COVID-19 information from the State of Michigan.
2020-2021 Calendar
Here is a preview of our school calendar for the 2020-2021 school year:
Aug 25 – First Day (Half Day)
Sept 04-Sept 07 – No School (Labor Day)
Sept 28 – No School (In-Service Day)
Oct 13 – 2020 Annual Ada Christian Education Foundation Dinner
Oct 21-23 – No School (Teacher's Convention)
Nov 25-29 – No School (Thanksgiving Break)
Dec 19-Jan 03 – No School (Christmas Break)
Jan 18 – No School (In-Service Day)
Feb 18-Feb 22 – No School (Winter Break)
Apr 02-12* – No School (Spring Break) - *Please note, we will start Spring Break on Friday, Apr 02 and return on Tuesday, Apr 13.
May 07 – GrandFriends (Half Day)
May 10 – No School (In-Service Day)
Jun 08 – 8th Grade Graduation
Jun 09 – Last Day (Half Day)
PTO Happenings
Walk-a-thon
Still on! Although...in a fun new creative social-distancing sort of way. We have been hard at work finding some creative ways to have a virtual walk-a-thon and we will be excited to share more details next week. Please keep May 08 in your calendars and stay tuned for more details.
Mother Son Event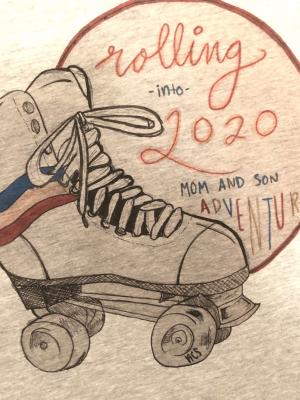 Check out these t shirts! Designed by our very own ACS Mother-Daughter team Mayra and Sara Huyser. They are amazingly cool, thanks so much!
Andy Anderson has carefully packed up and labeled one bag per family. At the next homework pick up we will set the bags out on a table, it will include all of your t-shirts and a refund of $8/ticket (less $2 for the shirts that are already printed and made). If you nabbed the bag at the last homework pick up, you scored the t shirts but no money. Look for an envelope on the table with your name all over it at the next pick up.