Off-Campus Learning: Day 40
A Note From Principal Brower
Welcome to School
It's a wonderful day for learning!
Final Drop-Off Information
Final Drop Off - May 26-28 - 9:00am-1:00pm
Tues, May 26 Last Names beginning with A - G
Wed, May 27 Last Names beginning with H - O
Thurs, May 28 Last Names beginning with P - Z
Pop Can Collection
Do you have bags of empty pop cans sitting in your garage? We've got a solution for you! The 5th grade team is collecting pop cans to raise money for the 5th grade camp fund.
Who: Ada Christian Families
What: Bring your garbage bags full of cans to school (preferably double-bagged and tightly sealed)
Where: Bring your bags to the front of school and drop them off in the bed of the school truck - the 5th grade teachers will be around to help
When: Come to school on your assigned drop-off date (see above).
Why: To raise money for 5th grade camp
Used Laptops For Sale
Ada Christian School is selling a variety of used 11inch MacBook Air laptops.
Attendance
Please indicate that your student(s) will be checking in for school today.
Daily Devotion
Here are your morning devotions from Mrs. Gerig.
From The Library
Things can't get much more confusing than today's story. Click here for the video and see if you agree.
OE Activities
100 Owls "The Great Hunt"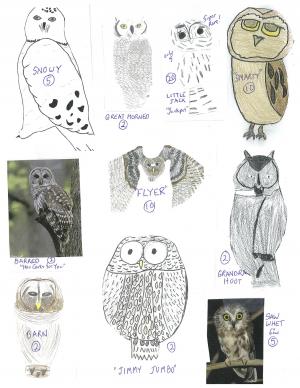 Mr. Hoo has hidden 100 Owls within eyesight in our 3 miles of trails. The picture shows the owls and their values.
Can you find a rare one? Tack the owl and bring it to the bulletin board. Tack it up on the back of the bulletin board with your name and grade on it. Markers and tacks are in the container on the back of the bulletin board.
There are both grade level and individual competitions. You may search as many times as you want! Rare owls are worth more, especially flying barred owl, the rarest! 50 owls will go up on May 13 and then 10 more every couple of days for all of May and June. Also, 10 of Mr. Hoo's owls will be hidden (very hard to find) and are worth a small prize when you bring them to him.
Winning individuals and grades will be posted in the Ada Connection this summer. Have fun!
PE at Home
Here is a calendar of fun activities you and your children can do together.
Tech Projects
Ms. Frens has compiled some coding, multimedia journaling, and other fun tech activities that your child might enjoy. We hope these optional activities will foster creativity and problem solving skills.
Student Learning
Preschool
Kindergarten
1st Grade
2nd Grade
3rd Grade
4th Grade
5th Grade
6th Grade
7th Grade
8th Grade