Middle School Matters – Oct 04, 2019
General Announcements
Dates to know:
Dates for your calendar:
Oct 17: ACSEF Annual Dinner
Oct 21 & 22: Parent Teacher Conferences
Oct 23-25: No School, Staff in-service and teacher's convention

Upcoming Chapels/Small Groups for 6-8 (Chapel meets 8:15-8:45 in the Commons)
Oct 11: SG 01
Oct 18: Special verses/Plumb Bob Chapel given by teachers
Oct 25 (no school)
Fifth Grade:
Art: 5G and 5S are working completing their abstract landscape drawings and then moving on to the 5th grade printmaking unit. 5R is working completing their printmaking designs and transferring their chosen design to the print blocks in preparation for cutting.
Bible: This week in Bible we began talking about the life of Moses. We also compared the story of Moses' birth in the Bible to how Moses' childhood is represented in the movie Prince of Egypt. Students were able to identify where the movie did not represent the Biblical telling, as well as why this might be. The 10 Commandments are due on 10/18. Pentateuch Books will be due at the end of the month - check your child's book to see if they are caught up.
History: Students will continue working on their map project next week. For this project, they are creating their own countries and drawing maps. It has been fun seeing them apply what they have learned about geography!
Language Arts: Students should be reading their "survival" story at home each night. They can begin completing the "interview" with the main character while reading the story or upon completion. This "interview" is located in the reading section of their binder. On Tuesday, students must also submit their spelling "K" activity for all 15 words on the list. The first spelling test will be on October 18.
Math: The 5th graders have been working on multiplying whole numbers. They have been specifically learning about the distributive property this week. Next week they will be estimating and multiplying by one and two digit numbers. There will be a quiz and a test next week as well.
Music - Band: Practice records were due this week. Some great numbers were recorded. Fantastic! Try to find time to play every day - frequency is better than duration. We always have a lot of songs on each page of our book to work on, and students may work ahead in the book for sure as well.
Music - Choir: We are singing, working on notes and rhythm patterns too!
Music - Orchestra: PRACTICE--Remind your child to practice each day- even if it is only for 15 minutes - it will help alot! Many students are very lost in orchestra and finding it difficult to play and watch the notes and use their bow all at the same time. It is easy to keep up with a little bit of practice each day and it is more fun in orchestra! Assignment is review #26-29 and page 20 which has many new songs!
Science: We will be working on an in-class research project involving each student becoming an expert on an object in our Solar System. The project will be done primarily in class and due on Friday. Students who need extra time may do some work at home to help them complete things on time. Information will be posted on google classroom which students can access using their ACS username (gro.naitsirhcada@AnosnaitsirhC32.xe) and password.
Spanish: This week students presented their Slide Shows for Gender in Nature. We also started a new story called "The Boy That Plays Golf." We will focus on the words: plays, likes, says, and asks and various sports words.
Sixth Grade:
Weekend Chicken Checkup: Check to to see when your family is on the schedule for weekend chores. If you have a conflict on your assigned weekend, please work in advance to switch with another family. Click here for the instructions for Weekend Chicken Checkup. Questions? Contact Bill Hoo at 616.250.0089
Devotion Sign-up: Sign up to lead devotions for our 6th Graders on a Thursday (8:00-8:10am) this school year. We love to have parents and guests come to share a story, song, verse, prayer or devotional with us!
---
Art: 6K and 6B students need to complete their pattern hands by next class and students have taken unfinished projects and supplies to complete this part one of the hand project. All 6th graders will be working in class next week on visually displaying how they see God in their lives. Please check the homework calendar for project and sketchbook due dates.
Bible: This week in Bible students presented their Outside-In Bags and reflected on one another's bags (something new they learned, something interesting, and something they share in common), as well as reflected on their own bags. John 14:6 is due Oct 11.
History: Students will continue working on their landform projects next week! Ask them about it!
Language Arts: Students will turn in spelling "K" on Wednesday and should read 20 minutes each night of their independent reading book.
Math: The 6th graders have been learning how to compare and change decimals, percents, and fractions. Next week they will be learning how to find the percent of a number and solve practical problems. For example, If a rain jacket costs $75 but is 25% off, what is the sale price?
Music - Band: We had a quiz Thursday - check Power School to see grades for all band work (including practice records too!)
Music - Choir: We have a workday for our It is Well projects this week, and we present next week, Oct 11.
Music - Orchestra: Assignment this week - Lesson 36 and 37.
Science: Students have been using microscopes to look at and learn about various types of cells. We will have a test on Tue Oct 15 (not this coming week, but next) over our study of classification of living/non-living things as well as the cells that make up living things. A review sheet will be handed out in class early this week.
Spanish: We have started a new unit focusing on the words: runs, walks, sees. The Cultural focus will be on the Running of the Bulls in Spain.
Seventh Grade:
Art: 7th graders will be working on selecting a color scheme and painting their sculpted forms. Please encourage wearing older clothes on art days as the paint we will be using doesn't come out of clothing. Please check the homework calendar for project and sketchbook due dates.
Bible: The 7th graders will continue working on devotionals. They will create an art component, have a peer conference, and will soon be asked to do a parent review as well. Parents, please stay tuned for an email once we decide the exact date for that.
History: We have had a good week in history. In class we are practicing identifying different countries, rivers, and mountains on the world map. We are also learning about the different climate zones throughout the world. We are watching a series of videos on each climate zone, taking notes, learning where each zone is located, understanding their strengths and challenges, and lastly creating climographs for each zone.
Language Arts: Students have been doing a great job sharpening their descriptive writing. They will put this to use when they begin writing the monologue for their organism road sign project. They have received their organism and will begin researching next week. We will pick up our study on conflict, and then start discussing the elements of plot during Reading Zones. Weekly assignments and spelling quizzes will take place- see Moodle calendar for details.
Math - Algebra: We will be starting a new unit on inequalities on Monday using the concepts we have started this year with.
Math - Pre-Algebra: Next week we start a new chapter on working with decimals and fractions.
Music - Band: We have our solo packets and need to be practicing and listening to our solos (recorded on Moodle). Nov 12 is our date for Solo/Ensemble. Students will need to wear their black and white this day.
Music - Choir: Singing, rhythms, fundamentals, boomwhackers, singing in parts. Go us!
Music - Orchestra: Students have their solos duets selected and should be practicing frequently at home. Ask for a brief concert.
Science: We are working on a producers project- figuring out how producers make biomass and why we need this to happen.
Spanish: Students finished Unit 5 and took a test this week. We wrapped the unit up by looking at bullfighting and one of the world's most famous fighters as well as the controversy around it.
Eighth Grade:
Art: 8th graders are working on printing their initial designs in multi-colors next week and selecting final prints for mounting and grading. A printmaking quiz will happen soon. Please check the homework calendar for project and sketchbook due dates.
BibleHuttenga: This coming week students will finish The Last Battle and have one final quiz. They will begin a project that will have them illustrate key scenes from the book and write corresponding essays explaining how that scene fits in with a key portion of the Reformation Worldview.
BibleVN: We are finishing the book of Matthew, listed and thought about the Seven Woes, and are writing our final takeaways from the book of Matthew as well.
History: Next week we are starting Chapter 6 which focuses on the American Revolutionary War. We will be learning about the Declaration of Independence and then studying the challenges that the Continental Army faced in the early years of the war.
Language Arts: A big week - the draft of the NHD outline is due Friday. Typical research days apply, but students will have the option to continue researching even on Reading Zone days. Weekly assignments and spelling quizzes will take place- see Moodle calendar for details.
Math - Algebra: We will be starting a new unit on inequalities on Monday using the concepts we have started this year with.
Math - Pre-Algebra: Next week we start a new chapter on working with decimals and fractions.
Music - Band: Band festival is Nov 12. Students need white and black on this day. Do their white/black things still fit? School has a bunch of black shoes, and some shirts/pants as well if it's helpful! Let Mrs. VN know (maybe mention the size that is needed and I will see if I have any!)
Music - Choir: Singing, rhythms, fundamentals, and a little Piano Guys at times.
Music - Orchestra: 8th graders are working on 4 ensemble pieces and some students are also learning solos and duets for Festival - Nov 12! Students will need to wear black and white concert dress for this event .
Spanish:Students wrapped up Unit 10 this week and took a test on Friday. We ended the unit with the idiomatic phrase "Crocodile Tears" and a listening exercise in which students watched a children's video about Henry the Cat and answered questions in Spanish.
Science: We are looking into the moon and what about it gives us different phases. We will also be looking into the tides on Earth and how those are connected to the moon.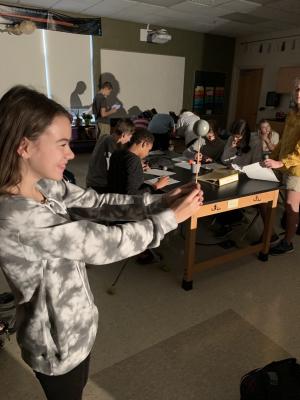 Athletics
Registration for 5th-8th grade boys basketball is now open. Please visit the ACS 5th-8th Grade Athletic Website to sign up. The registration deadline will be Sunday, October 6. If you have any questions or concerns please contact Angela VanDuyn at (gro.naitsirhcada@nyudnava).
Attention boys in 5th-8th grade, do you love baseball and would like to get in some extra practice? Jeff Stafford has graciously offered to host open gyms. Please sign-up here. Questions, please contact Angela VanDuyn at (avanduyn@adachristian.org)