Ada Connection – September 14, 2016
A Note From The Principal
"Faith. Strong." Friday Fun!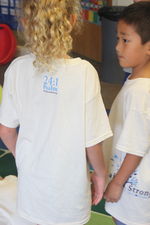 Thank you for the great participation in our first "Faith. Strong." Friday. It is always so fun to see the variety of spirit wear our students and teachers are sporting. We will host "Faith. Strong." Fridays as a show of our school spirit on the first Friday of each month.
Outdoor Education Update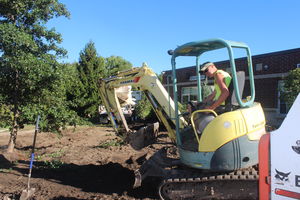 We are making progress on our 37-acre classroom! Currently, we are awaiting final state inspection for our classroom, anticipating the delivery of a wind and solar tower, and pleased that the lumber for our barn has been ordered.
Plants are being planted and frogs are finding our pond in the "V". We are looking forward to hosting a dedication event in the near future and will inform you of the date and plans soon. Thank you for the energy, support and enthusiasm you have shared with us in this exciting journey.
A Matter Of Prayer
Dear ACS family members,
Please join us in prayer for one of our families who recently lost a loved one. Erika Lopez-Fisher, older sister to Abby Ferguson, one of our third graders and daughter to Scott and Lisa, who struggled with life-long health issues. Erika entered her heavenly home where there is no more crying and no more tears on Sunday, Sept 11.
Funeral services will be held 1:00 PM Friday, Sept 16, at Galilee Baptist Church.
Read more about Erika's life and legacy.
This Week
Hot Lunch Help
Do you know that we are now serving Hot Lunch at school on Fridays? I am in need of help on all Fridays from 10:45-12:45pm, therefore I need you. If you can help please e-mail Sue Prins (gro.naitsirhcada@snirps)
AmazonSmile
ACS is now registered with AmazonSmile! The same shopping experience as Amazon with the added benefit of giving to ACS when you select Ada Christian School Society as your designated charity. For every qualified purchase, AmazonSmile Foundation donates .5% to ACS. Shop AmazonSmile and begin donating now!
Curious? Some additional information may help.
Wear Your ACS Spirit
If you would like to purchase a previous version of a spirit tee, we have a few left on a table in the lobby for $2/each. We have a few of our adult sized logo tee's left that were for sale at the carnival for $5/each on the table in the lobby, also.
For a variety of spirit wear, you can visit our ACS online spirit shop, simply click and shop away!
Ada Christian School: Buy, Sell, Trade
A handful of ACS moms have created a "buy, sell, trade" Facebook page for use by Ada Christian parents. This group can be used for buying and selling goods, sharing services you provide (ex: photographers), asking questions about upcoming events, sharing baby sitters, and those are just a few examples! The group will be what we make it!
Join our private Facebook group to see what's available.

Once you have joined the group please read the group description and guidelines and then feel free to begin posting! If you have any questions please contact any of the following ACS parents:
Alissa Hollander (moc.liamg@rednallohassila)
Sheila Hemker (moc.liamg@rekmeh.aliehs)
Kristin Contant (moc.liamg@tnatnocnitsirk)
Shannon VandenBosch (moc.oohay@hcsobvs)
Action Needed
Parent/Teacher Conferences
Teachers are looking forward to meeting with parents at conferences Oct 13 & 18.
Elementary Parents: The parent/teacher conference form

(86 KB PDF)

is going home this week with Kindergarten through 5th grade, due back to school by Wednesday, Sept 23. If you do not turn in the conference form, we will choose your date and time for your conference. Please note that we cannot make changes to your appointed time once the schedule is complete.


Middle School Parents: Middle school teachers will be available in the gym or commons for conferences both Oct 13 & 18. No sign up is necessary for middle school.
Service Team Registration
If you are a student in grades 3-5 we welcome you to participate in the ACS Service Team! Join us to serve those in the Grand Rapids community. Space is limited so please sign up soon.
Dates: Oct 04, 11, 25 and Nov 01, 08
Time: 3:00-5:00pm
Fee: $40 (checks made out to Ada Christian School)
Questions? Contact Sheila Hemker (moc.liamg@rekmeh.aliehs)
PTO Happenings
Charleston Wrap
Our fall fundraising has arrived! Charleston Wrap packets went home in your child's pack back yesterday, Sept 13. This event brings in about half of the PTOs total income. This income is used for Field Trips, Grand Friends Day, 3rd Grade Bibles, 4th Grade Water Safety, 5th Grade Camps, Middle School Exploratory, and so much more!!
If each student sells just $50 worth of merchandise, we will reach our fundraising goal. Charleston Wrap gives PTO a 50% profit on sales. However, if you would rather make a straight donation to the PTO, simply make a check to "ACS PTO" and enclose it in the Charleston envelope with a note indicating that. If the entire school achieves over $15,000 in profit, the Principals will will a half day on the roof!!
Moms In Prayer
All moms are invited to a welcome coffee on Thursday, Sept 22. Please join us from 8:00-9:00am in the back conference room as we celebrate the beginning of a new school year! This is an informal gathering to connect with new and old friends alike. This is a great time to check out what Moms In Prayer is all about! Younger siblings are invited, too! Questions? Contact Laura Cawley (616.425.9728, moc.oohay@57_csarual).
MENistry
A group of ACS dads who meet and dwell with the Word of God every Friday 8:00-9:00am in the back office conference room. This fall we will be going through the book of Ephesians. Coffee and donuts provided.
Calendar Reminders
Sept 26 – No School (Inservice day)
Oct 07 – "Faith. Strong." Friday
Oct 13 – Parent teacher conferences
Oct 13 – Picture day
Oct 14 – Picture day
Oct 18 – Parent teacher conference
Oct 19 - 21 – No School (teacher's convention)
Oct 31 – No Forest Hills transportation (PM)
ACS Athletics
PurePlay
Soccer – 9:00am Girls; 10:15am Boys
Running Club – Wednesdays 3:00-4:15pm
Requested Announcements
Karate With Sensei Rick
Sensei Rick Mirandette 6th degree black belt has been teaching kids empowerment and martial arts for 40 years. He held a class at ACS last year and he will be offering a class here this year on Mondays, beginning Oct 03. Interested? Contact Sensei Rick Mirandette (616.889.5933)
Calling All Writers!
Kent District Library is offering an exciting opportunity! Students are invited to participate in a Write Michigan Short Story Contest, open to writers of all ages across the state of Michigan.