Ada Connection – Sept 27, 2017
A Note From Principal Brower
Purple, Purple Everywhere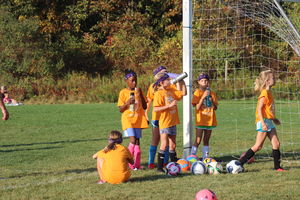 Purple bandannas, purple shirts, purple beads, and purple Skittles filled our courts and fields last Saturday as ACS joined the Purple Community in support of the Van Andel Institute. Thank you for joining us for the fun. We will let you know how much money we raised once the totals are in.
Scientists In Training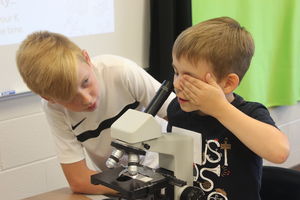 6th grade students held a Science workshop to help kindergarten students learn how to use science equipment! Scientist Buddies.
Baby Kiser Enters The World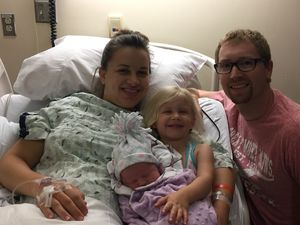 Congratulations to Mr. Kiser, his wife Katie, and daughter Ainsley on a beautiful addition to their family! Avalynn was born Monday, weighing 8lbs 9oz and measuring 22 inches long. All are doing great.
An Update From The ACS Board
For those of you who are new to Ada Christian School, welcome to our Christian school family! For those of you who are returning, welcome back! We hope your school year is off to a great start. In addition to several short weeks, we have now completed two full weeks of school. Time is flying by and homework, projects, activities and Fall sports are in full swing. Even though the temperatures have felt like mid-summer in Florida, October is right around the corner.
Your school board members have met several times already between full board and various committee meetings. These committees consist of Development, Education, Finance, Long-Range Planning, Operations, Promotions and Technology. We've spent some time identifying areas we'd like to focus on in the upcoming school year. Some, but not all, of these S.M.A.R.T. goals include reviewing and updating portions of our policy manual and bylaws, revising, streamlining, and consolidating board materials in one easy to access place, evaluating My Math curriculum and Kidz Have Rights Curriculum, monitoring and evaluating Covenant Care, continuing to develop and monitor the impact of Outdoor Education, and continued focus on enrollment and visibility in the community.
We are excited to report that enrollment this school year was higher than we projected by 20 students. This is something to celebrate! We are also working closely with the Ada Christian School Education Foundation and administration to find a full-time Director of Advancement to replace our Director of Development, Dan Day, who is retiring in March of 2018. We will miss Dan's friendly face and the contributions he has made to Ada Christian over the years. We also look forward to finding the person God has chosen to fill our revised and expanded Director of Advancement position.
Blessings to you all this school year as we continue to work together in equipping students for service in God's world.
The ACS Board
Kidz Have Rights
On Wednesday, Oct 04, representatives of KIDZ Have Rights will be in the building to work with our K-4 students. Information was shared at our Parent Night on Sept 07 and there was an opportunity to ask questions at two different times last week Thursday. Today your child is coming home with an informative paper . Please let us know if you have any additional questions.
This Week
Moms In Prayer
God is Awesome. This week we are praying specifically for preschool and kindergarten. Come join us on this journey when you can. We meet weekly on Thursdays, 8:00-9:00am, in the ACS office back conference room.
Need more information? Contact Kelly Stafford (616.304.2963, ten.tsacmoc@droffats-kj).
MENistry
Come join other dads in room 504 from 8:00-9:00am as we explore our call to be faithful men of Christ. We will be dwelling with the Word in the book of Luke this semester. Coffee and donuts provided. All ACS dads are welcome!
MENistry Dates:
Thursdays: Sept 28, Oct 05, Oct 26, Nov 09, Nov 30 & Dec 14
Fridays: Oct 13, Nov 03, Nov 17, Dec 08 & Dec 22
Action Needed
Got Gear? Give Gear!
If you have any gently used ACS gear that your kids have outgrown and you would like to pass along to the next generation of ACS students, have we got a plan for you! Please bring your items to school and place them in the blue collection bin in the front hallway. Items will be collected from Sept 26-Oct 04. Time to get to that fall closet cleaning you've been putting off because of the beautiful summer weather!

If you are looking for some gently used ACS gear for your quickly growing kids, the donated clothes will be available to peruse on Oct 04 & 05 after school, just in time for "Faith. Strong." Friday on Oct 06!
Now You Know
School Pictures
School pictures were handed out this week. If you ordered the composite picture it will be coming in 3-4 weeks. If you ordered and your child did not bring the pictures home, check their locker.
Wild West Book Fair – Oct 07-13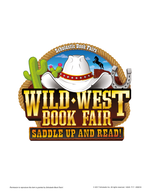 Howdy ya'll! It's time to saddle up for our Wild West Book Fair. Readers wanted Oct 07-13!
PTO Happenings
Parent Teacher Conference Help
Parent teacher conferences are coming up on Oct 12 & 17. To support our teachers during this long work day, we would like to provide them with dinner. We could use your help.
Please sign up to bring food if you are able.
Here's how it works in 3 easy steps:
Go to our invitation page on SignUp.com.
Enter your email address: (You will NOT need to register an account on SignUp.com)
Sign up! Choose your spots - SignUp.com will send you an automated confirmation and reminders. Easy!
Box Tops For Education
For the next two weeks through Oct 13 please have your kids empty your drawers and search your cupboards for any and all Box Tops at home. We will not be sending home collection sheets this year. Please place your Box Tops in a Ziplock bag; you may include your Bonus Box Tops with single Box Tops. Here are a few reminders:
Please do not submit Box Tops with an expiration date before Nov 01.
If the expiration date is cut off of the Box Top it cannot be submitted.
Box Tops are to be turned in at the office.
Students turning in 25 or more Box Tops will receive a candy reward.
ACS PTO Bazaar
Be part of the Ada Christian PTO's 1st community shopping event! We are looking for crafters and those with home businesses to be vendors. The ACS PTO Bazaar will be Friday evening, Nov 10 from 5:00-8:00pm at ACS. The cost to participate is 10% of the evening's sales (minimum $20) which will be used to offset the cost of this event.
Interested in being a vendor? Submit the interest form by Sept 30. Space is limited. We're looking forward to this fun community-building event.

Questions? Please contact Sari Jones (616.676.3901), Renee Overbeck (616.204.0263) or Alissa Hollander (314.456.5678).
Volunteer Opportunities
Thank you to all who have stepped up and said yes to serving! Your service is much appreciated. We are getting very close to 0% vacancy; that is a big deal.

Carnival: We are still looking for one volunteer to co-chair the Carnival. While the planning will begin near the end of this year, the event will take place next school year.
Bus Driver Appreciation Event: We are still looking for one volunteer to co-chair the Bus Driver Appreciation Event scheduled for Feb 16.

Is God calling you to one of these volunteer opportunities? If you want to volunteer or have questions, please email (gro.naitsirhcada@otp). Thank you!
Fall Fundraiser
Our annual Fall fundraiser is here! This year, we will be selling products from a new vendor, Clubs Choice fundraising, which offers a wide variety of products such as food items, cooking ware, household decor, magazines, gift wrap, and more! Students will be able to earn great prizes for reaching certain sales levels. The fall fundraiser event raises funds to support a wide variety of student activities throughout the year and we greatly appreciate your participation! Student packets were sent home last week.
Direct Your Dollars
We reached our first goal of $150,000 in Forest Hills Foods and D&W receipts! ACS will soon be receiving a check from SpartanNash for $1,000 which will go directly back to our students through the PTO. Thank you for participating in this great program. There is no limit to the number of times we can redeem this offer. Please continue to drop off your receipts so we can reach the next $150,000.
ACS Athletics
PurePlay
Soccer this Saturday
. Boys at 9:00am, Girls at 10:15am.
Running club today after school from
3:00-4:15pm
.
Calendar Reminders
Sept 29 – No Forest Hills Bus Transportation (PM)
Oct 06 – "Faith. Strong." Friday
Oct 12 – Parent teacher conferences (5:30-8:30pm)
Oct 17 – Parent teacher conferences (4:30-7:30pm)
Oct 18-20 – No School
Oct 27 – No Forest Hills Bus Transportation (PM)
Requested Annoucements
Karate By Mirandette's Martial Arts
Rick Mirandette has been holding Tang Soo Do (Korean Karate) classes here at ACS for several years. Many of our families speak very highly of his program and are eager to see it continue again this year. The class meets on Mondays right after school and is finished at 4:10pm. The first class is scheduled to take place on Monday, Oct 02.
For more information and to register, please visit their website or call 616.889.5933. There are fliers in the school office with more information.