Ada Connection – Sept 20, 2017
A Note From Principal Brower
Zoo School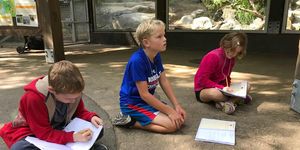 Last week our fourth grade students enjoyed a full week of hands-on learning at John Ball Zoo. What beautiful weather to learn in!
Kidz Have Rights
Greetings Parents of K-4 Students,

Many of you attended the opening session at our Parent Information Night on Sept 07 and know that a group from KIDZ Have Rights will be in the building to work with our students. Our classroom teachers will be in the room and we are confident that the message will be valuable and age appropriate.

If you would like more information, or would like to view the materials and ask questions, Tanya Muelhbauer will be here this week Thursday from 8:00-9:00am and again from 2:00-3:00pm.

Next week Monday we will be sending home permission slips and they must be signed and returned for you child to participate in this program.

Thank you for your partnership,
Melissa Brower
This Week
VAI Purple Day – Sept 23
On Saturday Sept 23 ACS is going Purple to raise support for the Van Andel Institute. We are looking forward to an exciting day of athletics and fundraising for the VAI. Below ​are ​five ways in which you can help support ACS and the VAI.


We are encouraging all students and staff to wear purple at school on Friday, Sept 22.
On Saturday, Sept 23 we would like to "purple out" at our athletic events. So please, dress in purple and come support ACS Athletics and the Van Andel Institute.
All proceeds from the gate fee, and concession/vending will be donated to the VAI. We will also have a donation jar available if you wish to donate at that time. We will have concession stands both inside and outside. If you would like to donate ahead of the event to the VAI please visit the ACS Athletic page.
The Pureplay athletes will be given a purple bandana to wear with their team shirts during their games. ​
The Van Andel Institute will be onsite to answer any questions and to sell popular items for those who wish to purchase. All proceeds from items sold will also go towards our fundraising goal.

ACS athletics is proud to be going Purple in support of the Van Andel Institute. Please join us in making this an amazing day for our school and community!
Moms In Prayer
Come join us on this journey when you can. We meet weekly on Thursdays, 8:00-9:00am, in the ACS office back conference room.
Need more information? Contact Kelly Stafford (616.304.2963, ten.tsacmoc@droffats-kj).
MENistry
Come join other dads in room 504 from 8:00-9:00am as we explore our call to be faithful men of Christ. We will be dwelling with the Word in the book of Luke this semester. Coffee and donuts provided. All ACS dads are welcome!
MENistry Dates:
Thursdays: Sept 28, Oct 05, Oct 26, Nov 09, Nov 30 & Dec 14
Fridays: Sept 22, Oct 13, Nov 03, Nov 17, Dec 08 & Dec 22
Action Needed
Hot Lunch Help
We are off to a great start for hot lunch so far this year! Thanks for all of your hard work so far. Keep track of openings with our volunteer schedule .
See an opening you could fill? Email Sue Prins (gro.naitsirhcada@snirps).
Now You Know
Service Team
All 3rd-5th graders are welcome to join Service Team this fall as we practice the virtue of service by meeting the needs of those in our ACS community, city, and world. Some activities include cooking meals to stock the ACS freezer for families in need, doing yard cleanup for a homebound friend, putting care packages together to share with people outside of our community, and much more! Space is limited and is on a first come, first serve basis.
Please fill out the registration form and return to the school office by Sept 27 along with your $30 registration fee. Checks can be made out to ACS.
Meeting dates with be Thursday Oct 05, 12, 26 and Nov 02 & 09 from 3:00-5:00pm (snack will be provided).
Additional questions? Contact Sheila Hemker (708.212.2558, moc.liamg@rekmeh.aliehs).
KIDS-TRIP
Reminder that all payments made for KIDS-TRIP need to be paid with PrestoPay. Orders paid by check will no longer be processed.
Questions? Ask Elizabeth Westhouse (gro.naitsirhcada@sdik).
PTO Happenings
Parent Teacher Conference Help
Parent teacher conferences are coming up on Oct 12 & 17. To support our teachers during this long work day, we would like to provide them with dinner. We could use your help.
Please sign up to bring food if you are able.
Here's how it works in 3 easy steps:
Go to our invitation page on SignUp.com.
Enter your email address: (You will NOT need to register an account on SignUp.com)
Sign up! Choose your spots - SignUp.com will send you an automated confirmation and reminders. Easy!
All School Party At Robinette's Apple Haus
Meet your Ada Christian School friends at Robinette's Apple Haus, 3142 4 Mile Rd NE Grand Rapids at 10:00am on Monday Sept 25 for a fun fall day.
Activities include corn maze, pillow jumping, and apple picking. Tickets for the following activities are available for purchase on site: $5 pillow jumping, $7 corn maze or $11 combo ticket for both.The playground in front of the Apple Haus is always free!
ACS PTO Bazaar
Be part of the Ada Christian PTO's 1st community shopping event! We are looking for crafters and those with home businesses to be vendors. The ACS PTO Bazaar will be Friday evening, Nov 10 from 5:00-8:00pm at ACS. The cost to participate is 10% of the evening's sales (minimum $20) which will be used to offset the cost of this event.
Interested in being a vendor? Submit the interest form by Sept 30. Space is limited. We're looking forward to this fun community-building event.

Questions? Please contact Sari Jones (616.676.3901), Renee Overbeck (616.204.0263) or Alissa Hollander (314.456.5678).
Volunteer Opportunities
Thank you to all who have stepped up and said yes to serving! Your service is much appreciated! We are getting very close to 0% vacancy; that is a big deal!
Carnival: We are still looking for one volunteer to co-chair the Carnival. While the planning will begin near the end of this year, the event will take place next school year.
Bus Driver Appreciation Event: We are still looking for one volunteer to co-chair the Bus Driver Appreciation Event scheduled for Feb 16.
Is God calling you to one of these volunteer opportunities? If you want to volunteer or have questions, please email (gro.naitsirhcada@otp). Thank you.
Fall Fundraiser
Our annual Fall fundraiser is just around the corner! This year, we will be selling products from a new vendor, Clubs Choice fundraising, which offers a wide variety of products such as food items, cooking ware, household decor, magazines, gift wrap, and more! Students will be able to earn great prizes for reaching certain sales levels. The fall fundraiser event raises funds to support a wide variety of student activities throughout the year and we greatly appreciate your participation!
Student packets will be sent home on Thursday, Sept 21. For a sneak peak, visit Clubs Choice Fundraising.
ACS Athletics
PurePlay
Soccer this Saturday
. Girls at 9:00am, Boys at 10:15am.
Running club today after school from
3:00-4:15pm
.
VAI "Purple out" Athletes will be given a purple bandana to wear along with their team shirts.
Calendar Reminders
Sept 25 – No School (Inservice day)
Sept 29 – No Forest Hills Bus Transportation (PM)
Oct 06 – "Faith. Strong." Friday
Oct 12 – Parent teacher conferences (5:30-8:30pm)
Oct 17 – Parent teacher conferences (4:30-7:30pm)
Oct 18-20 – No School
Oct 27 – No Forest Hills Bus Transportation (PM)
Requested Annoucements
Junior Cheer Clinics
If your daughter was unable to attend the first clinic on Monday, Sept 18, you are still welcome to have her join in at the second clinic held on Monday, Sept 25, beginning at 3:45pm.
Please call Jacquie DeJonge (616.949.7516) and leave a message including your daughter's name, school, grade, size of t-shirt, and a return phone number. Forms are in the ACS office.
Karate By Mirandette's Martial Arts
Rick Mirandette has been holding Tang Soo Do (Korean Karate) classes here at ACS for several years. Many of our families speak very highly of his program and are eager to see it continue again this year. The class meets on Mondays right after school and is finished at 4:10pm. The first class is scheduled to take place on Monday, Oct 02.
For more information and to register, please visit their website or call 616.889.5933. There are fliers in the school office with more information.