Ada Connection – Sept 30, 2015
This Week
A New Calvin Smile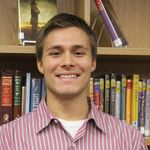 Zach Klomp is serving as an aide in Mrs. DeWeerd's classroom. Be sure to welcome Zach. He will be at ACS Tuesday through Friday mornings and will conclude his time at ACS on Friday, Dec. 04.
Action Needed
Protecting Our Children from Online Dangers
Chris McKenna is joining us Oct 08 from 7:00-8:30pm to inform and encourage us about ways we can protect our children from online dangers
Chris McKenna has been featured on WOOD 1300, WOOD TV8, The Pledge 96.5 and GRKids.com for his research and has worked 10 years with students and parents as a youth ministry director
Chris will be speaking to our students in grades 5-8 during the school day Oct 08
Attending this evening parent meeting may be a great way for parents to continue the conversations about online choices at home
All ACS parents and their friends are welcome to attend
Please RSVP to Sharon (616.676.1289) giving your name and how many will be in your party.
Parents of students who ride ACS Buses #7, #9, #12
ACS Buses #7, #9 and #12 will not be running their PM routes Friday, Oct 02 due to the MS Service project. Please plan on driving your child(ren) home from school Friday, Oct 02.
Hot Lunch - Order for November!
The window for ordering November Hot Lunch is Oct 01–10
Late orders cannot be accepted
Please take note of your child's scheduled field trips and appointments. We do our best to notify you regarding field trips on the hot lunch order form and in parent letters as well
Questions? Please contact Sue Prins (gro.naitsirhcada@snirps)
School Pictures
School Pictures are scheduled for Thursday, Oct 08 and Friday, Oct 09.

Schedule:
Thursday, Oct 08 - 3's preschool, 4's preschool (birds), 1st, 2nd, 3rd, 4th
Friday, Oct 09 - 4's Preschool, Young 5's, Kindergarten, 5th, 6th, 7th, 8th
Each student came home with an order form this week, extra forms are in the office
Return the completed order form to each student's homeroom teacher
If you do not want to order pictures, a photo of your child will still be taken for the school yearbook that comes out at the end of the school year
Retake day is Nov 10
PTO Happenings
Box Top Drive
Please have your children search for any and all Box Tops at home
Collection sheets were sent home with your child, and completed sheets may be returned to the office for a prize!
Additional sheets can be picked up in the office
Please remember to send all BONUS Box Tops separate from the collection sheet
At this time, we will also collect (please DO NOT put these on the Box Top sheets) any Spartan USB codes, Labels for Education points and Tyson labels.
PTO Volunteer Page
You can always find current volunteer needs at our Volunteer Spot Group page at http://www.adachristian.org/volunteer
Class Coffees
The final Class Coffee is Friday, Oct 02 from 9:00-10:30am for 5th grade parents.
Moms in Prayer
Please join us Thursday 8:00-9:00am in the office conference room as we pray for our children, their teachers and the ACS community. This week we will be praying specifically for preschool and kindergarten as we remember that God is my teacher.
Isaiah 48:17. This is what the LORD says – your Redeemer, the Holy One of Israel: "I am the LORD your God, who teaches you what is best for you, who directs you in the way you should go."
Questions? Contact Laura Cawley (425.9728, moc.oohay@57_csarual)
Calendar Reminders
Oct 02 – No PM Bus for ACS #7, #9, #12 bus riders
Oct 08 – Guest Speaker Chris McKenna (7:00-8:30pm)
Oct 08–09 – School Pictures
Oct 12 – No Forest Hills Bus Transportation (AM)
Oct 15 & 20 – Parent Teacher Conferences
Oct 21–23 – No School (Teacher's Convention)
Recent Events
Super Scientists
Mrs. Westrate's classroom was buzzing with activity on Thursday when students from KD and KW joined 6th graders to learn about tools scientists use! What a great experience for everyone involved. The conversations were sweet and the learning was genuine! Learning in community!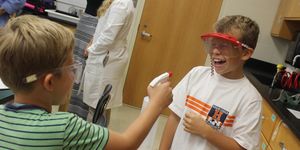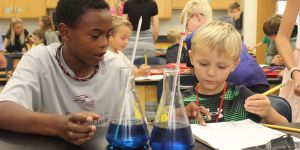 Cool Zoo School
Our fourth grade students enjoyed a beautiful week learning at the zoo! Partnering with John Ball Zoo provides our students with a great learning experience as our teachers approach our current curriculum from a unique perspective. Thank you to the many parent volunteers that helped us with this adventure.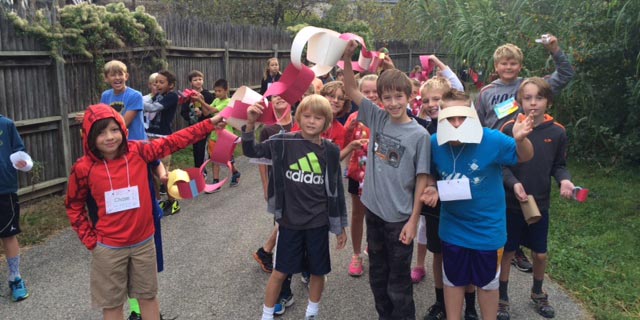 Fifth Graders Survive
Our fearless fifth grade students, teachers and many parents braved the elements of fresh air and sunshine this past week on their trek to Camp Tall Turf for survival camp. This experience lingers in the minds of all who participate as a very special memory. Thank you, thank you, thank you for the many hands that support this overnight, team-building, learning, growing experience.
ACS Athletics
PurePlay (Grades PK-4)
Soccer Saturday: Girls at 9:00am; Boys at 10:00am
Running Club – meets on Wednesdays from 3:00-4:00pm. New runners are always welcome. Season ending "Cross-Country Meet" will be Wednesday, Oct 14 at 3:30pm.
Wildcats Athletics (Grades 5-8)
8th Grade Girls Basketball – Open Gym will be Monday Oct 05 from 3:15-5:00pm.
Sport Physical Forms – All forms are due on Monday, Oct 05. Your child is ineligible to play sports at ACS without a current physical form. If your child is playing winter basketball forms are due before the first day of practice