Now You Know
Leading the Way for Our Kids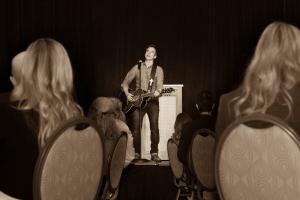 On Thursday, October 17, 2019 more than 350 members of the Ada Christian Community came together in the Amway Grand Plaza to celebrate the 30th Anniversary of the Ada Christian School Education Foundation and raise money for the future. It was a wonderful and inspirational evening to give many thanks for the blessings in our community given to us by God.
During the evening we had the honor of presenting Neil and Gwen Kraay with the Distinguished Service Award for their dedicated service and support of Ada Christian School.
As this year's guest speaker, we welcomed U.S. Army Ranger Veteran and Country Musician, Keni Thomas who used his powerful story from the "Black Hawk Down" mission to challenge us all to "Lead the Way".
With a record amount of funds raised, this truly was a night to remember.
Action Needed
Winter is Coming – Ski Club
The fun part of winter at least! Cannonsburg will be opening and you all can dust off your skis and boards!! Once again Cannonsburg is offering discounted punch pass cards for the season. This year Ski Club will be a little different in which there will not be a set day for Ada Christian to hit the hill. This year you are welcome to use your punch cards any day that works for you! Grab your family and head there on a Saturday morning to avoid the crowds, meet up with a friend after school any day and stay until it closes! Please completely fill out this order form and send it into the office by Nov 22. Please call Katie Kuiper at 616.485.1888 or email her at jk_kuiper@yahoo.com if you have any questions. Hit the Hill with us (because honestly, it's not a slope but we can have just as much fun!!)
Here are a couple details to remember
6 years old and under get their lift tickets for free (yay!)
Deadline is Fri, Nov 22. After that time you will need to go thru Cannonsburg.
All the prices are on the registration form. Checks should be payable to "Cannonsburg Ski Area".
There are no black out times or dates! Use anytime during the 2019-2020 ski season!
Sign up starting next week for your ski passes and save 50% off the regular price!
PTO Happenings
PTO Pizza Night – Thank You Jet's Pizza
Thank you to everyone who picked up a Jet's Pizza last Thursday night, I'm sure your children loved it!
A big thank you to Joel and Sarah Brandt and Jet's Pizza for their generous contribution to the PTO - they gave well over double the percentage that we chatted about. They gave a gift to us above and beyond what we earned and we couldn't be more grateful, thank you!
Parent Teacher Conferences – Thank You
First and foremost - thank you to the incredible teachers who take the time to truly collaborate with parents on their child's education. Our teachers are prepared, they are fully present, and they begin each conference with prayer. It's these little things that ground us all, and that remind us of how much we appreciate our loving teachers and Christian Ed.
In addition, we appreciate the small army of parents who covered recess duty for these teachers on Monday and Tuesday. We had every single spot filled - that's 18 parents (!) who took a break in their busy schedules to step in for the teachers and enjoy a bit of time seeing their children during the school day. Thank you!
And of course it goes without mention that we are grateful from the bottom of our hearts and in total awe of the from-scratch beautiful fall meals Kim Laufer provides to nourish our teachers these two nights.
Just to give you an idea, Kim baked and peeled 8 (yes, you read that right, 8!) squash to make Rose's recipe homemade butternut squash soup, along with a salad with cranberry vinaigrette dressing and rich loaves of bread with butter. She baked a honeycrisp apple crisp for dessert. Next up was slow cooked beef short ribs with ragout sauce atop pappardelle noodles, along with a salad with cucumber basil dressing salad and breadsticks. To top it off she baked homemade pumpkin butter chocolate chip cookies. What a fun perk of being a teacher amidst all the hard work!
Every time I speak with Kim it is so apparent that while she is a very busy Mom of 4 kids and business owner, she really enjoys every minute of this. We all have our own gifts, and we all have our own obligations - it is always a joy to see someone truly enjoy a window of blessing others with their special gifts in the midst of all their obligations. Thank you to Kim, thank you to our Recess Duty Parents, and thank you to all the others who have served with an encouraging word or little laugh to brighten the day this week, we appreciate you all!
Warmly,
The PTO
School Party At Heidi's
Today Wed, Oct 23 from 1:00-3:00pm at Heidi's Farm Stand - 11999 Cascade Rd Lowell
Freshly baked doughnuts and crisp apple cider. Locally grown farm fresh produce, bright pumpkins and bushels of apples!
Are you up for the challenge of the corn maze?! This year the theme is "Out of this world: celebrating 50 years since landing on the moon." Enjoy the fall scenery of never-ending corn with your younger ones...or send the older ones out to explore on their own for a few minutes (or hours) of peace and quiet.
The Lil' Pumpkins Bounce Zone is open for children 10 and under with bounce houses, a barrel train ride, and a journey through the Jr. Corn Maze while searching for astronaut gear.
Or simply come to enjoy the beautiful fall weather with friends and let you kiddos play in the corn box or on the giant slide and run around for free!
Corn maze: $6 for adults and $4.50 for kids (ages 3-13) or $25 for families (parents and children).
Questions? Contact Holly Karasinski (616.901.8882, moc.liamg@4322kylloh)
ACS Athletics
PurePlay
Registration for basketball is open. Deadline for 1st-4th grade is Nov 15.
Visit our website for details.
Unicycle Club sign up information is coming out soon!
Dates: Nov 05, 12, 19, 26. 3:00-4:00pm
Calendar Reminders
Oct 23-25 - No Schools (Teacher Convention)
Nov 27-29 - Thanksgiving Break
Dec 06 - No Forest Hills PM transportation
Dec 19 - No Forest Hills PM transportation
Dec 20 - No Forest Hills PM transportation