Ada Connection – Oct 21, 2015
Principal's Note
We love spending time with your kids! This note was shared by Mrs. Rynder's (4th grade) with teachers this week... I thought parents might enjoy it, also.
"My students were given a little free time to do puzzles this morning and suddenly I heard humming... and then singing... and then "...true, noble, right, pure, lovely...." being sung... by a whole group.... Ahhh..... such a moment!"
This Week
Mr. Day's Dispatch
Thank You! Last week, the ACS community was challenged to respond to the invitation to participate in the "Firm Foundations Campaign". We set a high goal -- hoping to have 95% of the postcards returned. We gratefully report that as a result of the returned cards and your response – over $43,000 was contributed to the campaign – gifts and pledges ranging from $5 to $10,000 were received. We heard from 84% of our parents, which is shy of putting our principals on the roof for an entire work day. However – they are thrilled with the response, so watch for them on the rooftop during lunch hour one day next week.
Join ACS Families for two parties:
Wednesday Oct 21 from 1:00-3:00pm
Heidi's Farm Stand Corn Maze
11999 Cascade Rd Lowell
Cost: Adults $5, kids (3-15) $3.50. Bring extra money if you want to enjoy a donut and cider or buy a pumpkin!! Tell them you are from Ada Christian to get the group rate!
Friday Oct 23 from 1:00-2:30pm
GR Gymnastics
1601 Galbraith Ave SE, STE 301, Grand Rapids, MI 49546
Cost: $5.
No need to sign up for either party!
Questions? Email Amberly Hoyer (moc.loa@reyohylrebma)
Be at the Fair or Be Square
The Scholastic Book Fair will run Monday through Friday Oct 26-30, 7:40am-4:00pm. Watch for a flyer coming home with your child.
PTO Happenings
PTO Volunteer Page
Can you make time to chip in? www.adachristian.org/volunteer
Little Things Do Make a BIG Difference!
Thank you to all the students who participated in our Box Top drive. ACS was able to collect 9,221 box tops, giving our school $922.10! Wow! Another drive is coming in February so start collecting and saving now.
Bus Driver Appreciation Day
We are looking for 4 people to help Lauri Hanenburg organize and manage Bus Driver Appreciation Day, which will be Feb 26, 2016. Please email Lauri (moc.liamg@grubnenahl) if you are willing to help.
Charleston Wrap Delivery
We will be delivering Charleston orders to classrooms on Tuesday, Oct 27. If your child has a large order coming, you may want to make special pickup arrangements.
We are looking for at least 6 parents to help PTO sort and distribute our Charleston Wrap Orders on Tuesday, Oct 27, from 8:00–9:00am. If you can help, contact Katie Kileen (moc.oohay@neelik_eitak) or Rachel Boville (moc.oohay@ellivobar). Thanks!
Calendar Reminders
Oct 21-23 – No School (Teacher's Convention)
Oct 26-30 – Book Fair
Nov 06 – No Forest Hills Bus Transportation (PM)
Nov 10 – Picture retake day
Nov 23 – Foundation Dinner
Nov 25-27 – No school (Thanksgiving Break)
Recent Events
Book Fair Beauty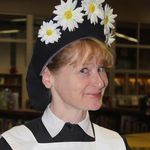 Amelia Bedelia visited our library this week. She must have heard about our upcoming book fair!
Outdoor Update
A BIG THANK YOU -- to our students and their buddies for helping to spread more wood chips on our Bike 'n Hike trails, to our middle school students for putting up more of our split rail fence, and to our parents helping to put up our outdoor structure.
Fire Drill
We were out of the building in less than 3 minutes!
Tornado Drill
Facing the wall with a book on our heads!
ACS Athletics
PurePlay (PK-4th grade)
PurePlay basketball sign ups have begun
Wildcats Athletics (Grades 5-8)
Winter Basketball start dates are listed below. As the season becomes closer you will receive an email from your child's coach with specific team information.
5th & 6th Grade – Week of Monday, November 9
7th & 8th Grade – Week of Monday, November 30
If your child is playing winter basketball sport physical forms must be turned in before the 1st day of practice.