Ada Connection – Oct 07, 2015
Principal's Note
Parent Blessings!
Zoo school, Small Groups, Camp Roger, Survival Camp, the Farm, Service Projects downtown and at Camp Tall Turf, ArtPrize, Kitchen, playground, and classrooms name a few of the places our parents have pitched in these past few weeks to partner with us in Christian education. We are BLESSED! This school offers so many great opportunities, and it continues to amaze me how many parents help. Wow and Thank You!
Action Needed
Protecting Our Children from Online Dangers
Chris McKenna is joining us Oct 08 from 7:00-8:30pm to inform and encourage us about ways we can protect our children from online dangers.
Chris has been featured on WOOD 1300, WOOD TV8, The Pledge 96.5 and GRKids.com for his research and has worked 10 years with students and parents as a youth ministry director.
Chris will be speaking to our students in grades 5-8 during the school day Oct 08.
Attending the evening parent meeting would be a great way for parents to continue the conversations about online choices at home.
All ACS parents and their friends are welcome to attend. Please RSVP to Sharon (616.676.1289) giving your name and how many will be in your party.
Hot Lunch
The window for ordering November Hot Lunch is Oct 01–10.
Late orders cannot be accepted.
Please take note of your child's scheduled field trips and appointments. We do our best to notify you regarding field trips on the hot lunch order form and in parent letters as well.
Questions? Please contact Sue Prins (gro.naitsirhcada@snirps)
School Pictures
School Pictures are scheduled for Thursday, Oct 08 and Friday, Oct 09.
Schedule:
Thursday, Oct 08 – 3's preschool, 4's preschool (birds), Grades 1–4
Friday, Oct 09 – 4's preschool, young 5's, kindergarten, Grades 5–8

Each student came home with an order form last week. Extra forms are in the office. Return the completed order form to each student's homeroom teacher. If you do not want to order pictures, a photo of your child will still be taken for the school yearbook that comes out at the end of the school year. Retake day is Nov 10.
Parent Teacher Conferences
Oct 15 5:30-8:30pm
Oct 20 4:30-7:30pm
Elementary families have a scheduled meeting time (88 KB PDF) with their homeroom teacher
Parents of students in middle school will have the opportunity to visit with each of their student's teachers in the commons. No sign up is necessary for Middle School.
Lost and Found
The Lost and Found tables are located near the kitchen and music rooms at ACS. The items on the tables will be cleared off on Wednesday, Oct 21. While you are here for parent teacher conferences please check the tables for any of your child's missing items.
Recent Events
"Faith. Strong." Friday!
Thanks for the great participation on our Faith Strong Friday! 46% of our elementary students were sporting our ACS Logo. Congratulations to Mrs. Overbeek's class who had 96% participation. Way to go!
So this happened...
These two were working on the iPad with a Geoboard app and all of a sudden Mrs. Diepstra heard them exclaim: "Look, we made the Ada Christian sign!!!"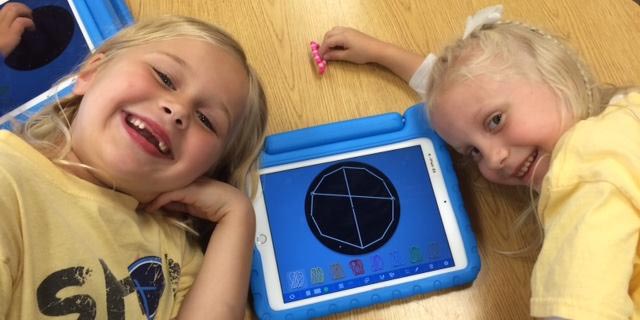 Coming Soon!
Be at the Fair or Be Square
The Scholastic Book Fair will be returning to ACS on Tuesday night, Oct 20 as well as the week of Oct 26-30.
PTO Happenings
PTO Volunteer Page
Ready to volunteer? http://www.adachristian.org/volunteer
MyCoke Rewards
MyCoke Rewards is another great way for Ada Christian to raise funds towards physical education, sports, technology, arts and/or classroom supplies. By collecting caps, tops off boxes of Coca-Cola products and the plastic off cases of water and pop we can raise funds for ACS. Teresa Rauch is willing to log in caps and donate the points to the school. Please drop caps, tops and plastic off in the bag in the office with her name on it. A complete list of accepted products can be found on www.mycokerewards.com. If you have any questions please email Teresa Rauch (moc.evil@hcuartb) in the subject line please put "rewards". Thank you!
School Parties
Join ACS Families for two parties:
Wednesday Oct 21 from 1:00-3:00pm.
Heidi's Farm Stand Corn Maze, 11999 Cascade Rd Lowell.
Cost: Adults $5, kids (3-15) $3.50. Bring extra money if you want to enjoy a donut and cider or buy a pumpkin!! Tell them you are from Ada Christian to get the group rate!
Friday Oct 23 from 1:00-2:30pm.
GR Gymnastics. 1601 Galbraith Ave SE, STE 301, Grand Rapids, MI 49546,
Cost: $5.
No need to sign up for either party!
Questions? Email Amberly Hoyer (moc.loa@reyohylrebma)
Moms in Prayer – 1st Grade
Please join us Thursday 8:00-9:00am in the office conference room as we pray for our children, their teachers and the ACS community. This week we will be praying specifically for 1st Grade as we remember that God reigns.
Chronicles 16:31 – Let the heavens rejoice, let the earth be glad; let them say among the nations, "The LORD reigns!"
Questions? Contact Laura Cawley (425.9728, moc.oohay@57_csarual)
Calendar Reminders
Oct 08 – Guest Speaker: Chris McKenna (7:00-8:30pm)
Oct 08 & 09 – School Pictures
Oct 12 – No Forest Hills Bus Transportation (AM)
Oct 15 & 20 – Parent Teacher Conferences
Oct 21–23 – No School (Teacher's Convention)
Oct 26-30 – Book Fair
Nov 06 – No Forest Hills Bus Transportation (PM)
ACS Athletics
PurePlay (PK-4th Grade)
Soccer – Boys at 9:00am, Girls at 10:00am
Basketball signup – information will be available soon. Watch your email and the Ada Connection.
Running Club – Wednesday 3:00-4:00pm. We are practicing for our Cross Country meet on Oct 14 at 3:30pm!
Wildcats Athletics (Grades 5-8)
Winter Basketball start dates are listed below. Within the next 2 weeks you will receive an email introducing your child's basketball coach and listing practice days and times.
5th & 6th Grade – Week of Monday, Nov 09
7th & 8th Grade – Week of Monday, Nov 30